Maria Gamborg Helbekkmo
Marco Berrini
Martina Batič
Bo Holten
Karmina Šilec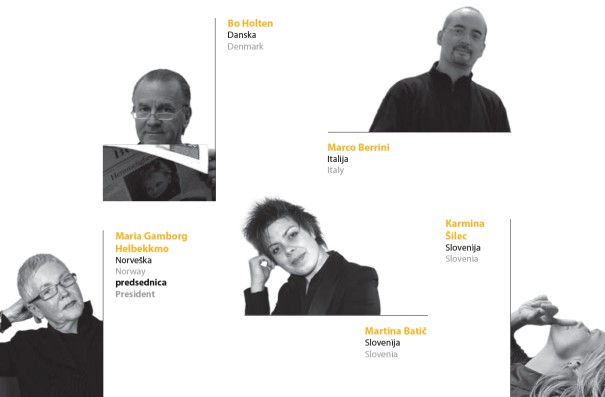 ---
Maria Gamborg Helbekkmo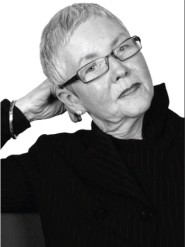 Maria Gamborg Helbekkmo je diplomirala iz klavirja, petja in dirigiranja in je izredna profesorica na akademiji v Bergnu, kjer poučuje zborovsko dirigiranje, klavir in petje. Je priznana glasbenica in profesorica in posebej znana po svojem delu z ženskim zborom Voci Nobili.
Njena odločnost in umetniška nadarjenost sta zbor Voci Nobili pripeljali v zborovski vrh. Leta 2005 je Maria Gamborg Helbekkmo skupaj z zborom prejela nagrado norveškega zborovskega združenja, čez leto dni je bila za svoj pedagoški in umetniški prispevek norveški glasbi nagrajena z zlato kraljevo medaljo zaslug. Za predavateljico jo pogosto povabijo na mednarodne seminarje.
Leta 2007 je vodila mojstrski tečaj na univerzi v Seulu pred začetkom koncertne turneje z zborom Voci Nobili po Južni Koreji. Leta 2008 je z zborom nastopila na treh koncertih v sklopu Svetovnega zborovskega simpozija v Köbenhavnu. Februarja 2009 so jo povabili na Visoko šolo za glasbo in gledališče v Hannovru za predavateljico. Pogosto jo povabijo tudi kot članico žirij na mednarodnih tekmovanjih. Je častna članica Norveškega združenja zborovskih dirigentov (FONOKO).
Educated as a pianist, singer and a conductor, Helbekkmo is currently associate professor at Bergen University College, where she teaches choir conducting, piano and solo voice. She has gained wide recognition as a musician and a teacher, and isespecially known for her work with Voci Nobili. Her determination, combined with her artistic abilities and her unique musical ambiance made Voci Nobili into one of the top choirs internationally. In 2005 Helbekkmo won the Norwegian Choral Association's annual prize together with the choir, and in 2006 she was awarded H.M. The Kings Medal of Merit in Gold for her educational and artistic contribution to Norwegian music.
Helbekkmo is a frequent lecturer at international conferences, and she is in even higher demand after Helbekkmo is frequently invited as a jurymember abroad. She is a member of honour in the Norwegian Society of Choir-conductors (FONOKO). Voci Nobili's 2005 American Tour. In 2007 she gave master classes at the Yonsei University in Seoul,preceding Voci Nobili's concert tour in South-Korea. In 2008, she gave three concerts with her choir Voci Nobili at the World Symposium on Choral Music in Copenhagen.
In February 2009 Helbekkmo was invited to teach conducting at Hochschule für Musik und Theater in Hannover, Germany.
---
Marco Berrini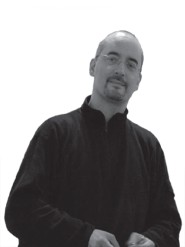 Marco Berrini je diplomiral iz muzikologije, je zborovodja, dirigent in profesor. Dobil je več prvih nagrad na številnih pomembnih državnih in mednarodnih zborovskih tekmovanjih in bil finalist prvega mednarodnega tekmovanja zborovskih dirigentov Mariele Ventre (Bologna, 2001). Med letoma 1989 in 1992 je bil asistent dirigent italijanskega komornega zbora RAI v Rimu, z njimi pa je snemal za RAI Radio 3. Je umetniški vodja poklicnega vokalnega ansambla Ars Cantica Choir ter ustanovitelj in dirigent komornega zbora konservatorija Antonia Vivaldija iz Alessandrije. Dirigiral je v Španiji, Franciji, Nemčiji, Švici, Avstriji, Izraelu, Argentini, Združenih arabskih emiratih in na Portugalskem. Kot gostujoči dirigent sodeluje z opernim zborom iz Malage, z zborom La Maestranza iz Seville in z zborom in orkestrom iz Madrida (ORCAM), povabili so ga tudi v Argentino. Marco Berrini je uredil zbirke zborovske glasbe za založniške hiše Suvini Zerboni, Carrara, Rugginenti, Discantica in Carish. Redno je predavatelj na mojstrskih tečajih za zborovske pevce in dirigente v Italiji in drugod. Od leta 2009 je umetniški vodja mednarodne akademije za zborovske pevce in dirigente v Milanu.
Marco Berrini is a choir director, orchestra director and teacher. He completed his academic education in musicology. He was a winner of the first prizes in many important national and international choir competitions and was a finalist in the first edition of the International Competition for Choir Directors "Mariele Ventre" (Bologna, 2001). From 1989 to 1992 he was an assistant conductor of the Italian national broadcasting network (RAI) Chamber Choir in Rome, with which he made recordings for RAI Radio 3. He is the artistic director of the professional vocal ensemble Ars Cantica Choir & Consort. He is a founder and a conductor of the Chamber Choir of the Conservatoire "Antonio Vivaldi" of Alessandria. He has conducted in Spain, Portugal, France, Germany, Switzerland, Austria, Israel, Argentina and Emirates. He was a guest conductor of the Co.Na.Jo. (Youth National Choir of Argentina) and of the Polyphonic Choir of Cordoba Province (Argentina). He works as a guest conductor in Spain with the choir of the Opera House of Malaga, the choir of "La Maestranza" theatre in Siviglia and the choir and orchestra of Madrid Community (ORCAM). He has edited vocal music works for several publishers such as Suvini Zerboni, Carrara,Rugginenti, Discantica and Carish. He gives classes and master classes for choir singers and directors in Italy and abroad.
Since 2009 he is the artistic director of Milano Choral Academy, an international academy for choir conductors and singers (http://www.musicorum.it/MCA/).
---
Martina Batič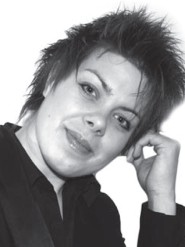 Martina Batič prihaja iz Ajdovščine. Po končani diplomi leta 2002 na akademiji za glasbo v Ljubljani, smer glasbena pedagogika, je odšla na študij zborovskega dirigiranja v München, na Visoko šolo za glasbo. Tam je najprej diplomirala iz zborovskega dirigiranja, nato je leta 2005 pri profesorju Michaelu Gläserju z odliko končala še specialistični podiplomski študij iste smeri. Med letoma 2004 in 2009 je bila zaposlena v SNG Opera in balet v Ljubljani kot zborovodkinja opernega zbora. V prostem času projektno dirigira in vodi različne zbore, pevske sestave doma in v tujini (Komorni zbor RTV, Komorni zbor AVE ...) Poleg sodelovanj v domačih (Maribor 2008 in 2010, Celje 2008, Zagorje 2008) in tujih žirijah različnih zborovskih tekmovanj (Salzburg 2005, Corovivo 2008 in 2009, Linz 2009) pripravlja in vodi seminarje o zborovskem dirigiranju (Zborovodska šola JSKD, OŠ Celje, Internationales Chorseminar Zell a. d. Pram, Chorwoche Bad Feilnbach, Bayerische Musikakademie 2011...). Septembra 2009 je prevzela umetniško vodenje Slovenskega komornega zbora.
Med njene najodmevnejše dosežke spada 1. nagrada na mednarodnem tekmovanju zamlade zborovske dirigente Eric Ericson Award na Švedskem leta 2006. Ta je uresničila njeno željo po delu z najboljšimi ansambli na svetu (Bavarski radijski zbor leta 2007, Švedski radijski zbor leta 2007 in leta 2009, Eric Ericson Chamber Choir v letih 2010, 2011, Stuttgart Vokalensemble leta 2010, Nizozemski radijski zbor leta 2011).
Born in Ajdovščina, Martina Batič graduated from Academy of Music in Ljubljana in 2002 and continued at Hochschule für Musik und Theater in Munich, Germany, where she finished with honours her postgraduate studies in choral conducting in 2005. In years 2004 to 2009 she was the chorus master at the Slovene National Theater Opera and Ballet. She works as a conductor with several choirs at home and abroad (Radio and Television Slovenia Chamber choir, Chamber choir Ave). She is often invited as a member of a jury at the important choral competitions in Slovenia (Maribor 2008 and 2010, Celje 2008, Zagorje 2008) and abroad (Salzburg 2005, Corovivo 2008 and 2009, Linz 2009) and gives lectures on choral conducting at various seminars (Zborovodska šola JSKD, Internationales Chorseminar Zell a.d.Pram, Chorwoche Bad Feilnbach, Bayerische Musikakademie 2011). In September 2009 she was appointed the artistic director of the Slovenian Chamber Choir. One of her most important achievements is the first prize at "Eric Ericson Award Competition" in Sweden in 2006, thus making Martina's wish to work with the best ensembles around the world a reality (Bavarian Radio Choir, Sweden Radio Choir, Stuttgart Vokalensemble, Netherlands Radio Choir).
---
Bo Holten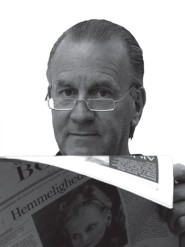 Bo Holten Skladatelj in dirigent Bo Holten (rojen leta 1948) je plodovit in vsestranski glasbenik. Njegov ustvarjalni opus zajema sedem oper, pet koncertov, dve simfoniji, številna orkestralna in komorna dela, filmsko glasbo in približno 35 "a cappella" zborovskih skladb; skupaj okrog 100 del. Leta 1979 je ustanovil vokalno skupino Ars Nova Copenhagen in jo vodil 17 let. Leta 1996 je ustanovil vokalni ansambel Musica Ficta, kjer je še umetniški vodja. Redno dirigira danskim simfoničnim orkestrom. Med letoma 1990 in 2006 je bil glavni gostujoči dirigent pri BBC Singers. Od leta 2008 je šef dirigent radijskega zbora Vlaams Radio Koor v Bruslju. Posnel je 59 zgoščenk za založbe Chandos, Naxos, DaCapo in Danacord in dirigiral približno 190 prvim izvedbam in več kot 1000 koncertov in opernih predstav.
Composer and conductor Bo Holten (b. 1948) is a very prolific modern musician. His opus consists of 7 operas, 5 concertos, 2 symphonies, various orchestral works and chamber music, film scores and about 35 works for choir a cappella, in all more than 100 works.
He founded a vocal group Ars Nova Copenhagen in 1979 and directed it for 17 years. In 1996 he founded vocal ensemble Musica Ficta in and is still their artistic director. Bo Holten regularly conducts all the Danish Symphony Orchestras. He was a principal guest-conductor for The BBC Singers 1990-2006 and chief Conductor of Vlaams Radio Koor, Brussel from 2008.
He has recorded 59 compact discs for publishing houses Chandos, Naxos, DaCapo, Danacord and others. Bo Holten has conducted about 190 world premieres, and more than 1000 concerts and opera performances.
---
Karmina Šilec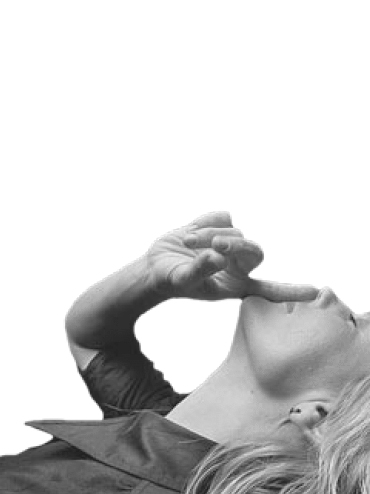 Karmina Šilec je v vokalno glasbo vnesla svežino, odprla nove prostore izraza, prepričljivosti, intenzivnosti doživljanja in komunikacije. S choregie – glasbenim gledališčem in z inovativnimi posegi je vokalni glasbi razprla prostor h kompleksnim večzvrstnim umetniškim dogodkom – projektom, izvajanih na mnogih mednarodnih festivalih in predvajanih na EBU in Eurovision.
Kot dirigentka ustvarja projekte z različnimi ansambli: z zborom Carmina Slovenica, ansamblom ¡Kebataola!, s Simfoničnim orkestrom RTV Slovenija, z zborom Opere in baleta SNG Maribor, s Slovenskim projektnim zborom, z orkestrom Chorus Instrumentalis in mnogimi ansambli po vsem svetu.
Za svoje delo je prejela številne domače in tuje nagrade in priznanja, med njimi nagrado Prešernovega sklada za projekt Vampirabile, ugledno mednarodno nagrado za prispevek stroki v svetovnem merilu – Robert Edler Prize, za predstavo Iz veka vekov ... nagrado Mednarodnega gledališkega inštituta ITI "Music Theatre Now", Glazerjevo listino, in druge.
Ob umetniškem delovanju ter kot gostujoča dirigentka je tudi članica strokovnih žirij in umetniških svetov na zborovskih in dirigentskih tekmovanjih in revijah, predavateljica na univerzah v tujini, na mednarodnih seminarjih, konferencah in kongresih. Deluje kot profesor dirigiranja na Univerzi v Mariboru.
Karmina Šilec je umetniška voditeljica Choregie – novoglasbenega gledališča, mednarodnega projekta Attacca, Choregie aka Choregie festivala za novo glasbo in koncertne serije Attacca.
Karmina Šilec has brought freshness and originality to the world of vocal experience and communication. With "Choregie - vocal theatre" and its innovative interventions, she has opened wider artistic spaces and set trends towards complex multi-media events – productions performed on stages of international festivals and broadcast by the EBU and Eurovision.
As conductor she has projects with various ensembles: Carmina Slovenica choir, Symphony orchestra of National Radio of Slovenia, National Opera and ballet in Maribor Slovenia, Slovenian National Project Choir, ensemble !Kebataola!, Orchestra Chorus Instrumentalis and many ensembles worldwide.
Karmina Šilec has received more than 20 of the highest and different special awards on International competitions, just to name some: she was awarded with the international Robert Edler Prize for Choral Music, received the Prešeren Fund award for the project "Vampirabile" and most recently an award by the ITI – International Theatre Institute "Music Theatre Now" in the category Music beyond opera.
She also works as an artistic adviser and is regularly a guest conductor to ensambles worldwide, jury member or member of artistic committees at festivals and competitions. She is proffesor for conducting at University of Maribor and lecturer at many universities around the world.
Karmina Šilec is the artistic director of Choregie – new music theatre, the international project Attacca, the Choregie aka Choregie festival for new music and the concert series Attacca.