Choirs and musical programmes

SELECTED CHOIRS:
VOCAL GROUPS
AcapellArt Singers, Hungary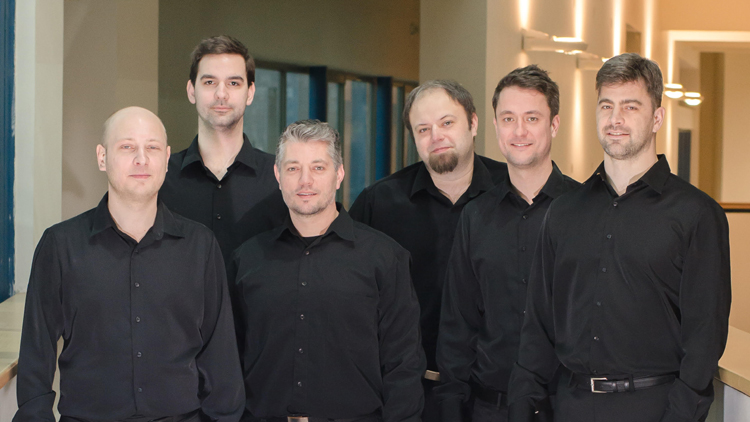 AcapellArt Singers was founded in May 2013. All the 6 singers grew up as students of Zoltán Kodály Primary Music School in Nyíregyháza, Hungary, and were singers of the Cantemus choir family. So they have had experience of many years in the field of choir singing although none of them is an artist. The characteristic features of their performance is that - similarly to the traditions of the British King's Singers - the choir is based solely on male singers. The similarity of men's tones lends a uniquely pure sounding to the choir pieces' performance.
B2, Lithuania, art. dir. Vaidas Bartušas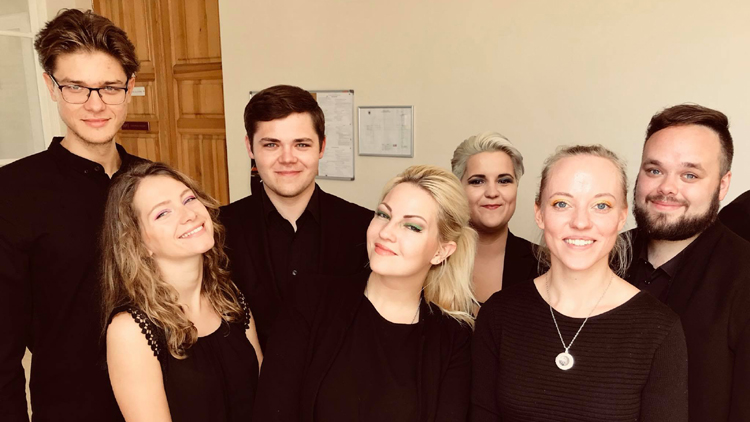 Vocal ensemble B2 is young and ambitious singers' collective. It was created on the initiative of a rare voice owner, countertenor Vaidas Bartusas in autumn of 2017. Since the start, the ensemble B2 has been performing regularly in all of Lithuania. They perform very diverse music: classical, contemporary, secular, ethnic, and jazz. Being constantly offered to participate in concerts and master classes, their concert programs are regularly shown in different cities and towns of Lithuania. Vocal ensemble members: Ieva Skorubskaitė, Viktorija Šedbaraitė, Gintarė Kulikauskytė, Vaidas Bartušas, Julius Andrikonis, Evaldas Alekna, Daniel Monteagudo Garcia, Jevgenijus Kovalčukas.
Genova Vocal Ensemble, Italy, art. dir. Roberta Paraninfo
Genova Vocal Ensemble is the oldest formation among those belonging to the Genova Vocal Academy. Founded in 1995, it is the one that most of all carries the baggage of didactic and human experiences characterizing its work. GVE is an ensemble of equal female voices (also characterized by the presence of male voices singing in the contralto and mezzo soprano vocal ranges), formed by singers who have worked together since childhood. Such assiduous and profound sharing of experiences has created a very close-knit team. The repertoire ranges from baroque to contemporary. GVE was invited to take part in several international festivals, including 32nd Musique en Morvan - Bourgogne; 15th Festival des Choeurs Laurèats - Vaison la Romaine (Fr); 7th Europaisches Jugendchorfestival - Basel (CH); 7th Koper International Festival (SL); Festival Voice! Since 2002, the choir has been awarded important prizes in 11 national and international competitions, winning eight first prizes and second (first not assigned) or third places elsewhere. From its foundation on, GVE is conducted by Roberta Paraninfo.

EQUAL VOICES
Embla, Norway, cond. Norunn Illevold Giske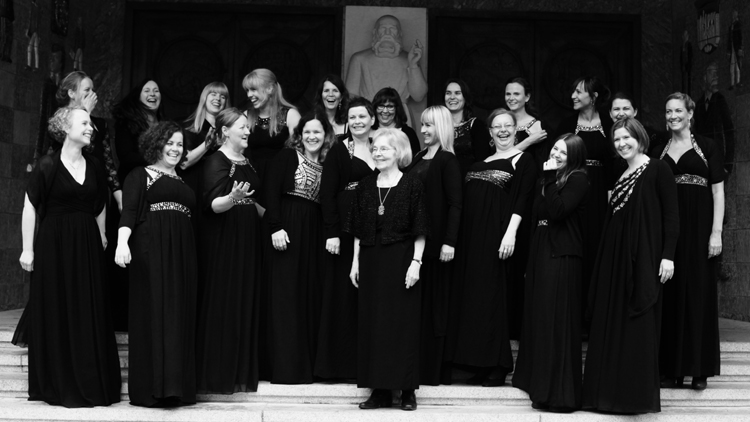 Embla was founded in 1994 by the conductor at the Norwegian University of Science, department of Music. The choir has achieved a number of high level prizes in international choir competitions all over Europe. The latest ones in Interkulturs competition in Calella 2015 and Grand Prix of Nations in Berlin 2017. In Calella the choir won every class they participated in (Sacred music, Chamber choir and Folklore) with the highest score ever given in that competition. In Berlin, they were second in the class of chamber music. Ebla is regularly holding concerts and tours, and continuously receives written music from composers both from Norway and other places in Europe.
Wah Yan College Kowloon Boys' Choir, Hong Kong, China, cond. Lesley Ka-Hei Chan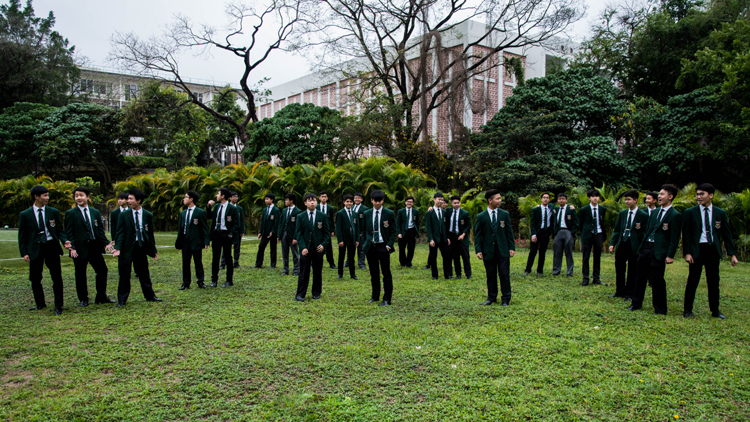 Wah Yan College Kowloon is one of the two Jesuit Secondary schools operated in Hong Kong for almost 100 years. It aims to nurture students with competence, leadership in society, striving attitude and holistic personalities. Being 'Men for and with others', the singers of the Wah Yan College Kowloon Boys' Choir participate in numerous music services, performances and competitions locally and overseas. Their recent accomplishments include: 2016 17th International Choral Kathaumixw in B.C. Canada (3 championships) Grand Prix Winner; 2017 10th Orientale Concentus in Singapore (2 championships); 2018 1st Tokyo International Choir Competition (1 championship, 2 Gold Medals and Best Interpretation Award for a compulsory piece by contemporary Japanese composer); and 2018 34th Takarazuka International Chamber Choir Contest in Japan (2 Golds, 1 Silver) Grand Prix 1st Place.

MIXED CHOIRS
Akademski pevski zbor Maribor, Slovenia, cond. Tadeja Vulc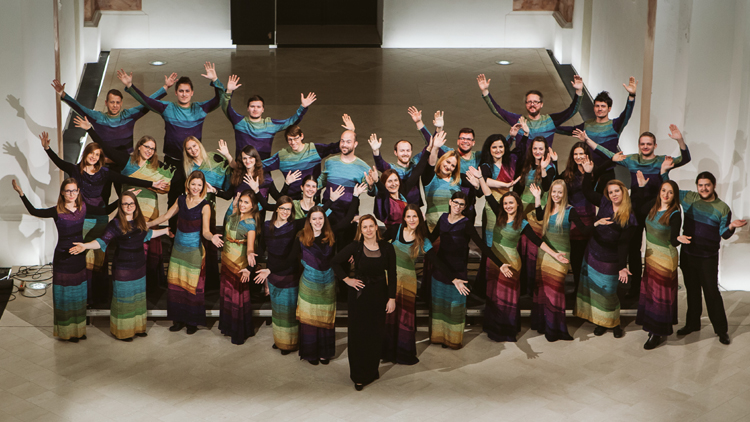 The Maribor Academic Choir dates back to 1964 as a part of cultural art association KUD Študent. APZ Maribor is one of the primary bearers of student, youth and amateur culture in Maribor, and the cultural ambassador of Slovenia abroad. Singers, mainly students of different faculties, have been creating quality choral music for many years. The choir's first conductor was Stane Jurgec who successfully led the choir from the very start all the way to 1991. APZ Maribor also performed under the baton of Ivan Vrbančič, Alenka Korpar, Simon Robinson, Jože Fürst, Jasmina Dobaj, and Zsuzsa Budavari Novak. In 2012, the outstanding composer and conductor Tadeja Vulc assumed its leadership, successfully steering the 50-member choir on concert- and competition stages across Europe (Debrecen, Spittal an der Drau, Varna, Arezzo, ...). In the past two years, the choir set important milestones by publishing CDs, ordering new compositions, and publishing them.
Chamber Choir of the Music Academy Mannheim, Germany, cond. Harald Jers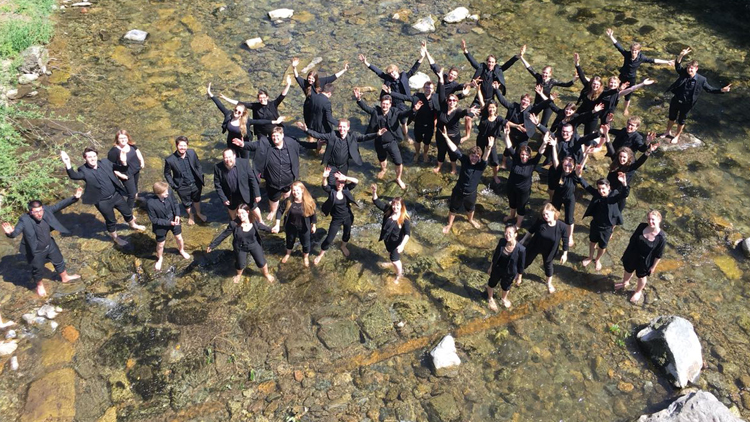 The Chamber Choir of the Music Academy Mannheim consists of about 36-40 singers. Both students of the University and external singers develop semester across choral works of all periods, mainly from the a cappella repertoire. The chamber choir regards itself as a university representative ensemble, which offers students insight into the semi-professional choral work. The repertoire is compiled concert specific with view to stylistic and thematic aspects and in addition to well-known works and rarely heard choral literature. The Chamber Choir realizes regular concerts in Mannheim and the surrounding area and gained large cross-regional recognition with Radio and TV broadcasts. In addition, the choral group is invitated regularly to national and Iinternational festivals in combination with concert tours. Several prizes at international choral competitions substantiates the high choral level, among them a 2nd prize at the International Choir competition in Derry, a 1st, 2nd prize, and special prize of the SWR Vocal Ensemble at the German Choral Festival in Stuttgart in 2016 and a 1st prize at the German Choir competition in 2018.
Jāzeps Vītols Latvian Music Academy Mixed Choir, Latvia, cond. Jānis Ozols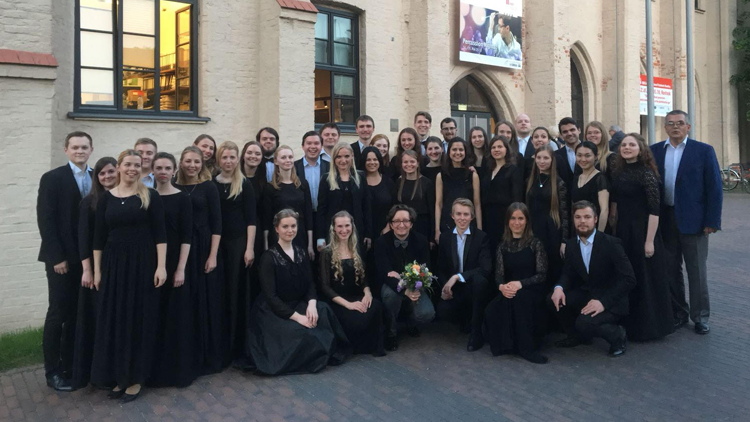 JVLMA Mixed Choir was founded in year 1945 and initially served as a laboratory of vocal art and conducting technique for young conductors who later used their acquired skills in practice with their own youth and adult amateur choirs. Regular work at the rehearsals during the academic year provides the foundation for mastering the skills of singing and conducting. To ensure the best available musical education and artistic practice, JVLMA provides an opportunity for students to participate in various masterclasses, given by specialists of diverse fields of music. JVLMA Mixed Choir often performs in Latvia and abroad, providing an opportunity for their audiences to enjoy choral music of various epochs, styles and genres. Choir also participates in international festivals and competitions.
KUP Taldea, Spain, cond. Gabriel Baltes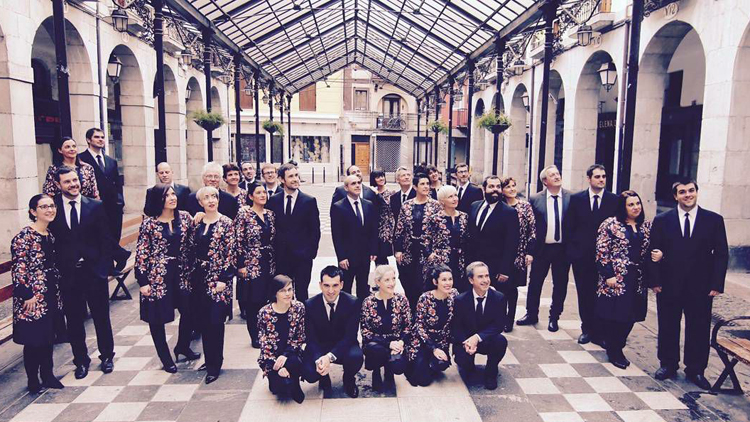 Fifteen years have passed since a group of eager young musicians approached choirmaster Gabriel Baltes with the proposal to form a new vocal ensemble: KUP Taldea. Fifteen years could be considered a short period of time in terms of a choir's development. However, it is undoubtedly true that fifteen years have been sufficient to corroborate a remarkable evolution, a wash with triumphs and successes, in such a short space of time, in a constant search for musical excellence. Proof of this continuous evolution includes: greatly demanding and complex programmes (e.g. programmes dedicated to a sole composer), concerts and tours at home and abroad (in Spain, France and Luxembourg), recordings (the CD "Priez Pour Paix" – sacred music by Basque composer Aita Donostia) and a record of success at international competitions: Tolosa Choral Contest, International Choral Competition Gallus Maribor, Florilege Vocal de Tours, and finalist at the 23rd EGP. In 2017, in recognition for all our achievements so far, KUP Taldea was invited to take part in the XI. edition of the World Symposium on Choral Music in Barcelona.
Lautitia Chamber Choir, Hungary, cond. József Nemes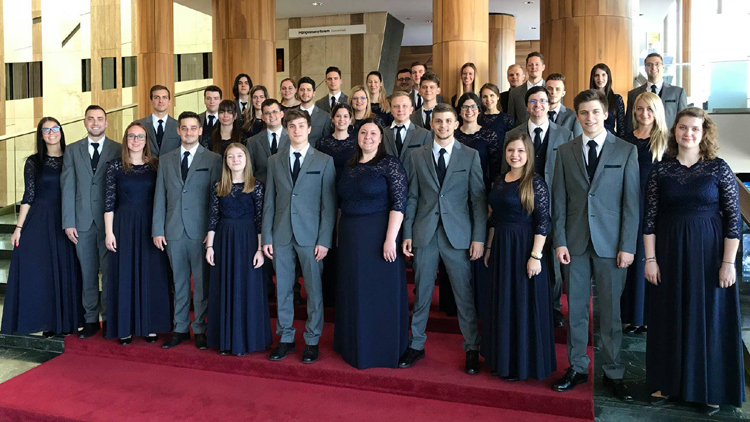 Lautitia Chamber Choir grew up from Lautitia Mixed Youth Choir for the initiation of the members between the age of 19-30. Most of them study non-musical disciplines, and work in different sectors. Their repertoir is mostly based on contemporary music but they also like the challanges of old time compositions. The two groups have been working seperately since January of 2016, but the choir's first competition was in 2015 on the XV. Budapest International Choir Competition, where they won the first prize in their own category. Their other results: in 2015 the Grand Prix of Arezzo International Choir Competition which qualified them for the 2016 European Grand Prix for Choral Music in Varna, and in 2017 first prize of the Mixed Choirs category as well as the Grand Prix of XVI. Budapest International Choir Competition. In March of 2018, they won first prize at Riva del Garda in their own category and also took part in the Grand Prix of 15th Concorso Corale. The choir believes that with hard work, mutual confidence and togetherness, they could be able to fulfill their own expectations.
Mlada, Russia, cond. Olga Vyguzova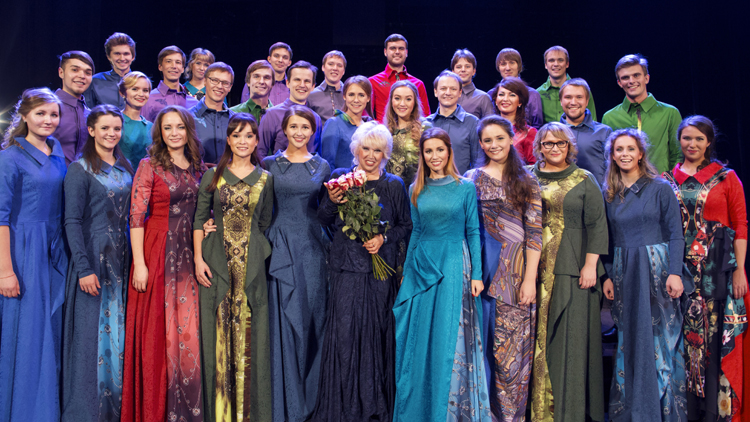 Choir 'Mlada' from Perm, Russia, is a youth team, a winner of international competitions and festivals. Their artistic director is the Honoured Art Worker of the Russian Federation, Olga Vyguzova who conducts the group and watches over the high professional level and abilities of the youth musical group. Moving apart the boundaries of traditional choral genre, the team uses pioneering creative ideas, has a good command of versatile singing styles, and uses drama, show and musical-choir elements in their concerts. In Mlada's repertoire, there are over 300 works of different musical styles ranging from folk and traditional academic choir performance to modern forms of vocal music-making. Choir is distinguished by its personal style and has been a cultural brand of Perm and the Perm region for more than 20 years.
Mt. San Antonio College Chamber Singers, USA, cond. Bruce Rogers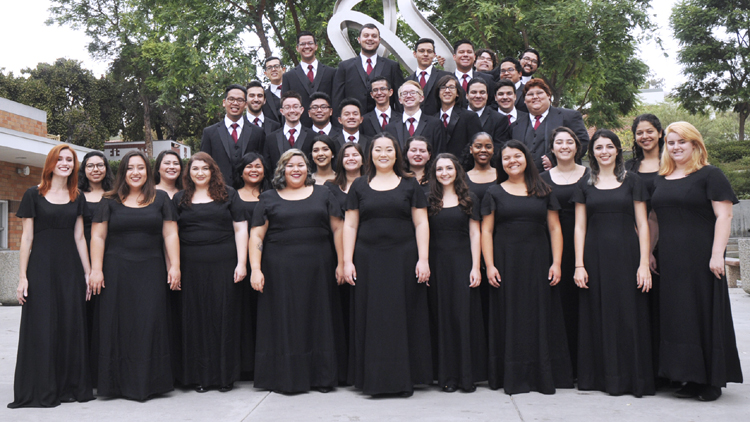 The Mt. San Antonio College Chamber Singers have won numerous awards and have received special performance invitations throughout the world, including; performances at eleven American Choral Director's Association (ACDA) National and Regional Conventions, headline performances in Canada, China, Australia, South Africa, and throughout Europe; received two platinum medals at the "Xinghai Prize International Choir Championships" in Guangzhou, China; were named champions at the "Grand Prix Choir Competition" in Varna , Bulgaria; competed in the "European Grand Prix Competition" in Gorizia, Italy, won first place honors at the "International Choral Competition" in Spittal an der Drau, Austria, received the first place prize at the "Grand Prix of Nations" in Magdeburg, Germany; won the title of Choir of the World at the "International Musical Eisteddfod Competition" in Llangollen, Wales; and have also performed as headliners on the Carnegie Hall Stage in New York City on four different occasions.
New Dublin Voices, Ireland, cond. Bernie Sherlock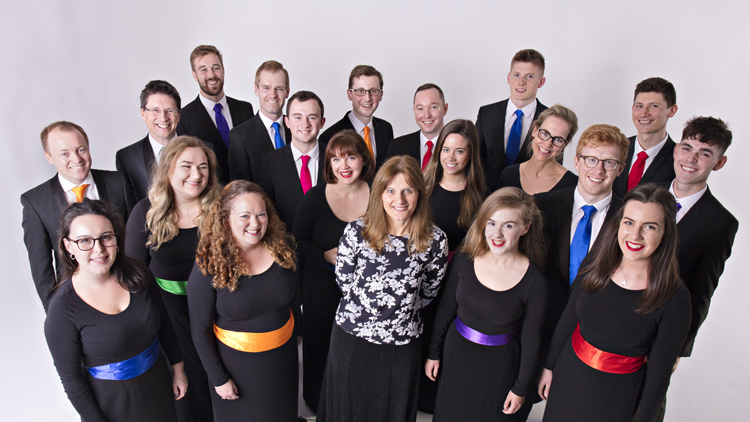 Founded by conductor Bernie Sherlock in 2005, from the start NDV has presented concert programmes that are fresh, innovative, and exciting, ranging widely in style and period from the medieval to the contemporary. The choir takes special pleasure in exploring the music of living composers and has given more than 50 world premieres. The choir leads the way in performing, premiering, commissioning and disseminating Irish choral music, and in introducing international choral music to Irish audiences. Most recently the choir won First Prize for mixed choirs at the 2018 Béla Bartók international choral competition in Hungary, and the overall GP at the 2017 International Baltic Sea Choral Competition in Latvia. Previous awards include First Prize in Cork International Choral Festival (2015), Ireland and the GP in Arezzo (2013), Italy. New Dublin Voices regularly tours to prestigious international festivals at home and abroad. This has seen them travel extensively in Provençe, Normandy, Burgundy and Catalonia. In July 2017 the choir was one of only 24 ensembles from around the globe – and the first ever choir from Ireland – invited to perform at the triennial World Symposium on Choral Music in Barcelona.