Choirs and musical programmes

MALE CHOIR

1. Männerstimmen Basel, Switzerland
Cond. Oliver Rudin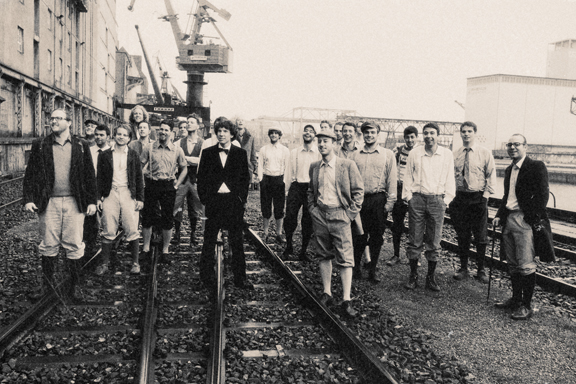 Clothes from the '50s, knickerbockers, suspenders, corduroy jackets: from the outside the Männerstimmen Basel are deliberately antiquated, but those clothes are worn by young men, who committed heart and soul to the male chorus literature. A mixed bunch, which qualities impress juries at home and abroad, such as the victory in the category "men's choirs" at the World Choir Games in Cincinnati 2012, the prize for the best interpretation of a contemporary work at the "Fleischmann International Trophy Competition" in Cork in 2011 and numerous other awards. A project like this is not created by accident. Many of the singers have a past in children's and youth choirs or study music. The choir was founded 2008 by former singers of Knabenkantorei Basel and is conducted by Oliver Rudin and David Rossel. Regularly the Männerstimmen award a commission to well-known contemporary composers (Rudolf Jaggi, Gion Antoni Derungs), or dig up unknown and long forgotten music, ready for any challenge. Additionally, there is a soft spot for their own aesthetic, evident in the artful handling of new media, which presents the classic men's choir habits and simultaneously transforms them. Thus the Männerstimmen Basel are young and old-fashioned at the same time.
OPENING CONCERT
Gion Antoni Derungs (1935–2012): PSALM 121, OP. 188 (Ps. 121)
unpublished
Friedrich Wilke (1769–1848): BERESINALIED (Swiss folk song)
unpublished
COMPULSORY PROGRAM
Jacobus Handl – Gallus (1550–1591) HAEC EST VERA FRATERNITAS (OM: 4/17)
ZRC SAZU Ljubljana
Franz Schubert (1797–1828): HYMNE, D. 964 (Anton Adolph Schmidl)
Breitkopf & Härtel
Mojca Prus (1982): KO ZVEČER SE VRAČAM (folk song from North Slovenia)
Astrum
FREE PROGRAM
Pavel Chesnokov (1877–1944): SPASENIYE SODELAL
Musica Russica
Veljo Tormis (1930): MUISTSE MERE LAULUD (Estonian runes)
Fazer Music
Jaakko Mäntyjärvi (1963): PSEUDO-YOIK
SULASOL
GRAND PRIX
Mark D. Templeton (1974): ARIRANG (Korean traditional song)
Santa Barbara Music Publishing
Evgenij Gunst (1877–1950): LJUBLJU JA TVOJ VZOR (Evgenij Gunst)
unpublished
Gion Antoni Derungs (1935–2012): PSALM 121, OP. 188 (Ps 121)
unpublished
A. R. Rahman/Ethan Sperry (1971): ZIKR (Urdu sacred chant)
Earthsongs

FEMALE CHOIR

2. Tartu Ülikooli Akadeemiline Naiskoor (Tartu Academic Women's Choir), Estonia
Cond. Triin Koch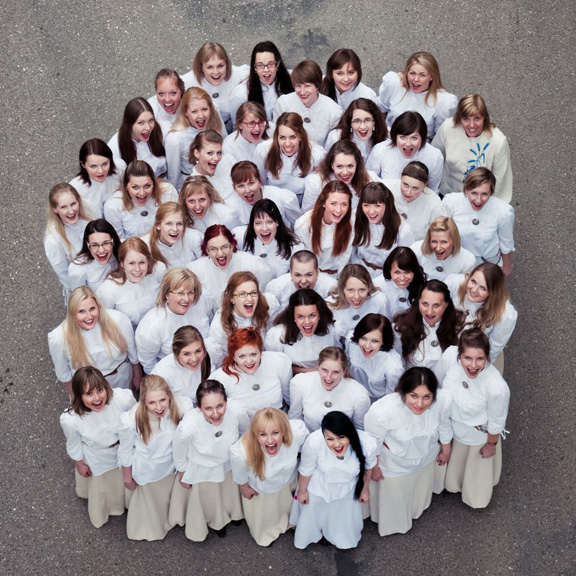 In spite of its ever-changing membership, the University of Tartu Academic Women's Choir has won renown not only in musically-blessed Estonia, but also beyond. During its 68 years of existence, the choir has been a part of Estonia's continuing song festivals. Its achievements at home have been crowned by many national prizes as well as nominations in international competitions. In 1990, on the eve of Estonia's second period of independence, at the crest of its "Singing Revolution", the choir won first place and the Grand Prix in Italy at the first International Choir Competition in Riva del Garda. The most recent achievements in international competitions include third prize in both sacred and secular music and being selected as one of the top five choirs vying for the Grand Prix at the 2009 Grieg Festival competition in Bergen, Norway, and first prize among women's choirs in the annual international competition "Tallinn 2011" held in Tallinn, Estonia. Founded by the composer Richard Ritsing, its long-time primary conductor was Vaike Uibopuu. The current conductor, Triin Koch, who has been repeatedly acknowledged as one of Estonia's most talented choral conductors, took over the baton in 2005.

OPENING CONCERT
Ester Mägi (1922): VAHTRALT VALGÕ PILVE PÄÄLE (Seto folk song )
manuscript
Gustav Ernesaks (1908–1993): SINU AKNAL TUVID (Debora Vaarandi)
Eesti Muusikaühing
Veljo Tormis (1930): KIIGELAULUD (Estonian folk song)
V. Kiigel kartlik
Warner/Chappell Music Finland Oy
COMPULSORY PROGRAM
Jacobus Handl – Gallus (1550–1591): TRAHE ME (OM: 4/102, Vp1, 4.3)
ZRC SAZU Ljubljana
Giuseppe Verdi (1813–1901): QUATTRO PEZZI SACRI
III. Laudi alla Vergine Maria (Dante Alighieri)
Edition Peters
Mojca Prus (1982): NEŽA IN KAČA (folk song from Trnje pri Črenšovcih, East Slovenia)
Astrum
FREE PROGRAM
Galina Grigorjeva (1962): »SVJATKI«
I. »SLAVA!« (/Ordianarium Missæ)
EMIK
Arvo Pärt (1935): PEACE UPON YOU, JERUSALEM (Psalm 122 (121))
Universal Edition
Veljo Tormis (1930): SUVEMOTIIVID (Aleksander Suuman)
I.
Põuailm
II.
Suveöö
Fennica Gehrman, Helsinki
Jukka Linkola (1955): PRIMITIVE MUSIC
V. The joiku
Syrene Music Sulasol
GRAND PRIX
Arvo Pärt (1935): PEACE UPON YOU, JERUSALEM (Psalm 122 (121))
Universal Edition
Cyrillus Kreek (1889–1962): SIRISEGE, SIRBIKESED (Estonian folksong)
manuscript
Tõnu Kõrvits (1969): LAULUD »LAULUDE LAULUST« (Vp/CC 7:13)

MIXED CHOIRS

3. Kammerchor Alumni Heidelberg, Germany
Cond. Werner Gloggler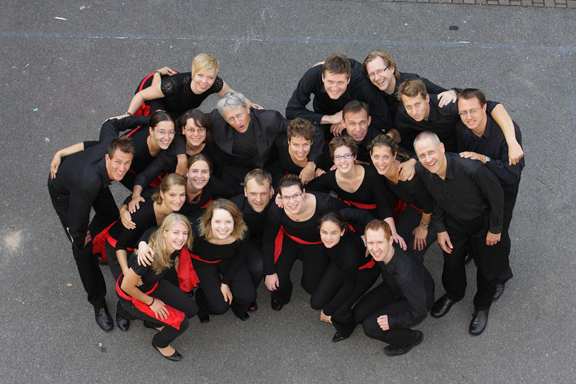 In 2003, the Kammerchor Alumni was founded by former members of the Kammerchor am Kurfürst-Friedrich-Gymnasium, who had received numerous awards as one of the best youth choirs in the world after winning the German Choir Competition in 1994. The idea of the conductor Werner Gloeggler focusses deliberately on the demanding pure a-capella tone. He cultivates this tone in varied programmes, covering all styles and ages. The choir compells the audience with its homogeneousness and intense interpretation. They also take the chance to try out new and innovating forms of presentation in their concert projects. These facts considered, the most dashing experimental acoustic study of contemporary composers will be an unforgettable event to the audience. Recently, the choir won the first prize, achieving a "Summa cum laude" at the Tonen-Festival in the Netherlands. Moreover, the conductor Werner Gloeggler was awarded the preferential prize "Conductor of the Festival".

OPENING CONCERT
Werner Glöggler (1947): ICH HABE MEIN HERZ IN HEIDLBERG VERLOREN (/German
folksong)
unpublished
Wolfram Buchenberg (1962): KEIN SCHÖNER LAND (Wilhelm V. Zuccalmaglio)
Carus Verlag
COMPULSORY PROGRAM
Jacobus Handl – Gallus (1550–1591): VIRI SANCTI (OM: 4/2)
ZRC SAZU Ljubljana
Johannes Brahms (1833–1897): ZWEI MOTETTEN op. 74
1. Warum ist das licht gegeben dem Mühseligen
Breitkopf&Härtel
Mojca Prus (1982): ŠÜRKA JE TISA (folk song from Gornji Petrovci, East Slovenia)
Astrum
FREE PROGRAM
Eric Whitacre (1970): SLEEP (Charles A. Silvestri)
Walton Music
Morten Lauridsen (1943): MADRIGALI: SIX »FIRE SONGS« ON ITALIAN RENAISSANCE
POEMS
1. Ov'è, lass', il bel viso? (Henricus Schaffen)
Peermusic
Henk Badings (1907–1987): LA COMPLAINTE DES ÂMES (Théodore Botrel)
Annie Bank
GRAND PRIX
Heinrich Schütz (1585–1672): DIE MIT TRÄNEN SÄEN (Ps 126, 5–6)
Carus Verlag
Arne Mellnäs (1933–2002): DREAM (E. E. Cummings)
WilhlemHansen
Jaako Mäntyjärvi (1963): DOUBLE, DOUBLE, TOIL AND TROUBLE (William Shakespeare)
Sulasol

4. Resonans con tutti, Poland
Cond. Waldemar Galazka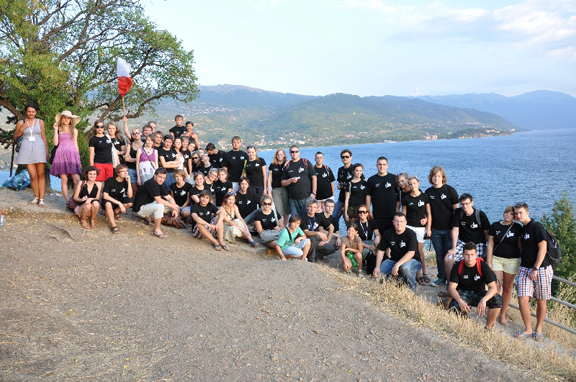 The Zabrze Youth Choir "Resonans con tutti" was founded in 1970 by Maria and Norbert Kroczek. The ensemble consists of nearly 80 choral music enthusiasts – mostly youth between 15-27 years old. Waldemar Gałązka has been the conductor of the choir since 1994. The voice emission is taken care of by the 2nd conductor, Arlena Różycka-Gałązka. The choir's repertoire embraces both a cappella pieces, as well as vocal-instrumental compositions originating from various ages (including masterpieces "Requiem" by Mozart, Faure, Verdi and Webber; "The Messiah" by Georg Friedrich Haendel; "Carmina Burana" by Carl Orff, and numerous masses written by Beethoven, Gounod, Mozart … ). They give approximately 60 concerts every season (worth mentioning are the performances for Pope John Paul II and the former President of FRG Richard von Weizsäcker). "Resonans con tutti" has been regularly taking part in competitions - most recently, they were awarded in Rimini (Italy), Olomouc (The Czech Republic), Tours (France), Ohrid (Macedonia), as well as Westland (Netherlands). The singers of "Resonans con tutti" highly value the beauty of music performed and appreciation of the audience. Thanks to their vocal performances, they try to promote choral music in Poland and beyond its borders.

OPENING CONCERT
Juliusz Łuciuk (1927): TRZY BABY (polish folk song)
PWM Edition Kraków Poland
Jan Krenz (1926): WESOŁA (polish folk song)
PWM Edition Kraków Poland
COMPULSORY PROGRAM
Jacobus Handl – Gallus (1550–1591): QUASI CEDRUS (OM: 4/36, Sir 24, 13 - 15)
MAMS SAZU, Ljubljana
Felix Mendelssohn – Bartholdy (1809–1847): DENN ER HAT SEINEN ENGELN BEFOHLEN (Ps
91)
CPDL
Mojca Prus (1982): ŠÜRKA JE TISA (folk song from Gornji Petrovci, East Slovenia)
Astrum
FREE PROGRAM
Jacobus Handl – Gallus (1550–1591): JERUSALEM GAUDE(OM: 1/8)
Editio Budapest
Marek Raczyński (1982): SICUT LILIUM INTER SPINAS (Song of Songs 2,2)
Biblioteka Caecilianum
Hyo-WonWoo (1972): GLORIA (Ordinarioum missæ)
Choruscenter.Korea
Johannes Brahms (1833–1897): NACHTWACHE II (from Fünf Gesänge, Op. 104)
CPDL
Claude Debussy (1862–1918): TROIS CHANSONS
1. DIEU! QU'IL LA FAIT BON REGARDER (Charles D'Orleans)
CPDL
Gyorgy Orban (1947): DAEMON IRREPIT CALLIDUS (text from medieval hymn)
UST College of Science Glee Club
GRAND PRIX
Heinz Lau (1925–1975): O MUSICA (Paul Peuerl)
Möseler Verlag Wolfenbuttel
Leo Nestor (1948): JESU DULCIS MEMORIA (anon. XII c.)
E. C. Schirmer Music Company
Eric Whitacre (1970): SLEEP (Charles Anthony Silvestri)
Walton Music
Romuald Twardowski (1930): CONCERTO RUSTICO
PWN

5. Stockholms Musikgymnasium Chamber Choir, Sweden
Cond. Helene Stureborg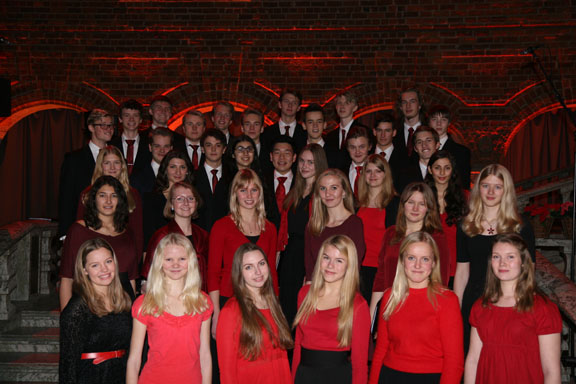 The choir was founded in 1989, by Gary Graden, at the time music teacher at the school, in order to offer the students extended experiences in choral singing as a complement to the regular choral education at The Stockholms Musikgymnasium. The choir has gained a wide spread reputation and has won several international competitions. Another highlight in the choir's history was the invitation to the IFCM (InternationalFederation of ChoralMusic) Symposium in Ljubljana in 1995, where the Chamber choir represented Sweden. Since 2002, Helene Stureborg, conductor and music teacher at the school since 1990, works with this talented choir. They have produced two CDs (God Jul and Ave Maria) and have been successful in choir competitions and festivals (Tours, Marktoberdorf, Cork, Usedomer Musikfestival, Concordia Vocis in Cagliari, Sardinia, and the European Youth-Choir Festival Basel). They have of course given a lot of concerts (program also including Bach: Komm, Jesu, komm, Mahler: lch bin der Welt abhanden gekommen and Martin: Mass for double-choir), performed in Berliner Dom, and went on a tour with Andrea Boccelli in Oslo, Copenhagen andg Stockholm (2010). The choir rehearse two hours per week after a full school-day. Since the singers study Humanities or Natural Sciences during only three years at the Stockholm's Musikgymnasium, the choir change 10-12 of the in all 38 members every year.

OPENING CONCERT
Jan Sandström (1954): BIEGGA LUOHTE – Yoik to the Mountain Wind (Lapland Joiks)
COMPULSORY PROGRAM
Jacobus Handl – Gallus (1550–1591): TOTA PULCRA ES (OM: 4/69, Vp/CC 1,14)
ZRC SAZU, Ljubljana
Joseph Gabriel Rheinberger (1839–1901): DREI GEISTLICHE GESÄNGE op. 69,
1. Morgenlied
Carus Verlag
Mojca Prus (1982): ŠÜRKA JE TISA (folk song from Gornji Petrovci, East Slovenia)
Astrum
FREE PROGRAM
Einojuhani Rautavaara (1928): CREDO
Ed. Fazer
Sven David Sandström (1942): FOUR SONGS OF LOVE
– 1. Let him kiss me
Gehrmans Musikförlag
Ildebrando Pizzetti (1880–1968): DUE COMPOSIZIONE CORALI
– 1. Il giardino di Afrodite
Ricordi

GRAND PRIX
Fredrik Sixten (1962): AVE VERUM CORPUS (eucharist hymn)
Gehrmans Musikförlag
Einojuhani Rautavaara (1928): CREDO (Ordinarium missæ)
Ed Fazer
Oskar Lindberg (1877–1955): STJÄRNTÄNDNINGEN
Nordiska musik förlaget

6. Zbor Konservatorija za glasbo in balet, Slovenia
Cond. Ambrož Čopi

i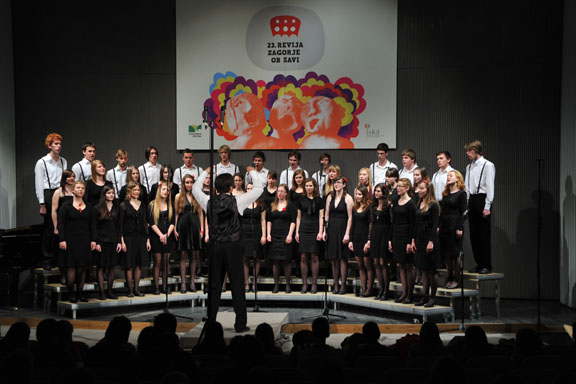 The choir of the Ljubljana Conservatory for Music and Ballet is organized as a part of the artistic gymnasium program and consists of about 60 members. After years of successfully performing under Tomaž Habe, Ambrož Čopi assumed its leadership in 2010. Students not included in school orchestras sing in the choir. Special attention is given to compositions by contemporary Slovene composers, thus encouraging the youngest generation of conductors to create new compositions which are then successfully promoted in concerts and at competitions in Slovenia and abroad. They have successfully introduced themselves in the past two years at the choral competition of contemporary music Canti veris Praga (Czech Republic, 2013, winning a special prize for the interpretation of contemporary Slovenian music and the Grand Prix), the international choral festival in Gdansk (Polamd, 2012, two golden plaques and first prizes), the national competition of children's and youth choirs Zagorje ob Savi (Slovenia, 2012 – golden plaque cum laude and first prize in mixed youth choirs), and Samoborsko zborsko protuletje competition(Croatia, 2011). Upon an invitation by the organizers, the choir performed as guests of the 45th gathering of Croatian choirs in Novigrad (Croatia), and at the Best from Zagorje performance, organized in the Slovenian Philharmonic Hall by the Glasbena Matica Ljubljana Music Society.

OPENING CONCERT
Magnifico/Samo Ivačič (1974): 24.000 BACI (Magnifico)
manuscript
Leteći potepuhi/Tine Bec (1993): BICIKL (Leteči potepuhi)
manuscript
Tine Bec – piano, Petra Jerič – choreography
COMPULSORY PROGRAM
Jacobus Handl – Gallus (1550–1591): EXSULTATE DEO, ADIUTORI NOSTRO (OM: 4/142, Ps 80
(81): 2-4)
ZRC SAZU, Ljubljana
Sergej Vasiljevič Rahmaninov (1873–1943): VSENOČNOJE BDENIJE, op. 37
– 7. Slava v višnih Bogu (The six Psalms)
– 8. Hvalite imja Gospodne
Musica Russica
Mojca Prus (1982): ŠÜRKA JE TISA (folk song from Gornji Petrovci, East Slovenia)
Astrum
FREE PROGRAM
Anton Lajovic (1878–1960): LAN (Dragutin M. Domijanič)
ZKOS/JSKD
Alfred Schnittke (1934–1998): TRI DUHOVNIH HORA
– 3. OTČE NAŠ
Hinshaw Music
Matej Kastelic (1994): SONET 130 (William Shakespeare)
Astrum
György Orbán (1947): DAEMON IRREPIT CALLIDUS (text from medieval hymn)
Hinshaw Music
GRAND PRIX
Karol Pahor (1896–1974): OČE NAŠ HLAPCA JERNEJA (Ivan Cankar)
Astrum
Matej Kastelic (1994): VSAKA JESEN RUMENI (folk song from Istria)
Astrum
Aldo Kumar (1954): TURIST (Iztok Geister Plamen)
IDSS, ZKOS/JSKD
Canceled
APZ Tone Tomšič University of Ljubljana
Cond. Sebastjan Vrhovnik
Renwen Philharmonic Choir of Wuhan University, China
Cond. Zhou Kai
Coral Antiphona, Venezuela
Cond. César Alejandro Carrill