| | | |
| --- | --- | --- |
| | | 32nd Winter Dance School 2017 |
| | | Maribor, Karantena |
| | | 24–27 February 2017 |
| | | Simon Wehrli, Jernej Bizjak, Marija Slavec, Žigan Krajnčan & Gašper Kunšek, Saša Lončar, Maša Kagao Knez, and  Snježana Premuš |
| Deadline: | | 13 February 2017 (discount price!!!) |
32nd Winter Dance School 2017 in Maribor

Organised by: JSKD OI Maribor and ZKD Maribor

TOP QUALITY DANCE WORKSHOPS AND PERFORMANCES!

The Winter Dance School (WDS) is extremely popular among Slovenian dancers and has proven to be an important form of education, encompassing different dance techniques and research workshops, led by renowned teachers and makers from Slovenia and abroad.
The 32nd WDS will take place from 24 to 27 February 2016 in Maribor. This year, we are hosting the following teachers, who have joined us to share their knowledge, skills, and experience: Simon Wehrli: contemporary technique Flying Low I and II; Jernej Bizjak: modern and modern creative workshop; Marija Slavec: GAGA people and repertory workshop Vertigo; Žigan Krajnčan & Gašper Kunšek: Alien Express movement workshop; Saša Lončar: dance workshop for children and mentors' workshop; Maša Kagao Knez: afro fusion and afro-contemporary dance; and  Snježana Premuš: embodied anatomy and yoga.
WDS is recommended for dancers, teachers, choreographers, and all who are actively involved in dance and movement. Our programme covers all levels, from beginners to experienced/professional dancers.

On Saturday and Sunday, you can relax with Chinese traditional massage given by Darinka Brešar. Please, make a prior appointment at +386 41 911 115. More information at www.darinka-tuina.si, fb:darinka tuina.

Our side programme includes dance performances on Friday and Saturday, organised by Institute Nagib and Plesna izba Maribor. On the last evening of WDS, the participants will have the opportunity to present short choreographic etudes made during the workshops and to get together and get to know each other better. The organizer JSKD OI Maribor will issue a WDS CERTIFICATE to the participants who have attended at least one workshop on all four days.
We can always get better, so join us in WDS and take up new challenges!
The 32nd Winter Dance School will take place from Friday 24 to Monday 27 February 2017 in Maribor's Karantena under the auspices of the Public Fund for Cultural Activities of the Republic of Slovenia, Maribor Branch Office, and Association of Cultural Societies Maribor. It is recommended for dancers, dance mentors, choreographers, and everybody actively involved in dance and movement. Workshops are open to all age groups, to amateurs, professionals, or anyone in between. Children aged 5 to 7 can join a creative dance workshop for children. Teaching observations for mentors of children's workshops and a mentor workshop are also organised. The concluding performance to show what the participants have learnt at WDS is scheduled for the last evening. You are also invited to come and see dance performances.
WORKSHOPS AND TEACHERS
CONTEMPORARY DANCE FLYING LOW – Simon Wehrli
CONTEMPORARY DANCE TECHNIQUE - FLYING LOW I
Making use of spirals and curves, this class explores mainly the relationship of the mover with the floor / the ground. By learning specific movement material, the participants work with the principles of expansion, cohesion, and gravity. The goal is to remain calm also in moments of high intensity and to find order in chaotic states / propositions. To maintain the balance between active and passive. Between inside and outside. Eventually, the proposed form becomes a vehicle towards more freedom in movement. This class is based on David Zambrano's flying low technique.
CONTEMPORARY DANCE TECHNIQUE - FLYING LOW AND FURTHER
Departing from principles of flying low (dance technique developed by David Zambrano) this class focuses on finding ease and clarity in directing the moving body through space. The topics the participants will encounter are stability through the feet, moving between balance and off-balance, letting gravity do a part of the work, and efficient use of time. Working with set and at times un-set material, this class aims to go more into detail, allowing the participants to be present in any moment of the dance and to not forget any part of their body.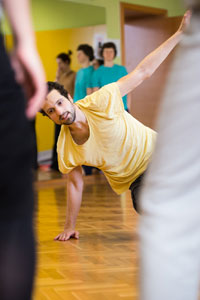 (photo: Saša Huzjak)
SIMON WEHRLI (1983) studied physical theatre at Scuola Teatro Dimitri (Verscio, CH) and contemporary dance at Trinity Laban (London, UK). As dancer, actor, and musician, he has collaborated in different projects in Europe and the USA. He has worked with Judith Sanchez Ruìz (New York, USA), Lizzi Kew-Ross (London, UK), and David Zambrano (Brussels, B), amongst others. He is a founding member of the Swiss-based Collettivo Spettatori movement theatre and the dance-improvisation project 50collective. Several tours have taken him through Europe, Africa, and the USA. In 2010, he was selected to participate in the 50 Days of Flying Low and Passing Through Costa Rica led by David Zambrano.
Since 2009, Simon has been teaching dance technique and improvisation internationally as well as developing his own work.
GAGA PEOPLE and REPERTORY WORKSHOP VERTIGO – Marija Slavec

GAGA PEOPLE is open to dancers and non-dancers alike, regardless of their prior training or experience. The class will be given (mainly) in English, since the terminology used in Gaga language has been developed in English.
Gaga is not a dance technique, but a language, created by Ohad Naharin over the years of his work with Batsheva Dance Company. Still in the process of developing, Gaga language originates in the notion of the healing properties of dynamic and continually changing power of the moving body. Gaga is a new way of gaining knowledge and self-awareness through the body.
Gaga provides a framework for discovering and strengthening the body and adding flexibility, stamina, and agility, while lightening the senses and imagination. Gaga raises awareness of physical weaknesses, awakens numb areas, exposes physical fixations, and offers ways for their elimination. The work improves instinctive movement and connects conscious and unconscious movement, allowing for an experience of freedom and pleasure in a simple way.
http://www.gagapeople.com/English  
REPERTORY WORKSHOP VERTIGO gives an insight into the creations of the dance company Vertigo. The participants will have the opportunity to undertake an in-depth study of the scenes from the performances Yama, Vertigo 20, Reshimo, and Phoenix.
Contemporary dance company Vertigo takes the viewer every time to a new or an unexpected, exciting, and challenging journey into unfamiliar territories. Vertigo represents international standards of artistic excellence, with a social and community touch.
http://www.vertigo.org.il/index_eng.asp#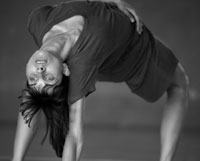 (photo: Vertigo Global)
MARIJA SLAVEC started dancing in the dance school Elite in Koper, Slovenia, under the mentorship of Siniša Bukinac and Kristina De Ventus, and continued her modern dance training in Ljubljana with Kjara Starič Wurst. After successfully auditioning for D.A.N.C.E. (European Interdisciplinary Professional Program), Marija collaborated as performer and co-creator of new performances with Frédéric Flamand, William Forsythe, Wayne McGregor, and Angelin Preljocaj. In 2009, she was engaged in the project of the Swedish Riksteatern in collaboration with Batsheva Dance Company, where she performed Ohad Naharin's work Kamuyot. In 2009, she joined the Batsheva Ensemble, where she danced in Naharin's and Sharon Eyal's creations. She joined Vertigo Dance Company in 2012, performing in pieces by Noa Wertheim, Sharon Fridman, and the pioneer of contemporary dance Anna Halprin. Over the past seven years, she has performed in Sweden, Israel, the USA, Italy, France, Germany, Columbia, Panama, Australia, China, Russia, Georgia, Monaco, Croatia, and England.
Marija has been giving Gaga workshops to dancers and non-dancers since 2010.
MODERN CLASS and MODERN CREATIVE WORKSHOP – Jernej Bizjak

MODERN CLASS will start with a warm up that includes a set of exercises based on different modern techniques. After understanding the base, the technical level will develop and build up throughout the week. The exercises will be upgraded in the sense of rhythm, dynamic, flow, level of technique involved, and moving through space. The second part of the class will involve dance phrases made by me or by other choreographers. Besides the technical part of the class, I will focus on the dancing itself in the sense of better understanding and a more precise execution of the dance material in combination with interpretation. As I have worked with many choreographers and teachers of different styles and techniques, my choreographies are influenced by all of them. When teaching a repertoire of other choreographers, I will refer to the Swedish choreographer Martin Forsberg and the Italian choreographer Fabio Liberti. The first one wages on pedestrian and raw mood in his movement material, overlapped with diverse intellectual concepts, and is known for high quality productions, whereas the poetics of Liberti is focusing more on movements based on concrete/real tasks, coloured by strong and minimalistic details of a very personal nature, and is known for the humour and the use of text in his pieces.
MODERN CREATIVE WORKSHOP will start with a warm up based on improvisation in combination with short and basic dance exercises, followed by different body tension relaxation exercises, exercises connected to the muscle tonus, and exercises connecting the body to space and time. In this way, those who have already been to my class and the newcomers will find a common ground to establish a comfortable atmosphere required for the creative process. In the second part, we will take the time to explore, create, and experiment. Using different improvisation tools, we will discover new ways of moving on our own, in couples, or in a group, and thus challenge our awareness and alertness. We will create our own dance material using different methods and principles that will at the same time limit and increase our creativity. Later we will focus on the execution of the movement material and play with possible variations on it. The workshop will finish with a quick look into the "body weather treatment", where we will, through various exercises and a simple massage, softy manipulate different body parts to find more space in the joints and relax our body to prevent possible injuries. The program of the workshop may change to meet the level and the needs of the participants.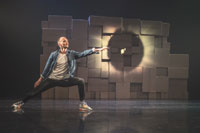 (photo: Drago Videmšek)

After years of intense dancing and competitions in the area of modern dance in the frame of the dance school Kazina, JERNEJ BIZJAK (1987) went abroad for professional training in CODARTS - Rotterdam Dance Academy. As a member of the project Kylian / van Manen for young dancers, he performed famous works of the great masters (Jiri Kylian, Hans van Manen) throughout the Netherlands as part of the 2009 Dutch Dance Festival. In 2010, he joined Cross Connection Ballet Company. In the project Outside, with dancers of the Royal Danish Ballet, he performed in three short dance pieces of different choreographers (Tim Matiakis, Martin Forsberg, and Louise Midjord). In September 2010, he joined the Barcelona-based dance ensemble of young dancers IT Dansa, which is also a postgraduate program of the Institut del Teatre. In this ensemble, he has upgraded his skills, performing in dance pieces of the most famous and important choreographers of our time (Jiri Kylian, Ohad Naharin, Sidi Larbi Cherkaoui, Alexander Ekman, Rafael Bonachela, Stijn Celis, Catherine Allard).
In November 2012, he returned to Denmark and started working in the Danish Dance Theatre (Director: Tim Rushton), which is renowned for its excellent international dancers. During the period of working and touring with this dance theatre, he has travelled much of the world and visited countries such as China, North Korea, Thailand, Germany, Norway, Poland, Lithuania, Latvia, Sweden, Finland, and England.
Jernej is currently a self-employed artist. As a freelancer he participated in productions Cross Connection Ballet Company, Opera and Ballet Ljubljana, Korzo & NDT,  Fors Works, Dark Circles Dance,  Institute 0.1, and LW Dance. In addition to dancing and co-creating, he regularly teaches classes in Slovenia and abroad.
More: https://www.youtube.com/watch?v=6MC40w2waIQ; https://www.youtube.com/watch?v=ywd5bed0QoA. In 2016, he successfully presented his solo project In the Embrace of a Trigger or the Road to Point Zero, which was also shown at Festival ŽIVA.

ALIEN EXPRESS MOVEMENT – Žigan Krajnčan and Gašper Kunšek

The workshop ALIEN EXPRESS MOVEMENT blends hip hop, contemporary dance, popping, house, yoga, and contact improvisation to practice, understand, and experience the communication between space, body, mind, impulse, emotion, and presence. From experience to knowing, but free from experience.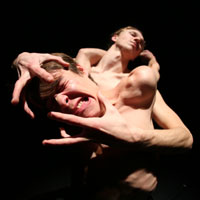 (photo: Borut Bučinel)

ŽIGAN KRAJNČAN & GAŠPER KUNŠEK are promising dancers and makers of the youngest generation. Their style of dancing, continuously developed and upgraded, is a fusion of popping, hip hop, ballet, release and Cunningham techniques, crump, house, and contact improvisation. Despite their young age, they have already won several significant awards and prizes in different areas. They have been working closely together since 2011, developing distinct principles of mental/movement communication and connection and exploring what happens in the space between them as performers on stage on a regular basis, again and again, though always slightly differently. They collaborated in the interdisciplinary project The Hidden Myth. Their performance Nameless, supported by the Public Fund for Cultural Activities in the frame of the OPUS Production Award, has been met with great success and has been shown at the Platforma/Performa Festival in Maribor, at the Ukrep Festival in Ljubljana, Fronta Festival in Murska Sobota, Lent Festival in Maribor, and Živa, festival of young dance performers.The performance Nameless has also been included in the 8th Gibanica Festival of Slovene Dance 2017. Krajnčan and Kunšek have also been highlighted as promising choreographers within the European dance network Aerowaves 2017.
AFRO FUSION and AFRICAN CONTEMPORARY DANCE – Maša Kagao Knez

AFRO FUSION
The workshop will start with a warm up that includes movement motifs of the African dance tradition, followed by a dance phrase connecting the elements learned during the class. Accompanied by energetic drums, you will have the chance to dance out and away all your tensions.
The workshop is intended to all (women and men, also those without prior experience) who wish to further develop their dance expression as well as to those who only wish to unwind or get to know the African culture through dance and music.
AFRICAN - CONTEMPORARY DANCE
Maša's choreographic and pedagogical work is based on connecting contemporary dance techniques with West African dances. She focuses on exploring different qualities. She is interested in how to stimulate dancers to achieve various possibilities of dance expression, with the help of mastering dance technique, the elements of African tradition (rhythmicity, movement motifs…), and improvisation.
The class is intended to all dancers, regardless of their prior training. Focusing on different qualities (awareness and reactivity of the body, clear impetus, precision and intention of movement, focus in a given moment...), the class develops fluidity, a greater amplitude of movement, and a freer, richer, and more authentic performance.
The class will be accompanied by drums played by Blaž Korez, alongside Brin, Matic, and Nejc Kološa.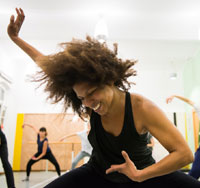 (photo: Saša Huzjak)

MAŠA KAGAO KNEZworks as a dancer, choreographer, and theatre practitioner. She first came into contact with performing arts as a child through the work of her mother, Jasna Knez, a dancer and choreographer herself. Maša took classes and workshops with various international teachers both in Slovenia and abroad. She graduated in 2006 from Georges Momboye School for African Traditional and Contemporary Dance in Paris. In 2013, she graduated from Academy of Dance in Ljubljana. She has worked with the leading Slovenian and international dance and theatre practitioners. As a dancer, actress, and choreographer, she has worked in both big production theatres as well as independent companies. In 2009, Maša co-founded with dancer Dalanda Diallo and musician Damir Mazrek the Baobab Cultural and Arts Society, which operates in the field of dance, music and theatre. Since 2015, she has been the artistic director of Institute 25 and manages the Dance Studio XXV, as well as creates dance performances. Her last in a series of many successful shows was created in 2015 and is called MOMENTUM, Avenue of Captured Moments. In 2016, she created a duet with the musician Murat, which won them the 3rd prize at the XX. Festival of Choreographic Miniatures in Belgrade.
Maša's pedagogical and choreographic work is based on exploring movement materials that combine and intertwine different dance techniques and movement motifs of the African tradition, upgrading them into a distinct dance expression. In 2013, she received the Ksenija Hribar Award for best dancer.

DANCE WORKSHOP FOR CHILDREN (aged 5 to 7) and MENTORS' WORKSHOP – Saša Lončar

DANCE WORKSHOP FOR CHILDREN "Two Are Flying and One Is Barefoot – PERCEPTIONS"
This dance workshop for children will touch upon the sensory as well as intuitive perceptions occurring at every single moment in a (dance) situation. Immersing ourselves in imaginary worlds, we will try to break loose what's contained and open up our creativity, respecting specific movement experiences. The workshop will conclude with a short presentation. Mentors are welcome to attend the workshop.
MENTORS' WORKSHOP, which follows the children's one, is based on discussion and practical activities. It offers a chance to upgrade what was seen and further develop the creative process. Questions and comfortable gear to roll on the floor are required.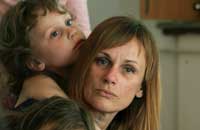 (photo: Uroš Hočevar/Delo)

SAŠA LONČAR (1970) is a renowned dance educator and choreographer, founder and artistic director of KD Qulenium in Kranj and Ljubljana. She annually organises the Festival of Stage Arts Kalejdoskop and a research and creative summer camp for the young at Mašun. Through her creative processes, imbued with vivid imagination, openness, daring and excellent leadership sense, she stimulates children's dance creativity and enriches their personal expression of movement. She and her dancers take part in numerous important events and festivals at home and abroad (France, India, Croatia, Denmark, Serbia). She has received the Meta Vidmar Award for her artistic and educational achievements.
EMBODIED ANATOMY AND YOGA – Snježana Premuš

EMBODIED ANATOMY AND YOGA is a practice that combines the knowledge of embodied anatomy with asanas. It is based on a fundamental principle: support precedes movement. This way of working enables dancers more stability in dynamic moving, as well as a dynamic understanding of stability. In this way, we warm up deeply, stimulate flexibility, as well as build up strength, which are the elements needed for moving without strain.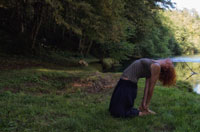 (photo: Marcandrea)

SNJEŽANA PREMUŠ (1973) started her dance path at Plesna izba Maribor. In 1998, she completed her MA in contemporary dance and choreography at the London Contemporary Dance School and in 2012, finished the study of Embodied Anatomy and Yoga with BMC principles in Berlin. Since 1997, she has collaborated with many renowned artists in choreographic researches, improvisation festivals, and different projects (M. Tompkins, D. Zambrano, J. Hamilton, L. Nelson, I. Kovač, E. Claid, V. Globokar,  S. Horvat, among others). Her most noticeable works are Amplified Body with a Berlin musician Ignaz Schick and a series of performances Stories About the Body. Since 2009, she collaborates with the collective Federacija, which she co-founded together with A. Podrzavnik and G. Kamnikar and has been its director since 2012. From 2009 to 2014, she was dedicated to collective work, while also creating her project Physical Manifestations.

ADDITIONAL OFFER

TRADITIONAL CHINESE MASSAGE:
Saturday and Sunday; by prior appointment (Darinka Brešar, +386 41 911 115), Karantena, 2nd floor. www.darinka-tuina.si

SCHEDULE
| | | | | |
| --- | --- | --- | --- | --- |
| time | level | workshop | teacher | studio |
| 09.00 – 10.30 | I | Modern | Jernej Bizjak | studio B |
| 09.00 – 10.30 | II | Embodied anatomy and yoga | Snježana Premuš | studio 7/1 |
| 10.45 – 12.15 | II | Modern creative workshop | Jernej Bizjak | studio B |
| 10.45 – 12.15 | I | Contemporary dance Flying Low  | Simon Wehrli  | studio 7/1 |
| 12.30 – 14.00  | II | Contemporary dance Flying Low  | Simon Wehrli | studio 7/1 |
| 12.30 – 13.45  | I | GAGA people | Marija Slavec  | studio B |
| 14.15 – 15.45  | I | Alien express movement | Žigan & Gašper | studio 7/1 |
| 14.15 – 15.30    | II | Repertory workshop Vertigo | Marija Slavec | studio B |
| 16.00 – 17.00 | I  ☺ | Workshop for children + attendance by mentors | Saša Lončar | studio 7/1 |
| 16.00 – 17.30  | II | African-contemporary dance | Maša Kagao Knez | studio B |
| 17.15 – 18.45  | II  | Mentors' workshop | Saša Lončar  | studio 7/1 |
| 17.45 – 18.45 | I | Afro fusion | Maša Kagao Knez | studio B    |
I – open to all levels – 60/75/90 min
II – more experienced – 75/90 min
☺– workshop for children (5-7 years) and attendance by mentors – 60 min
ACCOMPANYING PROGRAM
Friday, February 24, at 6:30 and 8:30 pm – Big Hall, Narodni dom Maribor
3th  Season of Contemporary Performing Arts "Nagib on stage"
Snježana Premuš and Rok Vevar: PHYSICAL MANIFESTATIONS – POIESIS OF SELF
Concept/direction: Snježana Premuš
Co-authors and perfromers: Snježana Premuš and Rok Vevar
Texts: Rok Vevar and Snježana Premuš
Space and light design: Sonda4
Technical conduct: Špela Škulj
Sound for the installation: Boštjan Perovšek
Music: John Cage
Photography: Marcandrea
Promotion and production: Ksenija Kaučič
Production: Zavod Federacija Ljubljana
Co-production: Bunker Ljubljana
Residency 2016 - Tanzafbrk Berlin
Commissioned by City of Ljubljana
Maribor Organizer: Association Nagib in cooperation with the Narodni dom Maribor


(photo: Marcandrea)
The Greek word poíesis, which had been gradually migrating into the literary field , only to end up as a label for the art of poetry, signified handicraft in the classical era of Greek antiquity: a manufacturing that implied certain skill, dexterity, or technē. At a time when we are fighting for the extension of the concepts of choreography and dance work, a play with its original work connotation seems to make sense. The self in the sum of relations-images, which are nothing more than our body, "a body as an image offered to other bodies" (Jean-Luc Nancy: Corpus). In his book The Radicality of Love, Srećko Horvat claims that love has to be reinvented outside of the field of commodification, which he understands to be a prerequisite for revolution. One could argue that our modern daily life is subject to a suspension of the body, full of immunitary strategies, self-protections and anti-virus programs: our prosthesis of capitalism, roaming around the world through our biographies, has to be de-suspended, transformed – into body. Our percepts need to be reactivated. Sure, the poíesis of the self has no intention of saving the world, but it does not want to avoid its true problems.
http://www.bunker.si/eng/archives/8933
Tickets: Only 2 € with the WDS 2016 identification card. Others 6 / 5 €.
Saturday, February 25, at 8 pm – Small stage, Slovene National Theatre Maribor  

(INTER)SPACE : Maja Lamovšek & Dominika Strozewska  and FLASH: April Veselko
Production: Plesna izba Maribor
 (INTER)SPACE
Created and choreographed by: Maja Lamovšek, Dominika Stróžewska
Music by: Maja Lamovšek
Special thanks to: Rose Breuss (IDA Institute of Dance Arts)
I am here. Is she here too? What is the space between us like? What is the space inside us like? The space is connected by bodies and by sound. How does it feel to be one? One. Conscious of breathing. Sensing. Moving together. Still, there is an interspace between our two bodies in the kinespheric space. How can we influence one another? With the body, with thought, energy, conscious movement in space. What is the relation? Relation between bodies, between sound and silence, between silence and the space we are in. The presence of the body allows freedom. The body in its full presence and subtleness.
˝The presence is quiet and subtle, and sometimes it is little more than a hint half guessed, a gift half understood.¨ (T.S. Eliot.)
We are here, in space. Moving.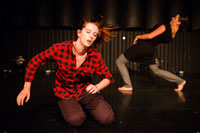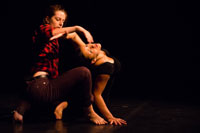 (photo: Saša Huzjak)
Maja Lamovšek (1994) started her contemporary dance training at Plesna Izba Maribor in 1997. While training there she participated in the project F.A.R.M.A. (2010) and created duets Found (2011) and Either Or (2011). Later she started to train also at the Dance Centre Maribor, where she performed in Screw It, Comrades (2012), The Cage (2013), and The Paradox of Movement (2012). She is taking workshops and seminars abroad (workshops at SEAD Academy in Salzburg) and collaborating with renowned choreographers (Eduardo Torroja, Anton Lachky, Eulalia Ayguade Fahro). Maja was also artist in residence at the Maribor-based festival Nagib for two years in a row. In 2014 she began her studies at the IDA – Institute for Dance Arts as well as started working in a Linz-based theatre, resuming her choreographic work with the projects A Musical Duet (2015) and Interspace (2016), which was presented at the 2016 Body/Sound/Space Festival in Linz. Maja is regularly attending workshops of contact improvisation, Body Mind Centering, and yoga, she is creating music and teaching workshops.
Dominika Stróžewska (Poland) started her dance education at the age of six, dancing in the company Remix in her hometown. From 2010 to 2014 she was dancing and teaching in Caro Dance Company in Poland. There she was working on contemporary and jazz techniques and performed in, among others, We are, Carmen, Zapach kobiety. In 2014 she started her studies of contemporary dance and dance pedagogy at the Anton Bruckner Private University in Linze, Austria.
FLASH: April Veselko
Flash is a manifestation of oversaturation and emptiness, blindness and invisibility, carelessness and carefulness, euphoria and apathy, oblivion and sleeplessness. It is a gap between the body and the mind. Extreme states, confusion and wondering whether reality truly is only what we believe in.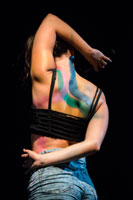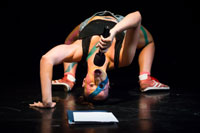 (photo: Saša Huzjak)

April Veselko is a young dancer and author. She started her dance training at Plesna Izba Maribor and has just finished her studies in Bologna, Italy, while regularly taking classes and workshops in dance festivals at home and abroad (Summer and Winter dance schools, ImpulsTanz Vienna, IDW Budapest, El Danseu Festival...). As performer April has collaborated with different choreographers, such as Gregor Luštek, Eduardo Torroja, Mattia Gandini, Barbara Kanc, Katarina B. Kavčič, and Jure Masten. Flash is her third evening-length solo produced by Federacija Institute.
Tickets: Only 3 € with the WDS 2016 identification card. Others 5 €.
Monday, February 27, at 7 pm – studio B 

FINAL PRESENTATION of WDS 2017
All participants will have a chance to present short workshop creations to each other and happily mingle.
The organizer JSKD OI Maribor will issue a WDS CERTIFICATE to the participants who have attended at least one workshop on all four days.
FEES
workshop                              

before 13 February              
after 13 February
(if still available)

1 workshop/technique (4x60 min)

40 €
60 €

1 workshops/technique (4x75 min)

45 €
65 €

1 workshops/technique (4x90 min)

50 €
70 €
The second workshop/technique is 10 € less, each additional is 15 € less.
VAT (22%) already included in the fee. The price list is valid for 4 days of WDS.
Single class (drop in): 15 €

DISCOUNTS

20% discount on the total amount for all performers at the ŽIVA 2016 festival!
Attention! 10 % discount on the total amount for:
1. COMPANY that signs up more than 5 people (application forms must be sent in one batch)
2. FAMILY that signs up at least 2 members (application forms must be sent in one batch)
3. PROFESSIONALS with a freelancer status (copy of proof required)
Discounts cannot be combined. Discounts are applicable for those who participate in a workshop for all 4 days.
APPLICATION

A correctly filled-in application form must be sent before 13 February 2017 to minka.veselic@jskd.si or by post to JSKD OI Maribor, Pobreška 20, (Karantena) 2000 Maribor, Slovenia.
After this deadline, the applications will only be possible in case of vacancies and the price will be increased by 20 €, so please check with the organizer.
Apply as soon as possible, as the number of available places is limited!
PAYMENT

After receiving your application form, we shall send you a proforma invoice that should be paid before the 13 February 2017. After 13 February 2017, the fees for all workshops will increase by 20 €!
If the payment is made by an institution, the application form must be signed by the person responsible and contain the institution's stamp (payment is also possible at JSKD OI Maribor).
In case of cancellation, the fee is not refunded. In case of sudden illness or injury (medical certificate required!), 80% of the fee will be refunded, if the cancellation was done on the first day of the Winter Dance School at the latest.
ACCOMMODATION

Please arrange it by yourself. ATTENTION! PLEASE BOOK hostel PEKARNA as soon as possible, otherwise accommodation is not guaranteed.

Contact: Hostel Pekarna, phone: +386 (0)59 180 880, fax: +386 (0)59 180 882, hostelpekarna@mkc.si. More info: www.mkc-hostelpekarna.si.
WARRANTY

-  Each participant will receive an identification card to enter the studio.
-  We retain the right to change the contents of the program due to force majeure
-  We take no responsibility for injuries and thefts. Please organise your personal insurance and take care of your belongings.
-  Taking photographs, video recording, and taking notes during classes is prohibited, unless agreed otherwise with the organizer and teacher in advance.
ADDITIONAL INFORMATION AND CONTACT