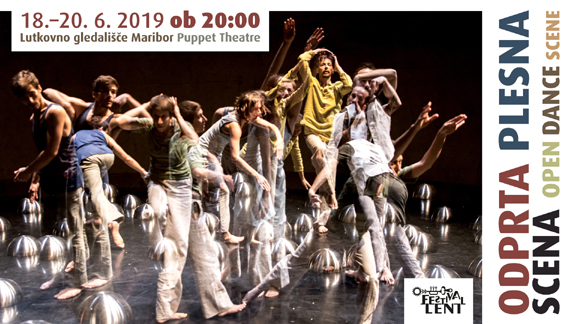 FESTIVAL LENT 2019 – 28th OPEN DANCE SCENE 2019, June 18 – 20
18. 6. 2019, at 20.00, Maribor Puppet Theatre, Great hall
WONDERFUL SURVIVAL (premiere)
PLESNA IZBA MARIBOR
Concept: April Veselko
Choreography by: April Veselko v sodelovanju s plesalkami Š.I.K.
Performed by: Študijski Izbin Kolektiv – Š.I.K.: Vanja Kolanovič, Jasha Robnik, Anja Spasovski, Nadja Spasovski, Vita Trantura, Nika Zidar
Artistic direction: Nina Milin
Graphic design: Robert Veselko
Executive production:  Živa Vrbič
Produced by:  Plesna izba Maribor
Supported by: Republic of Slovenia Public Fund for Cultural Activities,  Municipality of Maribor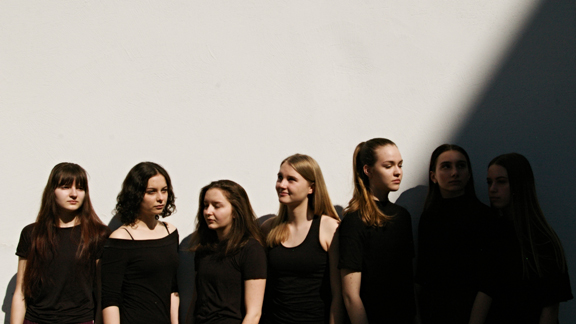 Photo: April Veselko
Wonderful Survival is a performance , that researches the beauty of human vulnerability, tests personal limits and challenges us, to leave behind our comfort and take a journey into the unknown reaches of our potential.
What can the body do? What can the mind take?
How does the body and mind change through extreme exhaustion?
How does it adapt and better itself? What's the easiest way to beat our hurdles?
Are we prepared to leave our old self behind, and move to a new level? How much are we prepared to expose ourselves? How much are we willing to sacrifice?
When we move boundaries, were vulnerable, were in unknown territory. We have to foresee the consequences and continue on, but we still don't know what we are getting ourselves into.
We know this though, that in front of us there lies something beautiful, which would be a waste to keep undiscovered.

At the end of it all - aren't we all vulnerable and uncertain, but despite that fact, we still try with all our hearts, to be human?
Š.I.K. – Študijski Izbin Kolektiv, is a group of the most promising dancers of Plesna Izba Maribor, who acts as a project in which young dancers gain full-time experience of continuous regular dance ensemble, as well as gain insight into the very process of work that is needed for the emergence of a full-length dance performance, where it is essential to enable them to experience a complete artistic process leading to the creation of a dance performance.
April Veselko is a dancer, choreographer and dance teacher who started her dance education at Plesna izba Maribor. In 2016 she finished her internationally trained Dance's Start Up - Leggere Strutture Art Factory, Bologna in Italy and in 2018 MoDem PRO program under the auspices of company Zappalà Danza in Catania, Sicily. She has created several copyright projects under the production of the Federation Institute (Doubles - 2010, Ostro and Slano - 2012, Flash - 2017), KD Center Plesa Maribor (Birches - 2018) and the Pubblico Scenario (Dream Room - 2018).
www.plesnaizba.si
https://www.facebook.com/%C5%A0IK-Dance-Collective-324687695055829/
https://www.instagram.com/sikdancecollective/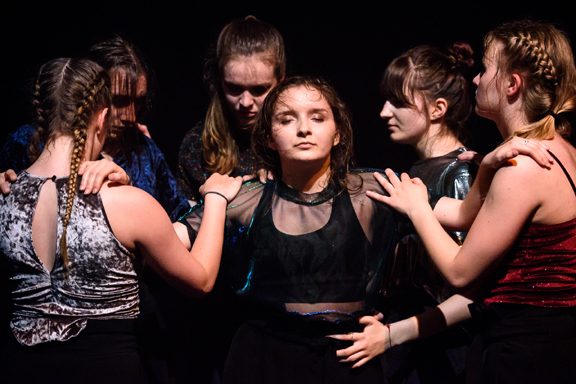 Photo: Saša Huzjak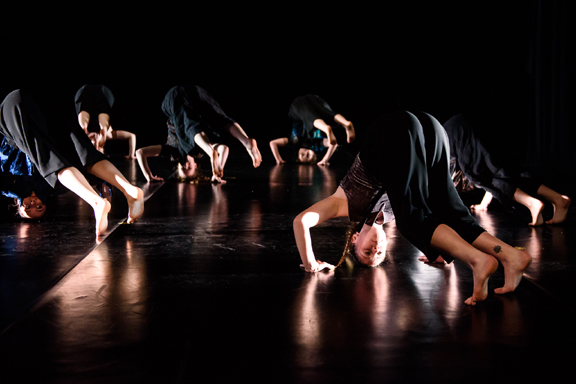 Photo: Saša Huzjak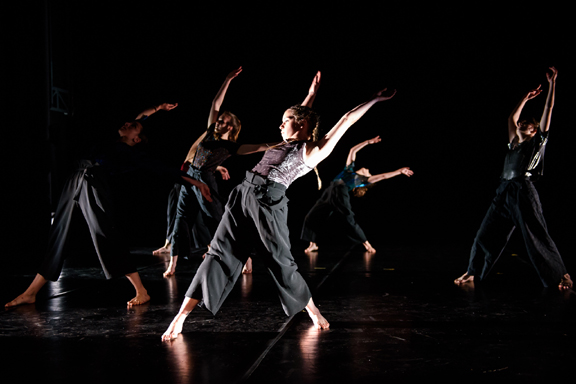 Photo: Saša Huzjak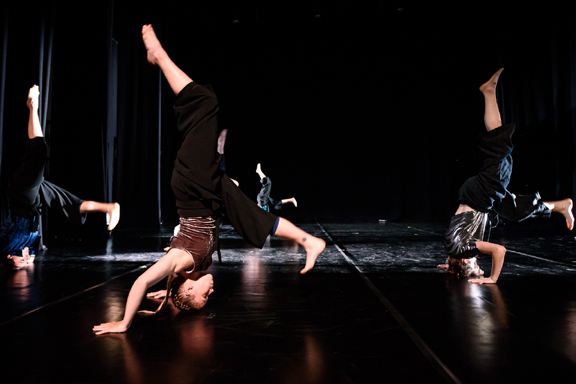 Photo: Saša Huzjak
19. 6. 2019, at 20.00, Maribor Puppet Theatre, Great hall
CHORUS
Žigan Krajnčan, Gašper Kunšek and Jan Krmelj
KINO ŠIŠKA & EXODOS LJUBLJANA
Choreography and direction: Žigan Krajnčan, Gašper Kunšek in Jan Krmelj
Movement principles: Žigan Krajnčan in Gašper Kunšek
Conceptual design: Jan Krmelj (DivinaMimesis)
Performers: Sara Janašković, Žigan Krajnčan, Gašper Kunšek, Teja Modrijan, Kristýna Šajtošová and Alex Tesch
Composer & music artist: Kristijan Krajnčan
Lighting designer: Borut Bučinel
Sound designer: Jure Vlahovič
Producers: Nataša Zavolovšek and Mitja Bravhar
Production by: Center urbane kulture Kino Šiška
Co-productions by: Alien Express, Exodos Ljubljana, Plesna šola Urška in Urban Roof
Organisation: Kino Šiška
Chorus was the winning project of the 2016 Cultural Euro call.
The performance Chorus received the Gibanica 2019 Prize for the best performance by the audience choice.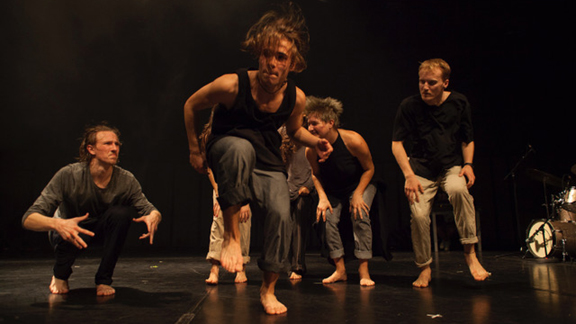 Photo: Urška Boljkovac
CHORUS
The creators of the performance Chorus are interested in dance as a transgressive gesture, which can overcome the standardised and real, for movement focuses on relations and thus always takes place between bodies, which offers extremely fertile grounds for political emancipation.
"Dance is always placed in between – into the condition for community. It does not have its own position; it is a gift we receive without acceptance, a gift we give without giving. We can coexist only in between, in the empty spaces, in the black holes, in our constant misunderstandings which establish reality. We can only become one through difference," they say. They understand the tragic chorus, from which the words chorêgos (the bourgeoisie who organises and pays the choir) and choreographer emerged, as a manifestation of various aspects of the public, laws and morals that gives the rhetoric voice of information and social commentary.
"Our chorus remains silent. There are way too many events and concepts for us to address. Chorus distances itself from the human world, it re-enters the pre-tragic form in order to touch upon something that cannot be passed on." Chorus also addresses something which can in its purest form be addressed merely by the word: Absence.
Žigan Krajnčan (1995) is a choreographer, dancer and performer, who actively performed in various projects by Slovenian choreographers, musicians and director since his elementary and high school days, as well as later on. Among other thing, he collaborated as a movement advisor with Academy of Theatre, Radio, Film and Television, Ljubljana City Theatre and Slovene National Theatre Drama Ljubljana. Gašper Kunšek (1997) began his dancing career at 4 and has since had numerous successful performances in competitions both in Slovenia and abroad. Later, he came across music, contemporary dance, interdisciplinary projects, street performances, dance duels, and since he was 13, he has been developing his artistic expression in cooperation with Žigan Krajnčan. Together, they are performing around the world with their original duet Alien Express, created in 2016, and in 2017, they co‑created original project Chorus together with Jan Krmelj. Also in 2017, Žigan and Gašper won the Ksenija Hribar Award for promising dancers, and in 2018, they opened dance and movement school Scena.
Chorus project trailer: https://www.youtube.com/watch?v=DmBwSzZurNs 
Link: https://www.youtube.com/watch?v=DmBwSzZurNs&feature=youtu.be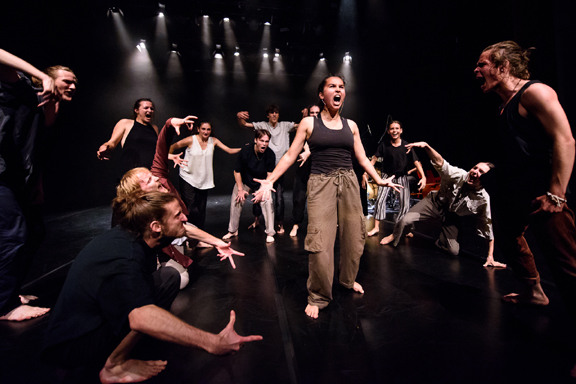 Photo: Saša Huzjak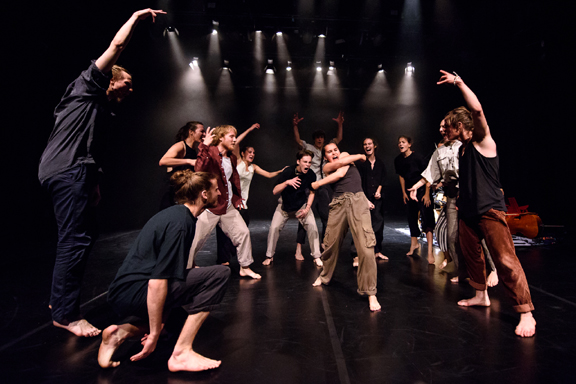 Photo: Saša Huzjak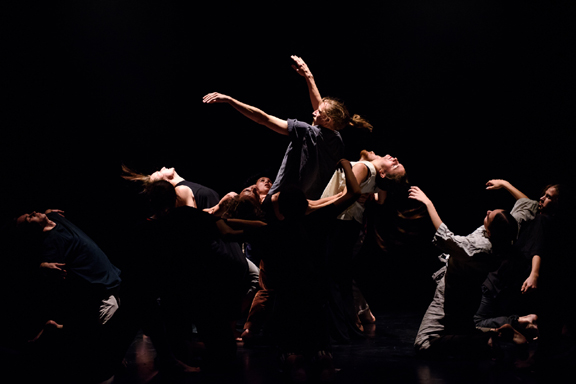 Photo: Saša Huzjak
20. 6. 2019, at 20.00, Maribor Puppet Theatre, Great hall
FIGHT BRIGHT
MILAN TOMÁŠIK & CO
Concept and choreography: Milan Tomášik
Choreographic assistance: Špela Vodeb
Co-created and performed by: Diego Alvarez Sanóu, Alessandro Sollima, Milan Tomášik, Tina Valentan, Špela Vodeb
Music: Simon Thierrée
Light design: Janko Čief, Aljaž Zaletel
Set design and costumes: Jasna Vastl
Production: KUD Cortesia
Production managers: Nina Fajdiga, Milan Tomášik, Katarína Zjavková
Photography & video: Stanislav Dobák
Co-production: Scenario Pubblico – Centro nazionale di produzione della Danza, Cankarjev dom Ljubljana, Dance Theater Ljubljana, Stanica Žilina-Záriečie, The Old Power Station Ljubljana, Mediterranean dance centre San Vincenti
Co-funded by: Municipality of Ljubljana, Ministry of Culture of the Republic of Slovenia, Slovak Arts Council, Alpeks
Acknowledgement: Charlie Brittain, JSKD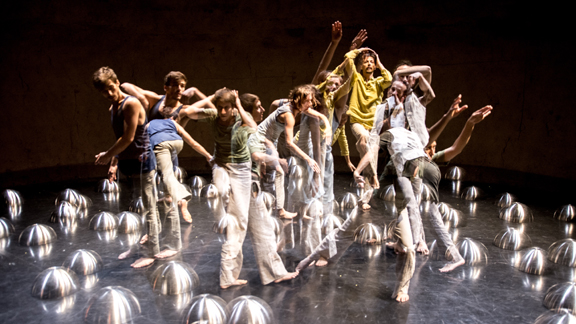 Photo: Stanislav Dobák
Fight Bright is committed to genuine perception, recognition, compassion and dialogue. Force is used for knowledge and defense, never for attack. Risk exploits self-realization. It creates a powerful force that takes the spirit back to the source of its conflicts. The interweaving of choreography, scenography and original music offers an experience that transcends the boundaries of the material and illuminates the field of energy, thoughts and ideas.
Milan Tomášik's Fight Bright rounds off his choreographic trilogy of group performances (2014–18).In it, he continues and takes further the movement principles that he developed in cooperation with the dancers in his previous two performances: Hunting Season (2014) and Silver Blue (2015). He connects his interest in exploring the rhythm that emerges as a result of muscle tension in a dancer's body with select physical and psychological contents and the related nuances of colour and emotion. Through precisely determined degrees of muscle tension, the performance reveals the movement interpretations of physical extensions in conceiving interpersonality, which in the manipulated world of "fake news" disappear on a daily basis. Harmony within chaos seems impossible and yet it is very much sought after, desired and existentially conditioned. The choreographer relates the physical principle of exploring [a] movement and the relationships that thereby emerge with aspects of process thinking in the sense used by the American psychologist Arnold Mindell.
In Milan Tomášik's choreographic oeuvre, music plays a central role. The music for Fight Bright was created simultaneously with the choreography and therefore in places originates in the latter. It is an original work by Simon Thierrée, a French composer and musician that has cooperated with Tomášik for several years in co-creating the performances of the internationally successful collective Les SlovaKs.
www.milantomasik.com
https://vimeo.com/284612590
Photo: Saša Huzjak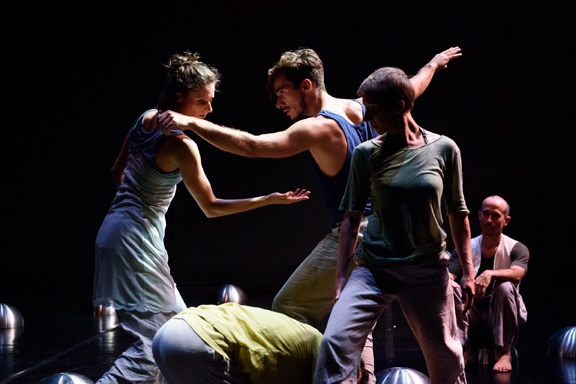 Photo: Saša Huzjak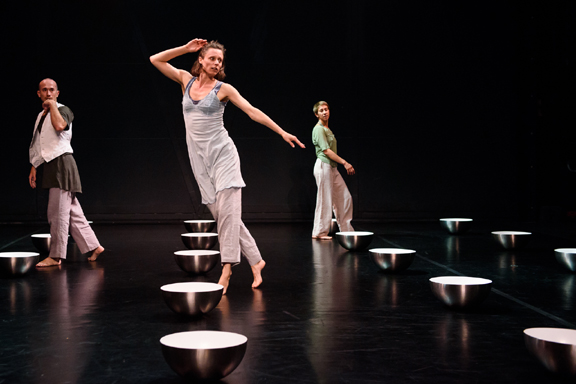 Photo: Saša Huzjak
Production and realization:
Festival Lent, Narodni dom Maribor, Public Fund for Cultural Activities of the Republic of Slovenia, Maribor Puppet Theatre
Executive production: Minka Veselič Kološa
Tickets: 5,00 €, or with Lenta raise free ticket at the info office of Narodni dom Maribor and one hour prior to the scheduled event
Information office: Narodni dom Maribor, Kneza Koclja 9, cell phone +386 31 479 000, +386 40 744 122,
E-mail: vstopnice@nd-mb.si