FESTIVAL LENT 2021 - 30th OPEN DANCE SCENE
June 22 – 24, Maribor Puppet Theatre, Great Hall
30 Years of the Open Dance Scene
This year we are celebrating the 30th anniversary of a series of performances and events in the field of contemporary dance creativity, which connects and unites artists from our and the wider European area. Over three decades, we have hosted many domestic and foreign dance performances, which have impressed us at various venues in their convincing dance poetics and a string of diverse expressiveness and message.
The Open Dance Scene is a space for both young, talented dance creators and already renowned artists. In Slovenia, they represent a platform for networking dance creativity, originality, daringness and successful international integration.
"Dance is the Hidden Language of the Soul" Martha Graham.
22. 6. 2021, at 6pm, Maribor Puppet Theatre, Great Hall
YOUTH DANCE BEATS
JSKD
Performers: Center plesa Maribor, Galerija plesa Maribor, Plesna izba Maribor, PD Ana
Duration: 75 minutes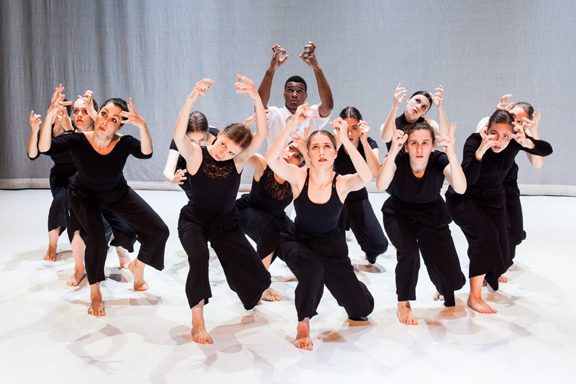 foto: Maja Modrinjak
Presentation of dance miniatures of young dancers from various local dance centers and selection for Živa, the Festival of young dance creativity in Slovenia.
http://www.jskd.si
http://www.centerplesa.si
http://www.galerija-plesa.si
http://www.plesnaizba.si
23. 6. 2021, at 6pm, Maribor Puppet Theatre, Great Hall
MEASURE OF PLEASURE
MOJCA MAJCEN, URŠA RUPNIK, IGOR SVIDERSKI
A Dance Performance
Authors and Dancers: Mojca Majcen, Urša Rupnik, Igor Sviderski
Dramaturgy: Daša Lakner
Music: David Nik Lipovac
Light Design: Aljaž Zaletel
Costumography: Anka Rener Kremžar
Produced by: self-production
Co-produced by: Dance Theatre Ljubljana, Studio za svobodni ples, Plesni Epicenter
Photography by: Anka Rener Kremžar
Financial support: Ministry of Culture RS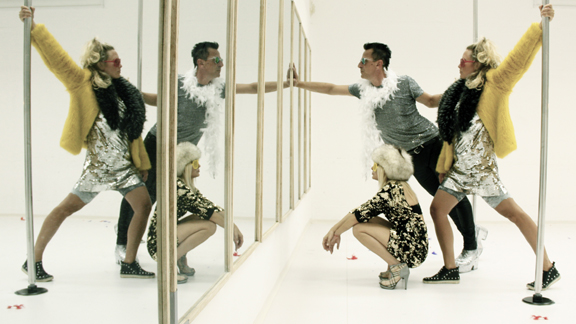 foto: Anka Rener Kremžar
 A dance performance that measures the pleasure of dancing bodies. Dancing bodies that produce pleasure for those who watch and those who dance. Those who dance united in a common desire for their moving bodies to become a dance. Dance as a fantasy of pleasure, confronting exhibitionism of the performing body with the intimacy of dancers' need for constant movement and exploration. Constant movement and exploration as a dance performance.
https://www.paradaplesa.si/tristosestdeset/zgodovinski-teden-za-ples-odmerjeni-uzitek-plesnih-predstav-tokrat-v-zivo/
https://vimeo.com/521592350
24. 6. 2021, at 8pm, Maribor Puppet Theatre, Great Hall
400 RABBITS
BENO NOVAK & MARINA ABIB 
KUD QULENIUM, CASA DO MOVIMENTO (BRAZILIJA)
Created and performed by: Marina Abib & Beno Novak
Dramaturgy: Jasmina Založnik
Counseling: Saša Lončar
Costume design: Tina Pavlin
Illustration: Renata Do Val
Photography: Georgious Portugalus & Matija Lukić
Light design: Andrej Petrovčič
Production: KUD Qulenium, Casa do Movimento
Co-Production: Kino Šiška, Maska, Performact, Ultima Vez
Financial support: Municipality of Ljubljana
1 show
31 tears
2 persons
400 rabbits
13 things to love
365 pictures
52 minutes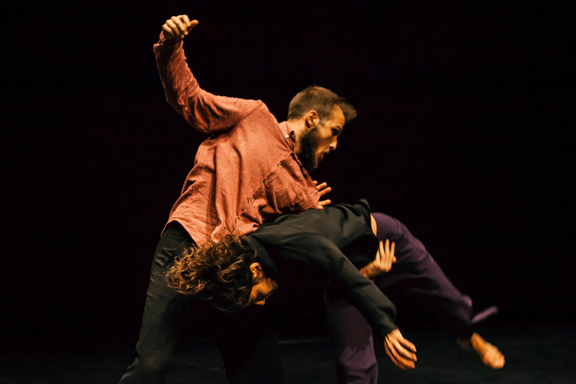 foto: Urška Boljkovac
400 RABBITS is a piece about contradictions.
It refers to our need for stepping out of our comfort zone, allowing ourselves to be guided by the 400 RABBITS.
The piece talks about the need for stepping out of the comfort zone, allowing ourselves to be guided by 400 RABBITS. For them to make us leave and return, remember and forget, lose and find, laugh and cry, make us feel the experience and ultimately connect us to the collective unconsciousness.
It talks about the contradictions of our emotions, relationships and our existence and how these contradictions create a whole/unity – the oppositions that make us experience life and find harmony.
Something that is untranslatable in words.
https://www.paradaplesa.si/ujemi-korak/beno-novak-ples-je-smisel-zivljenja-ali-pa-vsaj-eden-od-njih/
http://www.qulenium.org
https://vimeo.com/378355378