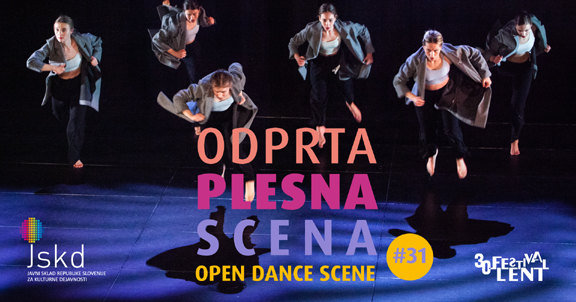 FESTIVAL LENT 2022 – 31st OPEN DANCE SCENE 2022, June 21 – 23
Open Dance Scene is an important platform for combining various dance artistic approaches of young and already established domestic and foreign artists, premieres, and reruns, which represent current events in the field of contemporary stage dance art.
"Dance is the Hidden Language of the Soul" Martha Graham.
21. 6. 2022, at 20.00, Maribor Puppet Theatre, Great hall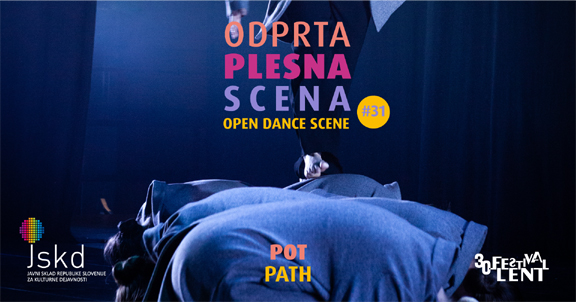 PATH
GALERIJA PLESA MARIBOR
A premier dance performance
Choreography: Mojca Ussar
Music: Various artists
Performers: Dancers of Galerija plesa Maribor
About the performance
The dance performance Path is a choreographic creation by the internationally renowned choreographer Mojca Ussar performed by the dancers of the Maribor Dance Gallery. It is a critical reflection of the senseless rivalry and constant rush towards the goal that is the guiding principle of modern society. We are all in a hurry all the time. One by one, not looking for fellow human beings, we are firmly focused on the goals in front of us. Our life journey is wandering on an endless road with a naive desire to reach a goal. Crushing, overtaking, and scrambling are often the only way to communicate between us. Everyone is focused on their goal, everyone is drawing their own paths, regardless of whether their paths cross and destroy someone else's paths. Why do we allow our happiness to fade with age at the expense of competition? When have our innocent childhood memories been erased due to fears of failure and failure to meet society's expectations? As children, we knew no boundaries, so we were free. We didn't know how to look at the clock, so we were never in a hurry. Then one day we grew up and shadows of responsibility and duty accumulated around us, obscuring our view of the simplicity of a happy life. But we adults are still able to find a child in ourselves; a child who values not the goal but the path?
Youtube: https://youtube.com/channel/UCVmaqDJd7GvK-brDzP6Y7gg
Instagram: https://instagram.com/galerijaplesa?utm_medium=copy_link
https://www.galerija-plesa.si
22. 6. 2022, at 20.00, Maribor Puppet Theatre, Great hall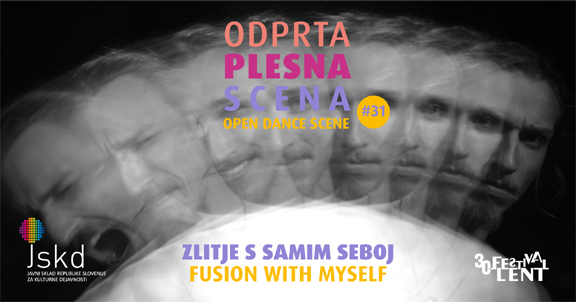 FUSION WITH MYSELF
ŽIGAN KRAJNČAN
A traveling dance & music solo performance
Author, performer: Žigan Krajnčan
Light, photography, video, sound recording: Borut Bučinel
Sound design: Niko Nikson Komac
Costume design: Uroš Belantič
Music mentor: Lojze Krajnčan
Editing and adaptation of texts: Andreja Kopač
Producer: Nataša Zavolovšek (EXODOS), Blaž Peršin (MGML)
Production: EXODOS Ljubljana
Co-production: MGML - Museum and galleries of the city of Ljubljana, DreamArt, DIC - Student dormitory of Ivan Cankar
Support: Municipality of Ljubljana, Ministry of Culture of the Republic of Slovenia
​
First exhibition: 20. IX. 2020. City Museum of Ljubljana
Second exhibition: 13. XI. 2021 at 19:30. Confectionery, Ljubljana
Visits 2020–21: Laiks Dejot Festival, Riga (LV); 3. II. In and Out, Bobo Dioulasso (BF); 1. 5. Dance Fest, Skopje (MK)
About the performance
How to express the idea of ​​nothing through singing, dancing, speaking, performing, and intertwining it all? The research question that Krajnčan asked himself in the first performance of his solo project at the City Museum will take on a different turn in Cukrarna as the new place of Fusion, while at the same time following the initial idea.
Where does an idea, tone, movement, word, thought come from? The word that best describes the origin of creation is Nothing. "All I'm trying to do is express my own vision of a complete work of art through a single person - and give the idea movement and voice," writes Žigan Kranjčan, adding: "Who I am and what I am does not define me. What I am is not what I want to become. I want to go where I have never been before. I wonder if Nothing will ever find me. There is nothing I could know or do because Nothing is the only thing I am not afraid to talk about. Nothing can go wrong except Nothing. "
As a choreographer and/or movement advisor Žigan Krajnčan (1995) often collaborates with renowned directors, while in 2016 he began co-creating as an independent artist with Gašper Kunšek, head of the Urbana Scena dance school. With their own productions Alien Express and Chorus, they are still successfully impressing audiences across the USA, China, and Europe.
https://www.exodosljubljana.si/zlitje-s-samim-seboj
https://www.youtube.com/watch?v=2HFrFBUdeSQ&t=280s
23. 6. 2022, at 20.00, Slovene National Theatre Maribor, Great hall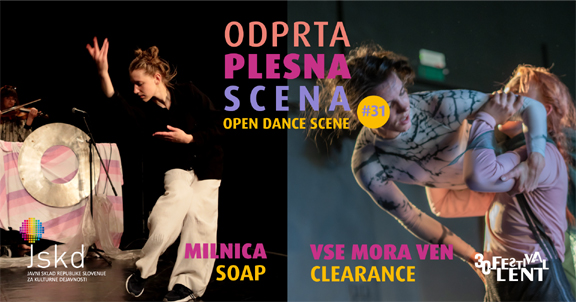 SOAP
JULIJA PEČNIKAR
Concept, Choreography & Dance: Julija Pečnikar
Live music: Ilinca Forna
Outside eye: Vita Osojnik
Lighting Design: Janko Oven
Produced by: Plesni Teater Ljubljana – Festival UKREP 2021
About the performance
Soap is a collage of elusive impressions, atmospheres, and feelings. In this solo, the author plays with various types of being: existence, downfall, sliding, and observation. Short sound-movement clips resemble the cloudy and elusive present that is hard to grasp. A person sometimes finds his way into this present and sometimes he doesn't. Sometimes we can smell it, sometimes it only slips by.
CLEARANCE
PETRA PEČEK, MANCA TRAMPUŠ, ALJA LACKOVIĆ
Concept, Authorship and Performance: Alja Lacković
Co-Authorship and Performance: Manca Trampuš, Petra Peček
Lighting Design: Urška Vohar
Technical Assistance: Kristina Kokalj, Janko Oven
Costume Design: Slavica Janošević
Costume Make: Slavica Janošević, Alja Lacković
Mentorship and Outside Eye: Vita Osojnik
Creative Producer: Katja Somrak
Produced by: Plesni Teater Ljubljana – DEBUT 2022
Special Thanks to: Jernej Bizjak, Robert Plut (song Boing Boom Tschak), Andreja Kopač, Csaba Molnár and friends
Supported by: Društvo umetnosti in kulture 47, Humanistično in umetniško društvo »O«, Kulturno društvo Svoboda Kisovec, Cankarjev dom Vrhnika, JSKD, Kulturno društvo Koala Voice
About the performance
Clearance is an interactive movement and sound performance by three emerging artists, part of PTL Debut 2022. The project is based on reformulating daily concepts and expanding their definitions. The material comes from personal stories that form a spatial collage of relationships and emotions in space, either through movement, sound, or spoken word.
In a society that strives to find meaning, the three performers are interested in what at first glance makes no sense.
Contrasts are present in every human being. The active site is in a perpetual fight with the passive side. The three performers persistently play with duality. The set form travels between contrasts. Sometimes, the form looks like absolute chaos, the next moment it becomes completely serene. "We have created a dynamic between us that weirdly functions as a life in fast forward, passing almost instantly from one feeling to another and jumping to the third."
The authors of Clearance have developed a specific way of collaboration that is established through mutual support and contributes to personal expression in a safe environment. "In a way, the performance functions as a catharsis for each participant. We are deeply interested whether there is a bridge that connects individual catharsis with the collective catharsis, with our spectators."
The performance is ceaselessly playing with the eyes of the observers. Sometimes the eyes wander around the room, at other times, they catch a tiny detail.
The idea of collaboration dates back to the beginning of 2020 when we were all prevented from doing anything. The starting point of our research is playing around with established concepts, which makes the project quite universal and open to a diverse audience. One important aspect of our creative process is the use of instinct, which demands a lot of concentration and contributes to the overall rawness of the performance. Each of us has a space to explore her expression, which then forms a cohesive part of the whole. Mutual support and understanding are the guiding principles in our creative work, to use the same approaches with the audience. Through the form that is partly structured and partly open, the project invites the audience to cooperate and create an individual experience.
https://youtu.be/-D95lC5Govc
https://www.ptl.si
---
Production and realization:
Festival Lent, Narodni dom Maribor, Public Fund for Cultural Activities of the Republic of Slovenia, Maribor Puppet Theatre
Executive production: Minka Veselič Kološa
Tickets: 5,00 €, at the info office of Narodni dom Maribor and one hour before the scheduled event
Information office: Narodni dom Maribor, Kneza Koclja 9,
+386 31 479 000, +386 2 229 40 50,
E-mail: vstopnice@nd-mb.si
Website: www.festival-lent.si
· Facebook: @festivallent https://www.facebook.com/festivallent
· Instagram: @festival_lent https://www.instagram.com/festival_lent/
· YouTube: @LentFestivalMaribor https://www.youtube.com/user/LentFestivalMaribor