INTERNATIONAL SUMMER DANCE SCHOOL – SDS 2017
Ljubljana, June 26 – July 1, 2017

WORKSHOPS
TALKING BODIES: Laban/Bartenieff Movement System workshop II (18+)
/ Alexandra Baybutt  & Karen Studd

This workshop introduces the Laban/Bartenieff Movement System. This is the interconnected framework of Laban Movement Analysis (LMA) & Bartenieff Fundamentals (BF) as taught on LIMS (New York, USA) programmes in Europe.
This workshop is designed for everyone who knows that understanding nonverbal expression and interaction is important to their work and play. It will be relevant and suitable for dancers, choreographers, teachers, actors, directors, musician of all backgrounds and levels, and for dance/movement/arts therapists wishing to extend their tool kit of resources and experiences.
Movement research is at once tangible and metaphoric for meeting ourselves and others in moving through life. The insights and approaches developed by Laban and subsequent practitioners of Space Harmony continue to find relevance in how to bridge bodymind and/as space, self-other, and inner and outer as a whole, and not as binaries. This workshop is interested in connecting macro to micro, and micro to macro, in order to share and further interrogate the relevance of Space Harmony, as part of the LBMS framework which is a somatic practice but differentiates itself in the history of somatic practices through a specific activation of Space. Through guided and free-movement solo movement tasks, in pairs and in groups we will explore the practice and theory of this highly sophisticated, versatile system.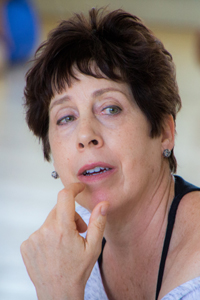 Karen Studd, has a Master's degree in Dance from University of Oregon and earned her Certification in Movement Analysis through the Laban/Bartenieff Institute. In addition, Karen is a Registered Somatic Movement Therapist (RSMT) and Registered Somatic Movement Educator (RSME) through the International Somatic Movement Educators and Therapists Association (ISMETA). For over twenty years she has taught in the Laban/Bartenieff Institute for Movement Studies  (LIMS) Certification Programs across the United States, Canada, Mexico, Europe, Israel and China. Currently she is the Program Coordinator for movement analysis training at the University of Maryland in the U.S., and in Mexico, Belgium, Scotland and China. In addition, she has presented dance/movement workshops and led somatics classes in Poland, Brazil and Croatia. In the U.S. Karen has taught in the Dance Departments of the University of Oregon, the University of Wisconsin and George Washington University.  She has just retired from the School of Dance at George Mason University, where she was a tenured dance faculty member. Her teaching is focused on adult education and personal development through movement. Although she came to the Laban/Bartenieff work through the art of dance, Karen views dance as a highly specialized area of application within the larger body of knowledge that is movement itself. Her interest is in the understanding of the importance of human movement across disciplines. She is a coauthor of the book EveryBody is a Body which is being used as for movement courses in university programs in the U.S. and movement analysis training programs across the world. Karen is also a researcher involved in movement research addressing the motion of emotion and in applications of the language and theory of movement analysis to digital technologies including robotics.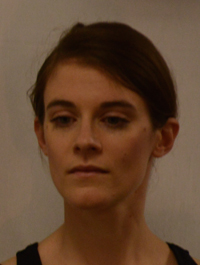 Alexandra Baybutt, MA, is a movement artist, educator and Certified Movement Analyst, teaching privately (London), for CMA programmes in Europe, and as a guest at contemporary dance studios. She is currently a PhD candidate and lecturer at Middlesex University. More: www.alexandrabaybutt.co.uk
CONTEMPORARY DANCE – »Make it look nice« l (12+)
CONTEMPORARY DANCE and REPERTORY ll (16+)
/ Dagmar Dachauer
CONTEMPORARY DANCE – »Make it look nice«
The aim of the class is to trigger creativity, coordination, imagination and curiosity about dance and different physicalities. We train our coordination, musicality and agility as well as broaden our range of movement and its dynamics.
Through short phrases and pieces of choreography to stimulate the technical understanding, the learning and remembering of movement, as well as the coordination of the own body in relation to the space and the others through a playful approach.
CONTEMPORARY DANCE and REPERTORY
The class is based upon embodied imagination, Floor Work, Yoga and Improvisation.
We challenge our spatial awareness, availability, musicality and ability to multitask through phrases and coordination play, individually and in couples.
Furthermore, we look for ways of how to stimulate our imagination in order to direct our body and let the body inspire our imagination. It is a physical and musical process cultivating availability and skill with an emphasis on the pleasure of dancing.
Repertory/Composition: As a starting point, parts of my solo "Wie soll ich das erklären" will be taught. It is based on building, coordinating and dissolving mechanical patterns in order to make visible and audible the less obvious layers of music and meaning evoked.
We will further meet and explore those principles through improvisation, after which the participants will generate their own personal material in this workshop.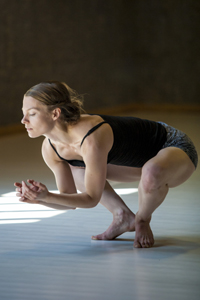 Dagmar Dachauer is a freelance dancer, performer, choreographer and dance teacher born in Linz/Austria, based in Upper Austria and Brussels/Belgium.
As a dancer Dagmar has worked and toured internationally with Dance/Performance Group T.r.a.s.h., Christoph Winkler, Luke Baio & Dominik Grünbühel, Kevin Trappeniers, Florence Augendre and Cie. Arts&Regards.
Her piece "Wunderbare Jahre" ("Cudovita leta") premiered at Plesni Teater Ljubljana and received the Audience Award at the 2017 biennale Gibanica Dance Platform Slovenia.
In 2016, her solo Wie soll ich das erklären was awarded the 1st prize at the Festival for Choreographic Miniatures in Belgrade.
She founded the art association UMFUG, in which she realizes dance and theatre performances as well as film projects. In 2014 her first dance film Treeo won the DIORAPHTE Encouragement Award at Cinedans Festival, Amsterdam.
Together with Simon, Philipp and Peter Mayer, she has been co-directing and managing the Art Festival spiel in Austria, located at an organic farm, featuring Dance, Music, Circus, Theatre, Improvisation, Lectures and Workshops. In 2015 she co-curated and co-hosted Secret Hotel's Landscape Dialogues Summer Lab in Mols, Denmark.
She studied at Amsterdamse Hogeschool voor de Kunsten/MTD (BA) as well as at P.A.R.T.S. (Performing Arts Research and Training Studios) in Brussels and Handbalance at the Circus Department of DOCH (Dance and Circus University) in Stockholm.
More: www.dagmardachauer.com; https://vimeo.com/145289361
BACK TO THE ROOTS of CONTACT IMPROVISATION I (16+)
/ Davide Casiraghi
This workshop is focused on the fundamentals technical skills we use in Contact Improvisation, and is aimed to both beginners and expert dancers.
We will begin every session by opening our senses through body and breath work to increase our awareness of weight and the transfer of weight.
We will then go on to explore basic aspects and principles such as: rolling point of contact, physical listening and following, spiral rolls, no hand dance, open up the back space, lift principles.
Using this vocabulary we will dive into a fluid dialog made by mutual listening, suspensions, surrenders and supports.
Contact Improvisation is an improvised dance form based on the communication between two moving bodies that are in physical contact and their combined relationship to the physical laws that govern their motion—gravity, momentum, inertia. The body, in order to open to these sensations, learns to release excess muscular tension and abandon a certain quality of willfulness to experience the natural flow of movement. Practice includes rolling, falling, being upside down, following a physical point of contact, supporting and giving weight to a partner.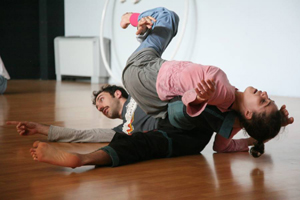 Davide Casiraghi is a dancer, Contact Improvisation teacher and Yoga Alliance certified teacher based in Slovenia. He is exploring Contact Improvisation since 2010. His study is started in Milan and continue in Europe with the many teachers. Roberto Lun, Nita Little, Martin Keogh, Angela Dony, Nancy Stark Smith are his main influences. He see CI as a way to re-awake and enjoy fully our sensitivity and playfulness, working on trust, explore curiosity about movement principles out of daily movement patterns. In Milan he is co-founder of Collettivo Daimon, a CI collective that organize once a month the Sunday Contact Jams, and in Italy he is the webmaster of the Contact Improvisation Italian website: http://www.contactimprov.it
In Slovenia he is co-founder with Nayeli Spela Peterlin of Movement Research LAB Project and organizer of Sunday Contact Jam in Ljubljana: http://movementresearch-slovenia.weebly.com/
IN ACTO class and workshop lll (16+)
/ Davide Sportelli
I N A C T O - contemporary training and instant-composition with Davide Sportelli
The training I propose will proceed through guided explorations, improvisational scores, release dance combinations. Such materials are meant to be integrative tools to:
- connect to our anatomy and body systems
- engage an open dialogue with and within the space
- find the most immediate transition from sensing into moving and from moving into structuring.
How can we enlarge and deepen the terrain of our action? How to access a state of fertile permeability to a given environment?
Our physical, mental and emotional presence will be urged to participate by including as many sources of information as possible, witnessing the birth of an intention and articulating it into a coherent flow. The workshop will focus on the process of observing the implications and effects of our physical action. We will devise strategies for accessing higher levels of availability and clarity, creating good conditions for playing freely and instant-composing.
Can we see more while dancing? Can our dance be inhabited and empowered by what we sense and feel? Are we ready to be in action?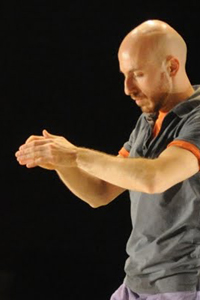 Davide Sportelli is a dance artist active worldwide. Caught in the spell of Terpsichore after studying music and acting, Davide got his dance education at the Accademia Isoladanza of the Venice Biennale. He has collaborated with directors such as Sasha Waltz, Caterina Sagna, Giorgio Barberio Corsetti, Micha Purucker, including William Forsythe for "Human Writes. Beside performing and developing his own choreographic work he carries out an ongoing research on creative writing, video and sound.
As a movement teacher Davide has been sharing his training with schools, universities, programs and
companies like P.A.R.T.S., Ultima Vez, Sasha Waltz & Guests, Chunky Move Melbourne, SMASH Berlin, Korean National University of the Arts, VSMU Conservatory of Bratislava, Iceland Dance Company, Duncan Centre of Prague, Skanes Dansteater, Mimar Sinan Fine Arts University of Istanbul.
His choreographic and pedagogic interests move around the relation between verbal and non-verbal
languages; the notion of body as a space for vision and as vision of the space; the attempt to make dance become tangible music.
VIDEO DANCE for TEENS l (12+) - BODY PERSPECTIVE
 / Enya Belak
Workshop 'Body Perspective' is for youngsters who are interested in dance, movement, and choreography in regards to film. We will research different ways of seeing, and view the perspective of a moving body in a choreography for film. Whenever we place the body in front of the camera, we design and make choices about how we want to present the body. We make a decision of what will be hidden or concealed. Where do we see the whole body and when do we want to focus only on the detail. The aim of the first part of the workshop is to choreograph our own choreography with the help of film editing fundamentals. We will create short solo sequences, which will be transformed in the group choreography in the second part of the workshop.
The focus of creative thinking will be the placement of the body in a space in relationship to the camera,  the perspective of seeing and understanding of the choreography. The camera on the body, surrounded by other bodies becomes a dancer and co-creator of the choreography. The film will be shot in one of the selected locations in Ljubljana and will be screened at the presentation of the workshops at the end of the Summer Dance School. An Example of a dance-choreography experiment is available at the following link https://vimeo.com/enyabelak/choreoexp. Segments of the choreography with seven dancers is edited in one complete sequence. The choreography was shot from seven different perspectives of the body. The video shows the approach of the method we will use to develop the dance film and the choreography for it.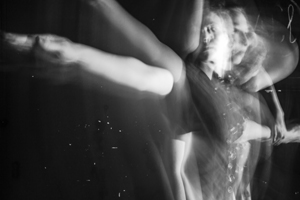 Enya Belak is an upcoming artist, recently graduated from Goldsmiths University of London with an MA in Directing Fiction films. Enya works in fields of film, contemporary dance, theatre, and visual communications. Enya has been recognised and awarded for her accomplishments. The Award of Ksenja Hribar for a prospective and upcoming dancer is one of them. She collaborated with Slovenian and International artists in numerous projects. In recent years she has presented various projects such as Luminary (short film), Red Fountain (short dance film), Girl with The Dragon (dance performance), The Daddy Project (dance performance), etc. Editing Choreography is her own method of work which she is still developing. Enya is known as a director, production designer, dancer, choreographer and graphic designer.
More at www.enya-belak.com
ReConect-Mobility ll (16+)
/  Kaja Lin
ReConnect-Mobility is a movement technique which is based on my own dance style, acorbatic elements and yoga. During the class we will work on connecting all those elements and built awareness. We will explore organic and body-friendly movement with emphasis on power. The exercises will encourage you to work towards your maximum potential. In the end we will focus on choreography, which will include taught elements and personal interpretation.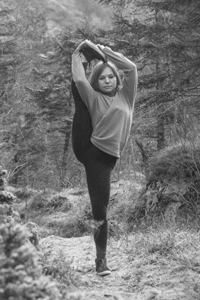 Kaja Lin is a professional dancer, choreographer and yoga instructor.  She graduated from the National Ballet School of Slovenia and after moved to Israel where she was dancing in theatres:  Kibbutz Contemporary Dance Company II, Fresco Dance Company in and took part in Batsheva Excellent Dancers Project  in Tel Aviv. In Slovenia she worked with Kjara Staric Wurst (Kjara's Dance Project) and M&N Dance Company in Nova Gorica.
In 2015 she signed a contract with ImPerfect Dancers Company in Itay where she stayed for a season.
She became yoga instructor after completing 200 HRS Yoga & Vedanta Teacher Training Course in India (2014) and furthered her studies in USA and Israel.
Through dance, choreography, yoga and studies of the body she gained experiences that are helping her  in creating and teaching new movement technique. 
https://www.facebook.com/BackToMovement/
MODERN ll (12+)
MODERN lll (16+)
/ Jernej Bizjak
The class will start with the warm up that includes a set of exercises based on different modern techniques and improvisation. After understanding the base, the technical level and variations on it will develop and build up throughout the week. The exercises will upgrade in the sense of rhythm, dynamic, flow, technicality and moving through space. In the second part of the class the dance phrases made by me or other choreographers will take place. Besides the technical part of the class I will focus on the dancing itself in the sense of better understanding and precise execution of the dance material in combination with interpretation. As I worked with many choreographers and teachers of different styles and techniques my choreographies will be influenced by all of them. When teaching a repertoire of other choreographers I will refer to Swedish Martin Forsberg, Italian Fabio Liberti and Emrecan Tanis from Turkey.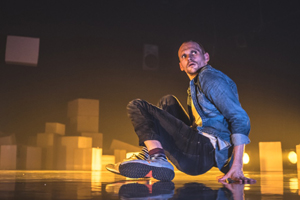 Jernej Bizjak, studied at CODARTS - Rotterdam Dance Academy. In September 2010 he joined the youth dance company IT Dansa where he performed works by Jiri Kylian, Ohad Naharin, Sidi Larbi Cherkaoui, Alexander Ekman, Rafael Bonachela, Stijn Celis and Catherine Allard. He joined Danish Dance Theatre in Denmark in November 2012 and worked with Tim Rushton, Örjan Andersson, Idan Sharabi, Fabio Liberti, Alessandro Sousa Pereira. Jernej is currently freelancing and has participated in various productions and independent projects with Cross Connection Ballet Company, SNG Opera and Ballet Ljubljana, Dark Circles Contemporary Dance, Korzo & NDT, Fors Works, Institute 0.1, LW Dance and with other freelance choreographers. Jernej is regularly teaching in Denmark and Slovenia and participates at different international dance competitions and festivals around Europe.
More: https://www.youtube.com/watch?v=6MC40w2waIQ;  https://www.youtube.com/watch?v=ywd5bed0QoA)
CAPOEIRA KIDZ I (6+)
/ Katjuša Kovačič
Capoeira is a cultural practise from Brazil, which contains elements of dance, drama, acrobatics, music and group dynamics. Through the exercise of capoeira children learn about their abilities and are confronted with their own limitations, which can learn to overcome. They learn to cooperate and respect their peers and to cope with unforeseen and unfamiliar situations. On the physical level, they develop body control, flexibility, motor skills and dexterity. Children learn different strokes, acrobatics and movement in rhythm. The important part of the class is music, because at the same time they also learn singing, rhythmic clapping and playing traditional musical instruments.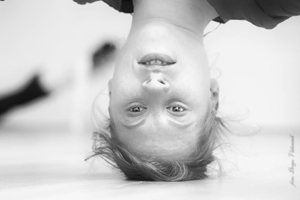 Katjuša Kovačič, teacher (Slovenia)
Freelance artist; active in the field of performing arts and pedagogics. Co-working with artists from different disciplines, merging her knowledge and experiences in her unique movement expression, which she shares to students through fluid balance classes and workshops. She is engaged in movement disciplines since she was five, in the beginning through expression dance and improvisation theatre, later through contemporary dance and physical theatre. Since 2004 she is playing with circus and street theatre; she was engaged in one year intensive acrobatics & circus programme in BIAS (Beijing International Arts School ); graduated on Šugla (street theatre school). Since 2006 she is active in capoeira.
She teaches regular fluid balance classes, street theatre (movement in urban space) and capoeira (adults, children, persons with disabilities). She works with individuals and associations: Branko Potočan, Alicia Ocadiz, Nikola Orešković, Manca Uršič, Ana Monro theatre, Capoeira association Tradiçao Baiana, Sezam, City of Women. She is a performer and choreographer in solo and group shows, cooperating with international festivals, cultural events and events for children.
More: www.katjusakovacic.wordpress.com; http://www.capoeiratb.si/;
FB: https://www.facebook.com/capoeiratradicaobaiana.si/?fref=ts; https://www.facebook.com/capoeira.otroci/?fref=ts
FLUID BALANCE ll (14+)
/ Katjuša Kovačič & Nikola Orešković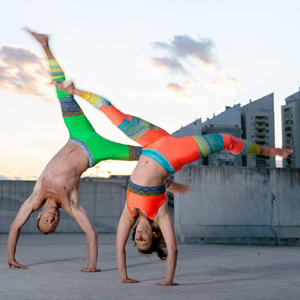 The goal of the workshop is to give to students the necessary building blocks with which they can create unique flow - by connecting transitions, rolls, jumps, dives and acrobatic movements in endless continuum. We will use various techniques from contemporary dance, capoeira and circus acrobatics; but most important we will strive to economize the transitions from one element to the other, through effortless flow of the spiral.
We will increase the awareness and reactions of our performative body, to have a better notion of the space and others around us. Besides, we get to know different games of awakening the communication between two or more bodies without words. Exploring the spaces that we create with different forms / positions of the body conversation, as well as the phisical contact and the question/answer movement vocabulary. Using various games and improvisation tasks the students will use what they learned in previous days joint with what their body expression knows from before, to create an ending performance.
Nikola Orešković, teacher (Croatia)
Years of experience as a teacher in different mind/body/movement practices; he worked with individuals from different walks of life. Active in taekwondo for 14 years ( master degree 3.dan). Co-founder and member of first Croatian Martial Arts Tricks demo team "X-OUT". Alongside martial arts he was (and still is) practicing yoga, contemporary dance (worked with Snježana Abramović Milković, Iva Nerina Sibila, Žak Valenta...), hand balancing, circus and gymnastics. He merges all these disciplines in his own training system, passing his knowledge to students through fluid balance classes and workshops.
Since 2002 he is active in capoeira, teaching students (children, adults, persons with disabilities) in Croatian association Amazonas. Since 2009 professionally works as a stuntman. Also works as an associate in Faculty of Kinesiology in the department of acrobatics. He is active member of IMRC (Integrated movement research collective), UPUH (Croatian dancers association) and HDFD. He is a passionate traveller and explorer of world heritage.
Katjuša Kovačič, teacher (Slovenia)
Freelance artist; active in the field of performing arts and pedagogics. Co-working with artists from different disciplines, merging her knowledge and experiences in her unique movement expression, which she shares to students through fluid balance classes and workshops. She is engaged in movement disciplines since she was five, in the beginning through expression dance and improvisation theatre, later through contemporary dance and physical theatre. Since 2004 she is playing with circus and street theatre; she was engaged in one year intensive acrobatics & circus programme in BIAS (Beijing International Arts School ); graduated on Šugla (street theatre school). Since 2006 she is active in capoeira.
She teaches regular fluid balance classes, street theatre (movement in urban space) and capoeira (adults, children, persons with disabilities). She works with individuals and associations: Branko Potočan, Alicia Ocadiz, Nikola Orešković, Manca Uršič, Ana Monro theatre, Capoeira association Tradiçao Baiana, Sezam, City of Women. She is a performer and choreographer in solo and group shows, cooperating with international festivals, cultural events and events for children.
More: https://www.youtube.com/watch?v=3kmlFmxQTes
https://www.youtube.com/watch?v=4pqs9AlM1Qc
https://www.youtube.com/watch?v=oy-FupC8fIg
https://www.youtube.com/watch?v=RMX18Gbi9zM&list=PL1rEdrH0rMaGZzPNe2dfoiy1TQQ2gN0pU&index=12
https://www.youtube.com/watch?v=YvyauIE0_YQ&index=14&list=PL1rEdrH0rMaGZzPNe2dfoiy1TQQ2gN0pU
https://www.youtube.com/watch?v=E8213xM7bis&list=PL1rEdrH0rMaGZzPNe2dfoiy1TQQ2gN0pU&index=9

DODOMOOV Contemporary technique ll (12+)
DODOMOOV Contemporary technique lll (16+)
/ Lee Junwook
On the class we will explore variety and spontaneity of movement needed to have elements of improvisation and body pool of existing basic steps moves well in which the consisting of the balance of the body is not the way, passed the upper and lower body strength and understanding of the distribution of the depth of the movement and then focuses.
Themes: Improvisation Element, Floor dance tech, Understanding of Body, Structures of Body Balance, Distribution on Point of Motion.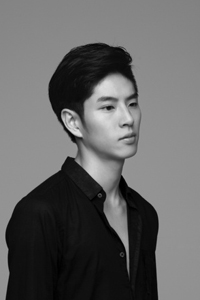 Junwook Lee
2008-2012 -performing Arts Department dance Major bachelor and master's degree at HANYANG University (Seoul Campus)
2006-2008 - P. A. R. T. S.( performing art research traning studio ) first cycle
2011-2016- DODOMOOV Dance Theater [Art Director]
2015-2016 YEUNGNAM University , Department dance of Arts [adjunct professor]
2016 Seoul foundation for arts culture (DOT) APPEAREED
2014-Seoul International Choreography Festival-[Special Jury Prize]
2014~2015-Daegu Foundation for Arts and Culture D-YAP'(Daegu-Young Artist project)
2013-Korea National contemporary Dance Company " Eleven Minutes , ( the girl floating in water ) " [Choreographer and appeared]
2013-Young choreographers Creative Performance " Research on Reliance - BALANCE " [the best choreographer awards]
2012-4th New Generation Choreographers Exhibition " No Response " [the best choreographer awards]
http://www.youtube.com/watch?feature=player_embedded&v=uXFkCmax0y0
http://www.youtube.com/watch?feature=player_embedded&v=yv23v3E0ETg
DANCE CLASS »Looking for movement« / PLESNI KLAS lll (16+)
ROSAS REPERTORY & COMPOSITION WORKSHOP / ROSAS REPERTOAR IN DELAVNICA KOMPOZICIJE lll (18+)
/ Liza Penkova
DANCE CLASS »Looking for movement« / PLESNI KLAS
It is more and more common that dance companies in Europe do not organize a dance training but
instead leave the time for dancers to prepare themselves on their own. Something that might be at first disorienting for a young dancer who has been used to be guided by a traditional structure of a morning class.
Throughout the years of working professionally as a dancer I needed to develop my own approach/
program to make myself ready before a show or a working day. Combining the movement knowledge
starting from my teacher-masters in classical ballet, modern and post-modern release-techniques and improvisations, but also including movement philosophy of yoga, Feldenkrais and Tai-Chi, I have been constantly searching for new ways of looking for movement and with it keeping my dancing-body alive. Working many years for Rosas dance company as well as other contemporary choreographers in Belgium and Sweden, I have accumulated several methods in approaching movement. And it is the compilation of methods that I would like to share with you which can become a tool in your own search.
Starting from anatomical exercises that helps us to place our bone-structure into an open state, we will continue to strengthening/toning/ waking up our core muscles by executing floor combinations that eventually will bring us up to vertical. Once in the vertical position we will concentrate on spatial
coordination, and expansion of movement vocabulary through momentum and weight awareness.
Constantly looking for movement, even in the most static positions, at the end of the class our body and mind should be warm and ready for a working day.
Workshop Rosas danst Rosas (2nd movement)
34 years ago, the Rosas company put itself on the map with the production Rosas danst Rosas.
This choreography continues to be staged all over the world. The piece is made up of five chapters, full of intense physical energy.
The drive in this body machine is tempered by a series of 'very familiar and everyday movements'.
Besides focusing on the 2nd part of the piece, learning the basic phrases as well as its structure and composition, we will also attempt to create our own vocabulary following the essential elements from the original material.
(Please bring gym/ running shoes).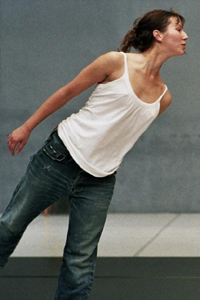 Liza Penkova is a Swedish dance-artist of Russian origins. She lives and works as a contemporary performing artists in between Sweden and Belgium. After a long-term work as dancer at Rosas dance company in Brussels, she started to focus on developing her own artistic voice through collaborations with other artists mostly in Europe. Her interest lies in redefining dance and dance education through influences from somatic practices, philosophy, visual art and writing.
video links:
https://www.youtube.com/watch?v=ssQsVnECVqU (Rosas danst Rosas three years ago)
https://vimeo.com/150603891 ( a short dance rehearsal)
jOGA – Curious body I (12+)
WORSHOP DANCE & ACT II (16+)
/ Maja Kalafatić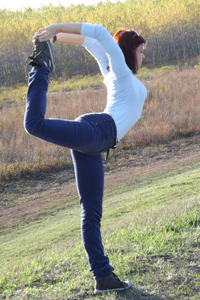 jOGA – Curious body
Keywords: psychosomatic exercise, laughing, asana, breath, joy, upside down, composing ...
Each day will be differently constructed. Through awareness-raising exercises, work in pairs, we will assist each other in order to stabilize the body, as well as to open and strengthen the muscle tissue. We gonna go for sequences and lots of fun upside down positions.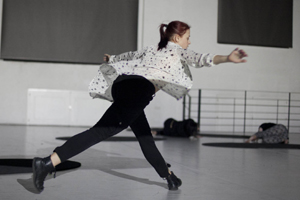 WORSHOP DANCE & ACT
Keywords: companionship, exercises, discussion, video, analysis, action ...
The 180 minute format will combine theory and dance. Five days adventure will be structured into a warm up through various exercises that will be divided into physical as well as written exercises. Every day, we'll look at one of the selected politically engaged art work and analyze it. Towards the end of the hour we will split into groups and ourselves begin to create an ''action'', which will be optionally placed in a public, urban space.
Maja Kalafatić (1984, Yugoslavia) is a dancer, choreographer, teacher and yoga teacher. In 2006 she graduated from SEAD -u (Salzburg Experimental Academy of Dance), and in 2015 she gained Master Of Arts at ZZT, HfMT Cologne and is currently involved in doctoral studies of Transdisciplinary arts and media in Belgrade. She is actively cooperating with Mateja Bučar, Jovana Tomić, Esta Matkovic, Heath Bunting, Stephanie Felber ... She has also collaborated with Vania Gala, Martina Ruhsam, Vlado G. Repnik, Saša Jovanović, Yulia Roschina, Samo Gosarič and others. Recently she participated in projects: POL-NA-ČRTA (Mateja Bučar, Ljubljana, Art Act Box (Andreja Kulunčić, Zrinka Uzbinec, Jasna Jakšić, prod. MSU Zagreb); Happiness in arisen (solo, Maja Kalafatić), Akademie der Künste der Welt: "As We Begin, So Shall We Go" (Lili M Rampre, Cologne); Sprungbrette, An Emerging Artists platforms at Tanz NRW 15 () "objet petit a" (Lili M Rampre, Cologne); Platform HR - TASK Festival, Zagreb: "Separation of context and it's content" (Esta Matković); Moving Cake Festival ''Betwixt'' (Kalafatić & Lopez de Dueñas); Green table, The unnoticed; Point-less, Green Light (Mateja Bučar Ljubljana); Medomai (Stephanie Felber); Cooling Down Signs (Vania Gala Beyond Fronta Bridgining New Territories); The Spandex (Kalafatić & Hadžialjević); Signed, Sealed, Delivered Tanzquartier Wien: How Far Can We Talk? (Ruhsam & G.Repnik) …

DANCE WORKSHOP I (50+)
/ Mariantonia Oliver
Challenging gravity without fear
A movement experience without limits.
Workshop is based on running experiments where body takes on the risk of living emotions that talk about happiness.
Talking about body, body's habits, vices, cares, love, scars…
Satisfaction of being able to look at myself in the mirror and recognise that all the way I have walked with my own identity.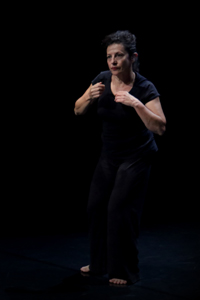 Mariantònia Oliver
Cia Mariantònia Oliver is a dance company established in 1989 in Barcelona which moved to Mallorca in 2000. It is characterized by carrying out a multidisciplinary and community oriented artistic creation.
The company has three areas of action: firstly, artistic creation for mature audiences; secondly, production of performances and educational projects for children; lastly, work with people with disabilities, youth at risk of social exclusion and elderly people. The company is conducting Community Dance and Social Inclusion projects for more than a decade.
EURYTHMY l (18+)
/ Marta Stemberger
Eurythmy: The Sound of Words and Music in Movement
Where does a gesture begin? How to find a movement that reflects the integrity of soul, spirit, and body as human capacities? How to consciously nurture the space among the dancers?
The laws of music and poetry are revealed in eurythmy to find a movement, through which music and poetry become alive in space. The whole body becomes a larynx that sings and speaks through conscious movement. Silence is transformed into image; sound changes into a gesture. We create continually changing live multi-dimensional picture impression as we carefully choose gestures from a rich treasury and attentively lead one gesture into another.
The space in-between becomes an energy flow of awareness among dancers, which expands outwards and inwards. With integrative approach to movement, the dancers refresh themselves, the space, and the audience.
Through harmonious movement, arising from eurythmy, we find harmony among different parts of the self, deepen movement awareness in space, strengthen the sense of energy among the dancers, and develop kinesthetic perception of the sound.
In the workshop Eurythmy: The Sound of Words and Music in Movement, we'll get familiar with the basics of eurythmy as an artistic movement technique to the sound of live music and spoken poetry:
Movement principles (harmonious movement of a group in a circle, contraction and expansion as breathing in space, difference between moving forward, backward, left, right),

Dance of geometry in space (straight lines, curves, spirals, stars, infinite eight),

Movement expression of rhythm in music and poetry,

Harmonious three-fold way of human walking,

Rich treasury of gestures (for individual music tones and intervals, vowels and consonants, moods, colors).
We'll prepare short choreographies to classic piano compositions, and to English and Slovene poetry.
Eurythmy is a harmonious movement art, developed by the Austrian Rudolf Steiner at the beginning of the 20th century, first in Germany, and then in Switzerland. Eurythmy is a dance technique, a pedagogical method (used in Waldorf schools), a movement therapy, a social art (to relax the soul, the body, the relationships), a spiritual approach to life. Eurythmy creates pictures of the sounds of words and music through movement; choreographies become visible speech and visible music.
The most important professional performing eurythmy groups in Europe are in Stuttgart, Germany, and Dornach, Switzerland; and Eurythmy Spring Valley in the U.S., where Marta Stemberger completed her studies.
You can read more on the websites www.hamoves.net and www.eurythmy.org.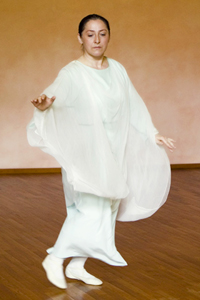 Marta Stemberger, MA, a native of Novo mesto, Slovenia, has been living in New York City for almost 25 years. She has fond memories of Summer Dance Schools 1989-1994. First, she was a devout dance student (1989-1993), and then she was teaching as well: Horton technique at the Summer Dance School 1994.
In 1989, she founded Terpsihora Dance Company in Novo mesto; some of the dancers were Jana Menger, Andreja Kopač, Sabina Schwenner, Gregor Luštek, and Boštjan Pavček. During her dance studies in Paris in the autumn of 1991, she met Mr. Fred Lasserre, who then came to teach in Slovenia that same autumn, through the Public Fund for Cultural Activities of the Republic of Slovenia. Marta followed his advice, and in October 1992, went to study dance at the Alvin Ailey American Dance Center in New York City. Upon completion of the three-year program, she continued with her dance studies at the Martha Graham School of Contemporary Dance, also in New York City, where she injured her knee two years later.
The journalist Milan Markelj from Novo mesto wrote after her departure to the U.S.: "Marta likes dance. Not the way we like small things that are close to our heart, but would easily live without them. No, Marta loves dance, so much so that she is devoting all her forces to it and is planning her life through it." (Weekly newspaper Dolenjski list, 05-Nov-1992). Dance is in her bones, and she didn't give up. She was searching and searching, from yoga to 5 rhythms to flamenco. And finally she found eurythmy. She completed the intense four-year study of eurythmy at the Eurythmy Spring Valley school, one hour North of New York City. Currently, she teaches public eurythmy classes in Manhattan, works on new choreographies, hosts her own radio show, writes two blogs, and brings eurythmy to wider audience with lectures and workshops.
You can read more on her website www.hamoves.net.
WORKSHOP EXTENSIONS #2 l (18+)
/ Martin Sonderkamp & Darko Dragičević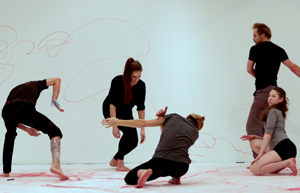 The workshop Extensions#2 is based on Extensions#1, a performace project which was performed in Ljubljana at Tobačna 001 Gallery Ljubljana by a group of visual artists, dancers, filmmakers and choreographers within the frame of CoFestival 2016.
In Extensions stage itself is a site of negotiation of individual choreographic scripts, devised through a process of mapping out of public and private spaces through various medial tools such as video, text, sound and drawing. Stage serves as a space-time sensorium in which the performer is constantly placed in-between things while simultaneously exploring the specific conditions under which space unfolds towards the body and under which bodies affect a spatial outside.
Extensions#2 is motivated by questioning whether space can become an auteur in itself. It explores concepts of space and body in which materiality plays a major role and where space appears as social and political space in which specific bodily and spatial properties and the arrangements of material things have an influence on the capacity to act and co-exist. The process investigates how spaces unfold towards an inside and how bodies affect a spatial outside.
Extensions#2 takes place as a continuous, choreographed exhibition open for public on Friday 30 June. Each day the workshop will focus on the artistic practices of the participants on how to mark and transform space and how to capture the artistic process through the use of various filmic formats. It highlights how documentation in turn becomes part and shapes artistic research.
Extensions#2 is open for participants with a background in visual and media arts, performance, dance, music and choreography. Participants are invited to engage with and to modify choreographic scripts, to develop specific visual and movement language and to explore the contingencies of various medial formats of documentation and presentation as part of the choreographic and performative process.
Martin Sonderkamp, born 1965 in Duisburg, is an artist living and working between Cologne and Berlin. He holds a BA in choreography and dance from the School for New Dance Development Amsterdam. In 1995 he co-founded the Amsterdam based Magpie Music Dance Company and performed with the company worldwide until 2006. His choreographic work and performative practice seeks to expand disciplinary and aesthetic boundaries between dance, visual art and music and features forms of audience choreography, mixed media installations and scores for extemporary performances. Most recent works include Collective Body (2018) a collaboration with choreographer Siri Jøntvedt, Sonic extensions (2017) in collaboration with visual artist and filmmaker Darko Dragičević, Approximations (2015), Task 14 (2014), Rewired (2013) and Social Movement (2012) a choreographed exhibition at Rautenstrauch-Joest Museum Cologne (2012). Martin Sonderkamp has closely collaborated with visual artists Isabelle Vigier and Darko Dragičević, with composer and musicians Anne Laberge, Christopher Williams and Andy Moore (The EX), scholars and dramaturges Constanze Schellow and Jasmina Založnik. In numerous improvisation events he performed alongside artists such as Meg Stuart, Jonathan Burrows, Katie Duck, Steve Paxton, Amanda Miller, Benoit Lachambre and others across Europe, the US and Asia including KlapStuk Festival, Holland Dance Festival, CI Festival Japan, Seoul Improvisation Festival, Movement Resarch Improvisation Festival New York, Museum of Contemporary Art Barcelona and others. As a guest lecturer, he has worked for companies, professional trainings and university programs such as the Cullberg Ballet, Sasha Waltz & guests, Movement Research New York, Tanzquartier Wien, Dansenhus Copenhagen, Amsterdam University of the Arts, UDK Berlin/HZT, Stockholm University of the Arts, KHM Academy for Media Arts Cologne and many others. From 2011-2015 he worked as professor for Contemporary Dance at the University for Music and Dance Cologne/ Centre for Contemporary Dance. Martin is also a board member of Nomad Dance Academy and has worked as an external advisor for HZT Berlin and Stockholm University of the Arts/DOCH - School for Dance and Circus.
Link: Approximations (2015) https://vimeo.com/157628941
Darko Dragičević (Belgrade RS, 1979) lives in Berlin and works internationally as a Visual Artist and Filmmaker. He holds a MFA (Hons) in Visual Arts and a BA in Visual Communication from The International College of Arts & Sciences in Milan and a Filmmaking diploma from New York Film Academy, New York City.
Dragičević's focus is in interdisciplinary projects and his research lies in cross methods within the fields of visual arts, film and performance. His works have been featured in various solo and group exhibitions such as David Zwirner Gallery New York, The Armory Show New York and OTTO ZOO Gallery Milan. His short films have been presented in numerous curated events and International film festivals such as Goethe-Institut Kyoto, FRAME International Dance Film Festival London and Deutsches Tanzarchiv Cologne.
His most recent projects include: Sonic Extensions, a performance realized in collaboration with dancer and choreographer Martin Sonderkamp and Splendid Chaos - a site specific performance and further more workshops and seminars realized in collaboration with Cologne Philharmonie, Beethoven Festival Bonn, HfMT University for Music and Dance Cologne, ZZT Centre for Contemporary Dance and KHM Academy for Media Arts Cologne presented during Kollaborationen Festival, American Postmodern Dance, Music, Sound in Cologne and Bonn. As a Director he received awards from the Bosifest 7th International Film Festival for and by people with disabilities in Belgrade, 57th International Short Film Festival in Oberhausen and Casa del Cinema in Rome.
Dragičević frequently works in the field of education. He taught at TQ Tanzquartier Wien and is currently holding a position of guest lecturer at the Hochschule für Musik und Tanz/Zentrum für Zeitgenössischen Tanz Köln during autumn/winter semester 2016/17.
more info: http://darkodragicevic.net/
Link: Splendid Chaos (2016) https://vimeo.com/208690289
For more info: darkodragicevci.net
AFRO-CONTEMPORARY DANCE ll (12+)
/ Maša Kagao Knez
Maša's choreographic and teaching work is based on connecting contemporary dance techniques with West African dances. She focuses on exploring different qualities and is interested in how to stimulate dancers to achieve various possibilities of dance expression with the help of mastering dance technique, the elements of African tradition (rhythm, movement motives,…) and improvisation.
The class is intended for all dancers, regardless of their prior training. Focusing on different qualities (awareness and reactivity of the body, clear impetus, precision and intention of movement, focus in a given moment,…), the class develops fluidity, a greater amplitude of movement as well as a freer, richer and more authentic performance.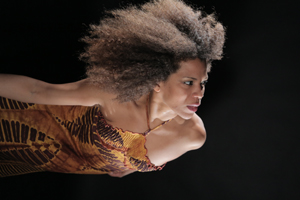 Maša Kagao Knez (1978) works as a dancer, choreographer and theatre practitioner. She first came into contact with the performing arts as a child through the work of her mother, Jasna Knez, a dancer and choreographer herself. Maša was educated by various international teachers, both in Slovenia and abroad, and graduated in 2006 from Georges Momboye school for African traditional and contemporary dance in Paris. In 2013 she graduated from the Academy of dance in Ljubljana.
In 2009 Maša, together with dancer Dalanda Diallo and musician Damir Mazrek, co-founded the Baobab cultural and arts society, which operates in the field of dance, music and theatre. Since 2015 she has been the artistic director of Institute 25 and manages the Dance studio XXV, as well as creates dance performances:  Posvetitev pomladi (Flota, 2016), Momentum Avenija ujetih trenutkov (Studio 25, KUD Baobab, CD, PTL, 2015), Dia Diasso Diasspora (KUD Baobab, CD, 2013)...
She also works as a choreographer, dancer and actress in big production theatres as well as independent companies: Plesni Teater Ljubljana, Flota, SNG Nova Gorica, Mestno gledališče Ljubljana - MGL, SNG Drama Ljubljana, Prešernovo gledališče Kranj, Anton Podbevšek Teater, Mini teater...
Maša's teaching and choreography work is based on research of movement material in which different dance techniques and movement motives of African dance traditions intertwine, complement and transform into the author dance term. She received a Ksenija Hribar dance award in 2013. Three years later she won the third prize at the XX. Festival of choreographic miniatures in Belgrade as part of the duo with musician Murat.
www.masakagaoknez.si
Promo Momentum: https://www.youtube.com/watch?time_continue=4&v=xqcCaMoYPGw
Promo Dia Diasso Diasspora: https://www.youtube.com/watch?v=VCUBmmsE6Rs
VIDEO – KLAS:
https://www.youtube.com/watch?v=-K6BrqNuiyo
https://www.youtube.com/watch?v=LYtq5116e7A
CONTEMPORARY FUSION ll (14+)
REPERTOIRE MN DANCE COMPANY lll (16+)
/ Nastja Bremec  & Michal Rynia
CONTEMPORARY FUSION
The class will begin with short warm up, build up from different contemporary techniques combined with exercises from ballet and some yoga stretching and strengthening training. After we will concentrate on challenging choreographic sequences, made for dance training in order to improve dancing skills of participants and explore diverse possibilities of moving. The choreographies that the dancers will learn are made through intuitive dance creation with the mixture of different dance techniques. Contemporary fusion is a special dance vocabulary that is recognisable for MN Dance Company.
https://www.youtube.com/watch?v=NB7DvydCNd0
https://www.youtube.com/watch?v=Q-M6kStmSu4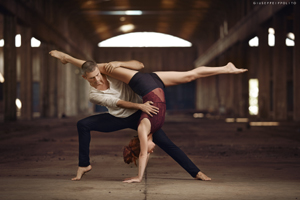 REPERTOIRE MN DANCE COMPANY
This class is dedicated to repertoire material from MN Dance Company. The participants will be learning the parts of performances. We will be working on partnering and some group dancing parts.
The company, led by artistic directors Michal Rynia and Nastja Bremec, was founded at the end of 2009. The MN Dance Company are playing a vital role in a popularisation of dance among all generations. Their performances and workshops are moving the borders of various dance styles. They are trendsetters who inspire a lot of dancers all over the globe. The group perform at many international dance festivals and theatres in Slovenia, the Netherlands, UK, Germany, Italy, Serbia, Israel …
Lately the company has been creating pieces for Slovene National Theatre Nova Gorica, Opera and Ballet Ljubljana, Cankarjev dom Ljubljana, Opera Graz, De Gouvernestraat Theatre Rotterdam.
Choreographers Michal Rynia and Nastja Bremec, both graduates of CODARTS – Rotterdam Dance Academy, are creating their own recognisable dance style and body language. Their training methods are based on new ways of body movement and expression. Influenced by their backgrounds they create pure, powerful and expressive dance.
https://www.youtube.com/watch?v=wm98afryPf4
https://www.youtube.com/watch?v=MJFvQSDRWbE&t=1231s
Michal Rynia (02. 02. 1984 , Wroclaw, Poland), began his career as a hip hop dancer. He was very successful in dance competitions winning several times the title of Polish National Champion and five times the title of a hip hop World-Champion. Moreover, he also one twice the National Championships in Netherlands in hip hop solo Adults.
Working in Wroclaw, at Polish National Theatre inspired him to continue his professional dance education. He received exceptional scholarship from major of Wroclaw for his studies abroad. He graduated from the CODARTS – Rotterdam Dance Academy in 2007. During the time of studies he received significant scholarship from the Academy – Corrie Hartong found. After finishing the studies at the academy Michal began to teach at this prestige academy as a guest teacher and choreographer. During his stay in the Netherlands he worked with numerous well known choreographers such as Ed Wubbe, Andre Gingras, Guy Weizman and Roni Haver, and companies like Scapino Ballet Rotterdam.
His first solo project "Dream of Electric Sheep" was presented at the Royal Opera House in London and at iTs Festival in Amsterdam. Moreover, he created the duo "Switched", which was performed at Lucent Theatre under the organzation of Nederlands Dans Theatre. He was endorsed by some of the large production houses such as Korzo Theatre Den Haag and Theater Lantaren Venster Rotterdam. These two theatres produced his first performances "Made in Rotterdam", as well as dance productions "Dust in the Wind" and "The Myth".
His short miniature choreographies were awarded with performances in the gala finale at the largest international choreography competitions "The Story We Tell" and "Switched" Hannover International Choreography Competition and "Framed", "Chained" and "The Final Concert" in Belgrade choreographic miniatures.
He has been living and working in Slovenia since 2009. Together with Nastja Bremec he has created the Slovene-Polish duo known as MN Dance Company and developing their own, unique way of expression called "Contemporary Fusion".
Michal was invited by Irek Mukhamedov to choreograph for the Slovene National Theatre Opera and Ballet of Ljubljana and closely collaborate with the Slovene National Theatre of Nova Gorica as movement director or choreographer on multiple occasions.
As artistic director and choreographer Michal is mainly focused on creating full-length dance performance hosted by Slovenia and European theatres. The last projects "Conspiracy of Silence" and "Urban Tales" have received outstanding reviews and MN Dance Company is getting more interest world wide by dancers and spectators... website
Nastja Bremec began her career in ballet and modern dance when she was six years old. She has won many awards at competitions in both ballet and modern dance. After graduating from high school (Secondary Preschool Education School and Gymnasium Ljubljana – specializing in modern dance) she was chosen by the Italian choreographers Mauro Astolfi and Erika Silgoner to receive a scholarship for training with their dance ensembles (Spellbound Dance Company and Esklan).
After finishing this six-month course she successfully passed entrance exams at CODARTS – Rotterdam Dance Academy. Among 900 candidates from all over the world she was admitted directly into 3rd year of study.
She graduated in 2008. During her stay in the Netherlands she worked with numerous choreographers such as Nacho Duato, Mauro Bigonzeti, Michele Poglini, Neel Veerdorn, Jerome Meyer and Isabelle Chaffaud. In addition, she was a member of Scapino Ballet Rotterdam dance ensemble.
Nastja has presented some of her choreographic miniatures at various choreographers' competitions. She worked as a choreographer in Classics and Tango at the Slovene National Theatre Opera and Ballet of Ljubljana and collaborated with the Slovene National Theatre of Nova Gorica as movement director or choreographer on multiple occasions. In 2009 she founded MN Dance Company together with Michal Rynia. They call their dance style 'Contemporary Fusion'...website
MODERN MIX ll (8+)
LIMON HUMPREY - Technique & Repertory ll (14+)
/ Nicole Speletic
MODERN MIX
This is a modern dance class for young dancers with some basic training, but it does not require prior knowledge of this style. We will dance the principles of fall and recovery, opposition, isolation and succession, playing with weight and suspension, timing and gesture. We will use these principles in floor sequences, center standing phrases and traveling sequences with jumps and turns. We will break down movement sequences to learn how to execute them with clarity and good alignment. Then we will play and put them together in different ways bringing our own feelings and creative intentions.
LIMON HUMPREY - Technique & Repertory
A very contemporary modern dance class, grounded in the style of Humphrey-Limon, complemented with influences from other modern styles. Thorough warm-up from floor, to standing to moving through space – rolls, lunges, swings and bounces, suspension and opposition, build to a final phrase
drawn from movement sequences from Limon repertory (authoritarian leaders and nasty women included). We will craft the movements with precision and care for form, direction, timing - and we will dance the movements with dynamic power and full-bodied expressivity. Like a modern dance DJ –sampling repertory phrases and putting them together in new ways, driving it further, bringing our own sensibilities, infusing them with our own meaning and feeling.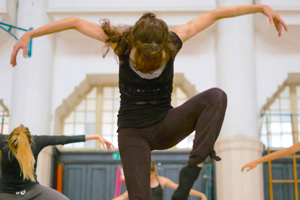 Nicole Speletic, PhD is a dance artist and a theorist. She grew up in New York City – with a view of
the Empire State Building from her back-yard – the same back-yard where her Slavic and Italian
immigrant grandparents kept chickens and grew tomatoes. She performed her first dances on her
grandfather's sofa to Dvorak records on Sunday mornings. Later she began coming to Europe for artistic and personal purposes and to learn more about her heritage.

My Philosophy: I understand now that we are both thinking / imaginative / conscious beings
and embodied / physical / natural beings. I started out indoctrinated in a view that the body is lower; the mind and spirit are higher, and more valuable. The body was problematic. Gradually, I came to see that physicality and embodiment are wondrous, intrinsic to our (well)being and integral to our ideas and emotions, equally valid and valuable. As my respect and wonder for the body grew, so did my understanding of our connection to the natural, physical world we are part of. I grew to embrace the full, creative, expressive potential of movement and dance, of matter and energy in time and space alive with power and energy. That's why I continue to practice modern dance, and derive my own style from that – because it is a dance form that uses movement to fiercely or tenderly embody core ideas, archetypes and paradigms of human experience. Doris Humphrey was inspired by Nietzsche, and they share a concept of the dance of life that we all dance, in the arc between two opposing extremes of the Apollonian and the Dionysian.

My Path: I didn't follow a clear, set path in my development – neither academically nor artistically. I did not train at a dance conservatory, but I did get to train 'at the source' and with some of the best teachers in New York. I was steeped in Humphrey-Limon repertory, technique and history at the
Limon Institute, and trained extensively with the Limon Company. I was an apprentice with them (under Carla Maxwell), and became Associate Director of the Professional Studies Program at the Limon Institute (with Ann Vachon and Alan Danielson). There I helped to craft a large part of the curriculum and learned much of the repertory. I expanded my training with contemporary and release styles (of Doug Varone, Lar Lubovitch, Simonson Jazz) well as classical ballet (Peter Schabel, Stuart Loungway, Alexandre Proia, Dorrit Koppel). All of this informs the basis for the modern dance style I work in now, which continues to grow and develop, just as Doris Humphrey intended.
I was the first person in my family to attend college. I hold a PhD in Political Philosophy from
Georgetown University where I attended on a full scholarship and teaching fellowships. I have completed half of a Master's course in Dance Studies at the University of Malta (and am seeking a way to complete the second half). And I and graduated Summa Cum Laude with a BA in Philosophy and Political Science, with some study of Russian language, Spanish language, and English literature. All of these were completed at good Jesuit institutions, with professors whose insistence on incisive, critical thinking made me the ethical-humanist-atheist I am today.

My Work: I have been a professor of Dance and of Philosophy at Long Island University, Nassau
College, Georgetown University (teaching fellowship), Loyola College. I have been a guest at universities in the Netherlands and Slovenia. I dance professionally with numerous New York based choreographers including Sue Bernhard's Danceworks, Robin Becker Dance, Human Kinetics, Born Dancing, Dance Into Light, Entertainment by Primary, and I have been part of many beautiful and creative independent artists' projects. My own works have been performed and presented in the US and abroad since 2007.
BALLET CLASS III (16+)
CONTEMPORARY CLASS III (16+)
/Richél Wieles
BALLET CLASS
A balanced class based on activating the body and using the technique to move. The ballet class re-evaluates and builds on classical technique, focusing on strengthening the dancer's awareness.
The class is divided into two parts: the barre and the centre. Exercises at the barre prepare the entire body for more complex dancing sequences in the middle. Body placement becomes fluid and functional, making movement easier and more natural. The second half of the ballet class, conducted in the centre, consists of exercises that vary in quality and dynamics and develop musicality. The class challenges the dancer to use the placement and release discovered as a source of strength and individual interpretation.

CONTEMPORARY CLASS
In this class we'll have a mix between 'simple' improvisation, creative tasks and complex phrases.
We will define the centre as something that helps us to stay grounded and three-dimensional in our movement, as well as a source of power for subtle and awakened presence.
This approach encourages an intelligent use of the physical instrument allowing each dancer to discover the full possibilities of his/her body. This class will play with the use of space and musicality and is an opportunity to dance.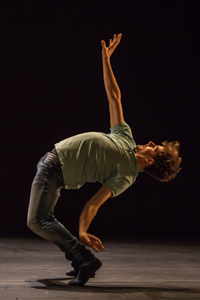 Richèl Wieles finished the conservatoire in The Hague. He worked in SNG Opera in Balet Ljubljana (2011-2012. 2016-2017), Nederlands Dans Theater (2012-2015), Luzerner Tanz Theater (2015-2016).
As a teacher he worked in Busan International Ballet Seminar.
His ballet is inspired by his professional ballet experience as well as knowledge of various contemporary dance techniques.
https://www.youtube.com/watch?v=n7JICZxKyVc
https://www.youtube.com/watch?v=0gKa1z_7myY
CONTEMPORARY TECHNIQUE ll (14+)
PARTNERING ll (16+)
/ Tamas Tusza & Peter De Vuyst
CONTEMPORARY TECHNIQUE
In the class we will deal with acrobatics and floor technique. At the beggining we will warm up our joints and muscles with several exercises that will gradually lead us to the physical work.  We will introduce you to the knowledge of how to be well grounded, exact and dynamic, and at the same time fluent and energy efficient. Throughout strenghtening and balancing exercises we will discover the upside down world, so we open to the endless possibilities of the moving body. We will go through basic tasks that will allow us to know how to fall on the ground from unexpected situations, so you will be able to get out of every risky situation with ease.
PARTNERING
In the class we will focus on touch, trust and taking risks. Everyday we will play with, and practice different technical principals; such as weight, power, structure and decision making.Throughout these principals we will discover eachothers bodies, and step by step we will get to the point when you will know where are the limits of accepting and giving weight, and how much actually you can use your partners body in order to create a very natural understanding of togetherness. These practices will apply on phrased partner work with the aim of finding pleasure and enjoyment in the collaboration between eachother.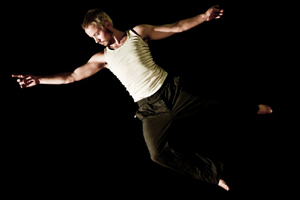 Tamás Tuza is a professional dancer since 2007. After more than 20 performances in Hungary he joined EnKnapGroup in 2010 and remained there until 2016. He worked with Slovene authors, like Sebastijan Horvat, Matjaž Zupančič, Rosana Hribar, Gregor Luštek, and foreign choreographers, like Simone Sandroni, Club Guy in Roni, David Zambrano, Jordi Casanovas ... Among other he danced in successful performance by Iztok Kovač that was awarded with Župančič's Prize. Last six years Tamás traveled with EnKnapGroup around Slovenia and Europe.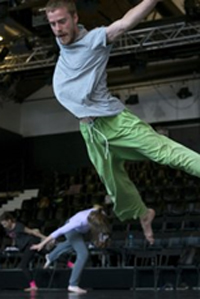 Peter De Vuyst was born in Oudenaarde, Belgium in 1989. He started his studies in Amsterdam (Amsterdamse hogeschool voor de kunst AHK). He continued in P.A.R.T.S.,(Brussels) and graduated in SEAD in 2013 (Salzburg). He was working with teachers such as Libby Far, Martin Kylvadi, Matej Kejžar, Martin Nachbar, Jannet Panetta, Lali Ayguade..Since 2013 he is working in projects with Matej Kejžar, Benjamin Vandewalle, Bénedicte Mottard. In 2016 spring, He came to work on project 'Silent Room' by Nikoletta Gönczöl and Tamás Tuza to Ljubljana.
DRUM N'DANCE – rhythm and dance workshop ll (14+)
/ Tina Dobaj and Andrej Hrvatin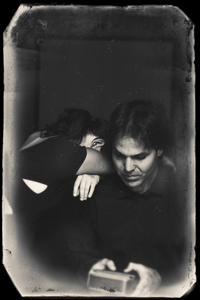 Music and dance are always in an interdependent relationship. It is very important that the dancers understand, hear and recognise basic music elements and transfer them into a movement qualities and dynamics. The understanding of rhythm is crucial.
The workshop is comprised of rhythmic phrase excersises and »body percussion« practices, guided movement improvisation through which the mentors will establish and increase the complexity of the movement and music relationship, space and energy.
We will learn the physical understanding of music and its influence on the course of the qualities in movement. At the end of each class the participants will also try playling the different percussion instruments (djembe, cajon, frame drum, bongos, darabukka, jingles, rattles, shakers, etc.).
Workshop is led by dancer, choreographer and dance pedagogue Tina Dobaj and percussionist Andrej Hrvatin.
https://www.youtube.com/watch?v=SjGlx9-tfY4
https://www.youtube.com/watch?v=M-bDEZBG_zE&t=10s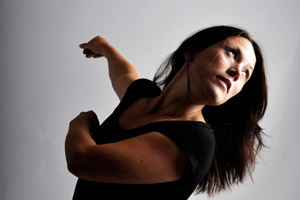 Tina Dobaj, dancer, choreographer and dance pedagogue finished training cycle from the renowned dance academy P.A.R.T.S. and Yoseido Shiatsu Academy in Brussels. After finishing her studies she soon followed by the engagement in the performance The Vile Parody of Address by the choreographer William Forsythe.
After her return to Slovenija she began teaching professional trainings in Ljubljana and at the National Theatre in Maribor, while keeping in touch with Brussels, leading different trainings and workshops there.  She also taught at the  High School for contemporary dance - SVŠGL in Ljubljana, where she also works today as a contemporary dance and ballet teacher.
Since 2014 she also worked as a pedagogue and choreographer at high school Ptuj, where she helped establishing the »Musical« departement. She received two national »Povodni mož« dance awards for her debutant choreography piece »Cesta« (»The Road«) and München festival award for her author piece Geiko (2004), followed by two more shows produced by Flota production - Ring in Kore wa tada no sen desu (2006 in 2007). Tina also collaborated with the renowed slovene choir leader and conductor Karmina Šilec, producing very succesful (and often copied) choir choreographies for Carmina Slovenica's performances of Adiemus (2003) and CS LIGHT (2007).
She collaborated with slovene dancer Gregor Kamnikar in two very creative dance pieces Odprto od do and Kapital. The latter was invited to the Brisbane festival in  Australia (2011), where they led workshops at Queensland University and integrated students into the show.
In April 2013 she taught classes at New Jersey based dance school MADLOM of choreographer Maja Milenović Workman, with whom she later collaborated as a dancer in her piece Namišljena resnica - Virtual truth premiered in September 2013 at »Stara elektrarna« in Ljubljana.
In the same year she also collaborated in improvisation projects in New York, performing with jazz legends Reggie Workman and Ken Vandermark, under direction of Maja Milenovič Workman.
Since February 2014 she created performaces as LaMuG-Zi performance collective, joined by a musician Andrej Hrvatin and in 2016 she made solo performance Silhueta.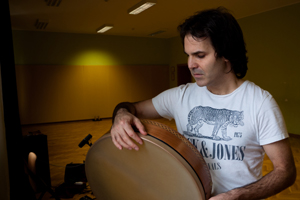 Andrej Hrvatin is a musician and sound artist from Maribor, Slovenija. His main instruments are diverse "ethnic" flutes (Native American style flutes, ney, kaval…), clarinet and percussion, notably "frame drums". He studied clarinet in music school, learned kaval from Macedonian virtuoso Bajsa Arifovska and studied percussion with Nino Mureškić and at diverse workshops of several other percussion masters – Pt.Suresh Talwalkar, Okay Temiz, Hakim Ludin, Carlo Rizzo, Jatinder Thakur, Glen Velez, Zohar Fresco, Andrea Piccioni,…
His main inspiration and frame drumming "lineage" can be traced through Nino Mureškić to Glen Velez and Layne Redmond.He was involved in several music and dance performances, such as "Doors" by Branko Potočan, "Saltana" by Edita Čerče, "Dia Diasso Diaspora" by Maša Kagao Knez, "Direct Insights" by Tina Dobaj and many others.
As a sound artist he recorded, mixed, produced and mastered several international and Slovene jazz, world music and alternative albums. He mixed and mastered the acclaimed and awarded albums by jazz masters Zlatko Kaučič and Samo Šalamon, feat. some international jazz stars such as Michel Godard, Roberto Dani, Paul McCandless, Peter Brötzmann, Irene Aebi, etc.
Part of his work was also dedicated to recording sound for film and television.
He was artist in residence at Sonic Art in Delhi, India in 2008 and performed at ISIM conference in New York with pianist Ji Eun Moon in 2014.
He is currently focusing on deeper connections between music, philosophy, transcendental states of mind ("shamanic" explorations of art, sound and body), offering frame drumming classes, music journey sessions (Spirit Flute Journey, Locus Solus) and develops dance and music productions as Lamug-Zi collective with Tina Dobaj and others. With the latter he also developed a highly effective treatment combination of music and shiatsu massage – M.S.T. which they currently offer as a "therapeutic" session, but plan to share the knowledge and practice with other practitioners in the form of seminars and lessons in the future.
HELLO BODY KIDZ I (6+)
/ Tina Valentan
Hello Body is a warm-up and creative workshop for children. It derives its subject matter from different practices (Hatha, Contemporary dance, Kundalini, Partner Yoga, BMC) through which the mind connects with the body and focuses on specific anatomical relations between body parts.
Hello body from head to toe, hear the inner whisper.
I listen to myself, I motioned for you. I lean against neighbour and grow out like a tree,
as yoga masters do.
Breathe in, as the balloon inflates and exhale out the tiger. Then fly to your dance!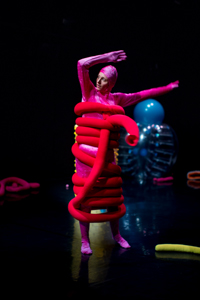 Tina Valentan has graduated from the School for New Dance Development in Amsterdam. She has been active in the field of contemporary dance for many years. Over the last years she has been focusing on performing for other choreographers. She is currently touring European dance festivals with Milan Tomášik & Co with performances Hunting Season (2014) and Silver Blue (2015). She is also working closely with Snježana Premuš, a Body Mind Centering practitioner and choreographer, with whom she is expanding her knowledge of the body and co-creating performances, lastly Physical Manifestations (2015). She is also appearing in the children's performance Doodledee, It's Me!. She presented her choreographical debut at the first edition of Platforma Festival in 2007. The work has been later on developed in an acclaimed solo When the Moon Is Increasing (2008). Tina's latest solo project, produced by City of Women is putting centre stage a woman in possession of her full powers (Kalipso).
More at: ski.emanat.si/tina-valentan
FOLLOW THE FLOW ll  (12+)
/ Urša Rupnik
Urša is teaching a synthesis of contemporary and modern dance techniques, enriched with her own dance experiences and movement principles. Her work is mostly based on nearly ten years of experiences as an assistant of a prominent dancer, choreographer and dance pedagogue Joe Alegado (USA). His method – Alegado Movement Language is characterised by the use of hands as inspiration and initiator of a movement language which searches to connect with energy sources within the body as it projects outward into space.
Urša starts her classes with simple, but dynamic warm-up of an entire body trough somatic work in couples, groups or individually. Warm-up is followed by a structured floor work, locomotor phrases within the vertical line and spatial combinations, which are upgraded into a final dance composition or choreography.
The focus of Urša's classes is on positioning and movement of the spine, complexity of hands, arms, legs and torso coordination; she pays attention to the softness and fluidity of the movement, fluid transitions between vertical and horizontal level and expressive interpretation of a dance material.
In this workshop, Urša invites you catch a wave of fluidity together and take a ride to a dynamic journey trough space and time.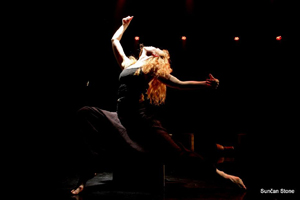 Urša Rupnik is B.Sc. in Culturology and B.A. in Dance and Choreography. As a freelance dancer she collaborates with prominent Slovenian choreographers and other artists; as a member of dance collective Benko-Jamnikar-Križič-Rupnik she works on her own authorial projects; recently she collaborates also with Liza Šimenc on their latest project Medusa. Since 2008 she works as an assistant of American dancer, choreographer and pedagogue Joe Alegado (also at ImPulsTanz Festival from 2011 on) and is a member of his international Jalegado Dance Company. Based on his method Alegado Movement Language she teaches classes and workshops in Slovenia and abroad. Urša is an artistic director of Studio of Free Dance Style's Company based in Ljubljana; as a choreographer and dance pedagogue she collaborates with University of Ljubljana – Faculty of Education, Conservatory of Music and Ballet Ljubljana – Ballet Collage and Alma Mater Europaea – Academy of Dance Ljubljana.
More:
Joe Alegado – Alegado Movemen Language, ImPulsTanz 2012: https://www.youtube.com/watch?v=9z0Qj5FOhZg
Urša Rupnik – Contemporary Dance Class: https://www.youtube.com/watch?v=9z0Qj5FOhZg
Urša Rupnik – Izgubljena: https://www.youtube.com/watch?v=Ut7xqvLRlbk
Urša Rupnik, Ema Križič, Tina Benko, Neža Jamnikar – In Vitro: https://www.youtube.com/watch?v=VmyCXsFz0jg
ADDITIONAL INFORMATIONS AND CONTACT
Republic of Slovenia Public Fund for Cultural Activities - Javni sklad Republike Slovenije za kulturne dejavnosti, Štefanova 5, 1000 Ljubljana, Slovenia

Nina MEŠKO

samostojna strokovna svetovalka za ples


Mobile: +386 (0)51 327 575

Tel: +386 (0)1 24 10 522
Fax: +386 (0)1 24 10 510
E- mail: nina.mesko@jskd.si