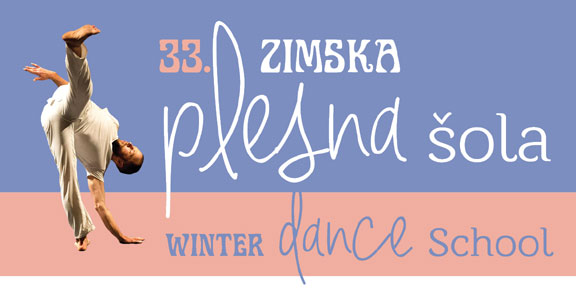 The 33rd Winter Dance School in Maribor
ACCOMPANYING PROGRAM
Saturday, February 24, at 8 pm –Grand Hall, Narodni dom Maribor  
4th Season of Contemporary Performing Arts "Nagib on Stage" hosted  dance performance
Maribor Organizer: Association Nagib in cooperation with Narodni dom Maribor
Iztok Kovač in Janez Janša:  FALCON!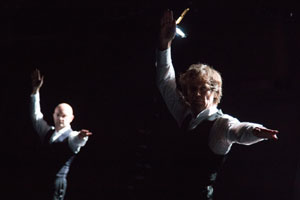 Janez Janša & Iztok Kovač Sokol! (photo: Nada Žgank)
Choreographer Iztok Kovač, the founder of the important dancing ensemble EnKnapGroup from Ljubljana, and director, theatre theoretician and performer Janez Janša, now, in their fifties, return to the cult solo performance by Kovač How I Caught a Falcon from 1991. It is impossible to step into the same river, and they don´t even try. The original solo is just a frame for their contemporary ideas about art and ageing, and a basis for their honest testimony about human limits. The original choreography is a beautiful pretext to celebrate dance and to be on stage again. For the perfectionist Kovač who understands the body as a potent, agile machine, it is not easy. He struggles, through the choreography he confronts himself with the production of his youth, and also with Janša who contradicts him. It is Janša who provokes Kovač to dance again, to question the limiting belief that ageing inevitably means the end of the artistic carrier to a dance artist.

However, there are no tired and disenchanted old men on stage. Their physical fitness is obvious even today. But even more precious is their playful confrontation with their own past, or rather, with their past ideals.Their locomotive-personal dialogue is carried in a sympathetically civil tone; questions pertaining to the past and future are asked carelessly, charmingly provocatively, as if two friends were teasing each other. They juggle with the relativity of their opinions and ideas about why do we need the dance art today. They question their qualities as well as their past ambitions. The enchanting but mostly playful scenic storytelling is made dynamic not just by their differing opinions, but also by their different artistic directions and different temperaments.

Through the dance solo, thanks to which Slovenian art made itself visible abroad, they return to the beginnings of forming the independent art scene in Slovenia after the fall of socialism and the break-up of the federal state of Yugoslavia. Therefore, the selfdefinition then and now is multiple. Contemporary dance, formulating as a genre its new direction freed from the pressure of tradition and old dance techniques, is being self-defined. A freshly originated nation is searching its identity and its place within the wider whole – the Europe – in independence. And young artist flies toward something in which he sees the promise of total freedom. Every self-definition has a common aspect – the desire to be unrestrained and to have space in which it can show its strength, just like a falcon.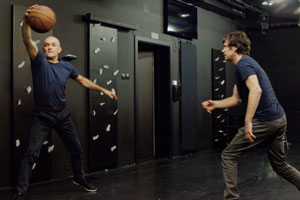 photo: Miha Fras


Almost a quarter of century has passed since the premiere of How I Caught a Falcon. Where are today these two creators and how does the art scene look like? Iztok Kovač is even in the age of fifty flexible and fast, and Janez Janša is still as playful and surprising as he used to be. They both have come to know their own limits as well as the limits of the local art scene. Some of it they have already anticipated from the start, and at the beginning of the nineties they even prophetically named it. Much of what they have discovered later has proven to be inspiring for future creation. And namely with this consciousness, they step again into the old form tailored to the needs of a spontaneous, or maybe even naive young artistic explosion. Experience is dancing hand in hand with youthfulness.

Is the beauty and the agility of human movement, known by our grandfathers gathered around the physical training clubs called Falcon, really irretrievably gone, as the society is still obsessed with the ideas of a potent, healthy and impressive body? Falcon! is a neverending struggle for perfection, for the effort to persist in movement and to never stop moving.

Maja Hriešik
Divadelna Nitra Festival brochure (26 Sept. – 1. Oct. 2014), p. 33-34.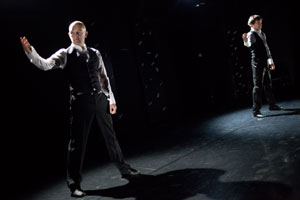 photo: Miha Fras
More about performance: http://www.en-knap.com/14/643/falcon.html
Tickets: Only 2 € with the WDS 2017 identification card. Others 6 / 5 €.