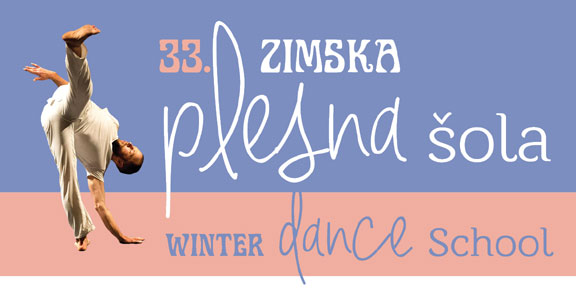 The 33rd Winter Dance School in Maribor
The 33rd Winter Dance School will take place from Friday 23 February to Monday 26 February 2018 in Maribor's Karantena under the auspices of the Public Fund for Cultural Activities of the Republic of Slovenia, Maribor Branch Office, and Association of Cultural Societies Maribor. It is recommended for dancers, dance mentors, choreographers, and everybody actively involved in dance and movement. Workshops are open to all age groups, to amateurs, professionals, or anyone in between. Children aged 5 to 7 can join a creative dance workshop for children. Teaching observations for mentors of children's workshops and a mentor workshop are also organised. The concluding performance to show what the participants have learnt at WDS is scheduled for the last evening. You are also invited to come and see a dance performance organized by AssociationNagib.

WORKSHOPS AND TEACHERS

CONTEMPORARY DANCE FLYING LOW – Simon Wehrli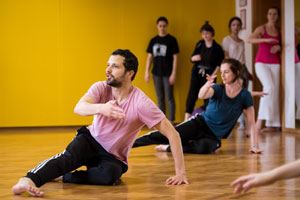 photo: Saša Huzjak
CONTEMPORARY DANCE TECHNIQUE - FLYING LOW I
Making use of spirals and curves, this class explores mainly the relationship of the mover with the floor / the ground. By learning specific movement material, the participants work with the principles of expansion, cohesion, and gravity. The goal is to remain calm also in moments of high intensity and to find order in chaotic states / propositions. To maintain the balance between active and passive. Between inside and outside. Eventually, the proposed form becomes a vehicle towards more freedom in movement. This class is based on David Zambrano's flying low technique.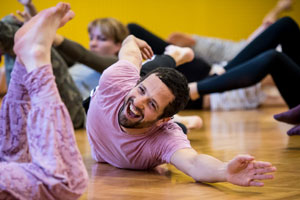 photo: Saša Huzjak
CONTEMPORARY DANCE TECHNIQUE - FLYING LOW AND FURTHER
Departing from the principles of flying low (dance technique developed by David Zambrano), this class focuses on finding ease and clarity in directing the moving body through space. The topics the participants will get to know are stability through the feet, moving between balance and off-balance, letting gravity do a part of the work, and efficient use of time. Working with set and at times unset material, this class aims to go more into detail, allowing the participants to be present in any moment of the dance and to not forget any part of their body.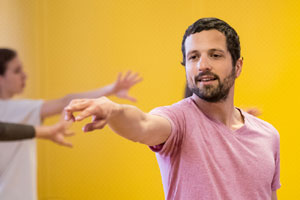 photo: Saša Huzjak
SIMON WEHRLI studied physical theatre at Scuola Teatro Dimitri (Verscio, CH) and contemporary dance at Trinity Laban (London, UK). As dancer, actor, and musician, he has collaborated in different projects in Europe and the USA. He has worked with Judith Sanchez Ruìz (New York, USA), Lizzi Kew-Ross (London, UK), and David Zambrano (Brussels, B), amongst others. He is a founding member of the Swiss-based Collettivo Spettatori movement theatre and the dance-improvisation project 50collective. Several tours have taken him through Europe, Africa, and the USA. In 2010, he was selected to participate in the 50 Days of Flying Low and Passing Through Costa Rica led by David Zambrano.
Since 2009, Simon has been teaching dance technique and improvisation internationally as well as developing his own work.
GROUND EAGLE  - Tamás Tuza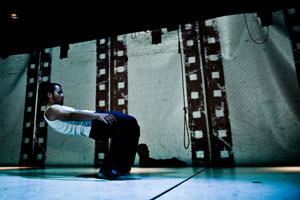 photo: Omar Ismail
GROUND EAGLE is a contemporary dance technique class that focuses on strengthening the centre – 'the power house', which can help you soften the joints and expand your wings. The class consists of several sections that work on the entire body. Concentrating on relaxing both the mind and the body will help you recharge the body with the strength for flying. The technical part of the class will feature exercises for balance and alignment, which require a lot of precision. The class will also include dance combinations, which will let us fly internally and complete our day high above in the sky, while still standing firmly with both feet on the ground. Thus, we will be able to become "ground eagles".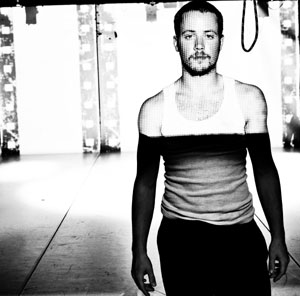 photo: Omar Ismail

Dancer and choreographer TAMÁS TUZA - Klub Waru has worked extensively in the fields of dance and dance theatre and has thus far produced a highly successful opus of works. After over 20 collaborations in Hungary, he has joined the international dance troupe EnKnapGroup, based in Ljubljana, where he co-created a series of outstanding dance and theatre roles in collaborative projects with renowned Slovenian and foreign directors and choreographers. As a member of the EnKnapGroup, an important ambassador of Slovenian culture, he has toured extensively and with a lot of critical acclaim. He has also significantly contributed to the quality and innovation of theatre performances in which he worked as movement advisor or choreographer.
FOLLOW THE FLOW – Urša Rupnik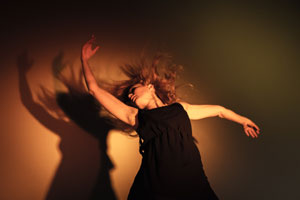 photo: Iztok Hvala
FOLLOW THE FLOW
Urša is teaching a synthesis of contemporary and modern dance techniques, enriched with her own dance experiences and movement principles. Her work is mostly based on nearly ten years of experience as an assistant of a prominent dancer, choreographer, and dance pedagogue Joe Alegado (USA). His method – Alegado Movement Language is characterised by the use of hands as inspiration and initiator of a movement language which searches to connect with energy sources within the body as it projects outward into space.
Urša starts her classes with simple, but dynamic warm-up of an entire body trough somatic work in couples, groups or individually. Warm-up is followed by a structured floor work, locomotor phrases within the vertical line and spatial combinations, which are upgraded into a final dance composition or choreography.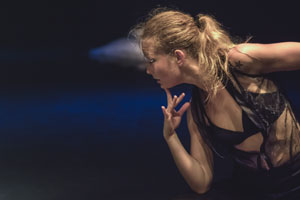 photo: Drago Videmšek
The focus of Urša's classes is on positioning and movement of the spine, complexity of hands, arms, legs and torso coordination; she pays attention to the softness and fluidity of the movement, fluid transitions between vertical and horizontal level and expressive interpretation of a dance material.
In this workshop, Urša invites you catch a wave of fluidity together and take a ride to a dynamic journey through space and time.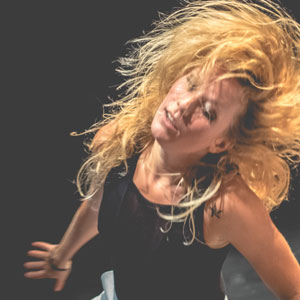 photo: Drago Videmšek
URŠA RUPNIK has a B.Sc. degree in Cultural Studies and a B.A. degree in Dance and Choreography. As a freelance dancer, she collaborates with prominent Slovenian choreographers and other artists. As a member of the dance collective Benko-Jamnikar-Križič-Rupnik, she works on her own projects. Recently, she has collaborated with Liza Šimenc in their latest project Medusa. Almost for a decade, she has been working as assistant to the American dancer, choreographer, and pedagogue Joe Alegado (also at ImPulsTanz Festival) and has been a member of Jalegado Dance Company. Based on the method Alegado Movement Language, she gives classes and workshops in Slovenia and abroad. Urša is an artistic director of Studio of Free Dance Style's Company, based in Ljubljana. As a choreographer and dance pedagogue, she collaborates with University of Ljubljana – Faculty of Education, Conservatory of Music and Ballet Ljubljana – Ballet College and Alma Mater Europaea – Academy of Dance Ljubljana.
CONTACT IMPROVISATION WORKSHOPS – Jurij Konjar
Since the 1970s, contact improvisation has been referred to as an "art sport", drawing on movement practices such as martial arts and social dances. It is commonly danced in couples, in events called jam sessions.
The Contact Improvisation I and Contact Improvisation II workshops make up for a coherent whole, although each of them is also an independent unit. You are kindly invited to attend both workshops or just one of them. If you want to join us only for the workshop CI II, previous experience in contact improvisation is required.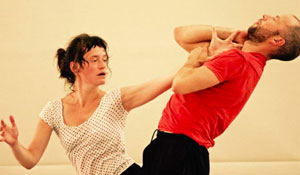 photo: Patrick Beelaert

The CONTACT IMPROVISATION I workshop will focus the skeletal framework of contact improvisation. We will zoom in on specific parameters of this discipline; weight, touch, reflexive movement. Making use of the structural strength (the skeleton). There will be a lot of couple work, which will be based on shifting weight.
We will use these tools we find useful, applicable structure, to keep us active yet safe in our dancing. We will search for virtuosity in movement, whereby virtuosity is understood as (apparent?) ease in execution of the movement.
This will be  a physical workshop aimed at finding and extending our boundaries.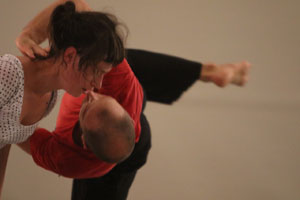 photo: Patrick Beelaert

The CONTACT IMPROVISATION II workshop will focus on the most popular form of learning and sharing contact improvisation, the "contact jam". Interaction with the environment lies at the very heart of the CI discipline. This practice remains a question, to which there is no final answer; whenever an answer mite appear, it turns into the next question… and this process  is already dancing. So this workshop will be structured as a series of dance jams, during each we'll break for reflection time; to exchange ideas, observations and questions. What to do when you can do anything, yet nothing is prescribed? How to work with others and at the same time stay in tune with yourself?
If Workshop I is more like a class and an exploration of the principles, Workshop II is more about dancing and making choices in the moment through the lens offered by Contact Improvisation. The tools and principles of Workshop I are more than helpful in Workshop II.
Both workshops are for all levels. However, Workshop II requires a solid amount of will, self-discipline, and readiness to feel lost. So, come ready. Each will have their own mountain to climb, and it will be up to them what kind of a view they will enjoy from the top.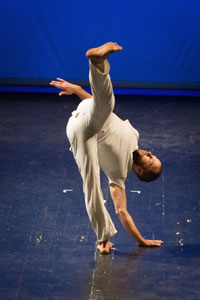 photo: Nada Žgank

JURIJ KONJAR was born in Ljubljana in 1978. He trained Judo and practiced singing from an early age, then began dancing with ballroom competitions. In 2007, he suffered a head injury that shifted the focus of his work towards the potential of the present moment. An in-depth observation of Steve Paxton's Goldberg Variations video triggered what became an ongoing improvisation practice and culminated in solo performances Goldberg Variations, For Juliano Mer-Khamis, and a research on duet composition Still. He's been working with Paxton since 2010, on Paxton's Bound and Paxton's/Ashley's opera Quicksand. Since 2012 he's been active in contact improvisation as researcher, dancer and teacher.
More about Jurij Konjar:
http://ski.emanat.si/jurij-konjar/ 
https://www.facebook.com/jurij.konjar    
https://contactquarterly.com/cq/vol-36-no-2#    
https://www.facebook.com/jurij.konjar/posts/366330213534347
FLUID BALANCE, creative acrobatics – Katjuša Kovačič & Nikola Orešković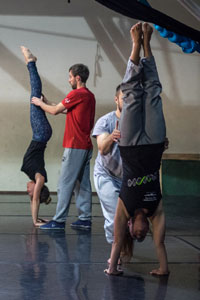 photo: Drago Videmšek
FLUID BALANCE helps you to become more aware of your body in any situation/position and lets you take a look at how balance flows dynamically across the axis of the body. The aim of the class is to explore the possibilities of smooth transitions between movement and stillness in different aspects (balance, multidimensional movement, suspension/amortization, communication, expression and presence).
The goal is to encourage individual improvement in movement vocabulary and to stimulate the use of this knowledge to create your own playground. All the elements are passed onto the participants in a safe environment, with professional assistance.
Injuries, age, or other physical impairments will not interfere with individual performance – the fluid balance class is suitable for beginners and professional movers, such as dancers, capoeira players and other martial artists, acrobats, actors, circus performers, yogis, pole dancers, fitness practitioners and movers.
The program is inspired by our knowledge of dance, capoeira, circus, acrobatics and theatre. By fusing these physical/creative disciplines, we have developed a specific method and movement vocabulary which we share through our artistic production and educational programs. The programme started in 2009 with regular classes in Zagreb and Ljubljana and workshops around Europe.
Links:
Web: http://www.amazonas.hr/fluidbalance/en/
FB page: https://www.facebook.com/Fluid-Balance-1555826861369798/
CAPOEIRA –Katjuša "professora Pinoquio" - Capoeira Tradicao Baiana (SI) & Nikola "professor Cavalo" -Capoeira Amazonas (CRO)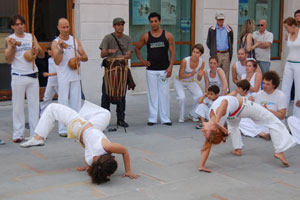 CAPOEIRA is an Afro-Brazilian art form that combines dance, fight, acrobatics, and music, mixing these elements in cunning and creative body games. Capoeira was developed by fusing different cultural expressions of African slaves in Brazil, in their anxiety for freedom.
In this workshop, you will learn basic movements, techniques of attack/defence and acrobatic elements - in a constant dialogue with teammates, space, and music. An integral part of the vast capoeira culture is singing traditional capoeira songs in Portuguese and playing the instruments.
Capoeira helps in developing motor skills, agility, dexterity, attentiveness, and the sense of rhythm. In the game of capoeira, speed and accuracy are combined with elegance and grace of movement.
Throughout the history, capoeira has undergone many transformations and today there are a lot of different styles. What binds them all is the non-verbal motoric dialogue, game of the smarter, which through rhythm and positive energy creates a peculiar ritual of the modern era. Capoeira is an art form that helps to develop the whole body and blurs the differences between sexes, age, and race. Suitable also for beginners, it is an excellent tool and an upgrade of physical communication and vocabulary for experienced movers and dancers.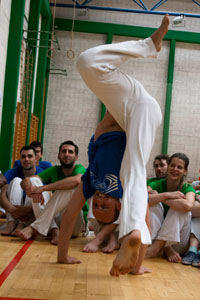 Links:
Tradicao Baiana:
https://www.facebook.com/capoeira.katjusa/
 https://www.facebook.com/capoeiratradicaobaiana.si/
Amazonas:
http://www.amazonas.hr/capoeira/
https://www.facebook.com/CapoeiraAmazonas/
KATJUŠA KOVAČIČ (SI), teacher, professor of capoeira, dancer, acrobat, street theatre artist, and performer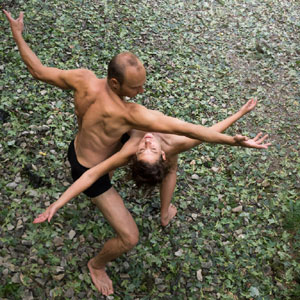 Katjuša is a freelance artist working with artists from different disciplines, merging her knowledge and experiences in a unique movement expression, which she shares with her students through fluid balance. She has been engaged in movement disciplines since she was five; in the beginning, in modern dance and improvisation theatre, later in contemporary dance and physical theatre. Since 2004, she is engaged in circus practices and street theatre; she was part of a one-year intensive acrobatics programme in Beijing International Arts School and graduated at Šugla (street theatre school). Since 2006, she is active in Capoeira Tradicao Baiana, receiving her instructor belt in 2013. She regularly teaches fluid balance classes, street theatre (movement in urban space), and capoeira (adults, children, persons with disabilities). She has worked with the following individuals and associations: Branko Potočan, Alicia Ocadiz, Nikola Orešković, Manca Uršič, Ana Monro Theatre, Capoeira Association Tradiçao Baiana, Sezam, City of Women, Amazonas.  Katjuša is a performer and choreographer in individual and group productions; she cooperates with international festivals and other events.
NIKOLA OREŠKOVIĆ (CRO) , teacher, professor of capoeira, dancer, acrobat, stuntman, and performer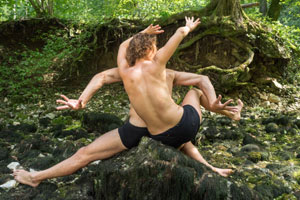 Nikola has years of experience as a teacher and performer in different mind/body/movement practices and works with individuals from different artistic disciplines. Having a master degree 3rd dan in taekwondo , he is the co-founder and member of the first Croatian Martial Arts Trics demo team "X-OUT". Nikola is skilled in handbalancing, circus/acrobatics, capoeira, gymnastics, yoga, and contemporary dance (worked with Snježana Abramović Milković, Iva Nerina Sibila, Žak Valenta...). He merges all these disciplines in his own training system, passing his knowledge to students through fluid balance classes and workshops.
Since 2002, he is active in capoeira as the first Croatian Capoeira instructor, teaching students (children and adults) in the Croatian Association Amazonas. Since 2009, he is professionally active as a stuntman. He also works as associate professor at the Faculty of Kinesiology at the department of acrobatics. He is an active member of IMRC (Integrated Movement Research Collective), UPUH (Croatian Dancers Association) and HDFD (Croatian Film Artists Association). 
DANCE WORKSHOP FOR CHILDREN (aged 5 to 7) and MENTORS' WORKSHOP – Saša Lončar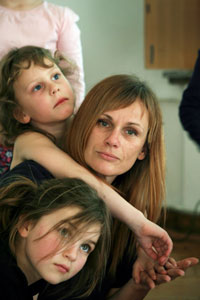 DANCE WORKSHOP FOR CHILDREN "Two Are Flying and One Is Barefoot" – HERE AND NOW (EPHEMERALS)
This dance workshop for children will touch upon the sensory as well as intuitive perceptions occurring at every single moment in a (dance) situation. Immersing ourselves in imaginary worlds, we will try to break loose what's contained and open up our creativity, respecting specific movement experiences.
During the process, which will take into consideration the situation at hand and stimulate children's responsiveness, I will try to recognise and single out the essence of the moment, placing special emphasis on group dynamics and individual sensory responsiveness. By exploring and putting ideas into shape, we will focus on the ephemeral nature of the moment, which contains also the opportunity to make decisions. The workshop will conclude with a short presentation. Mentors are welcome to attend the workshop.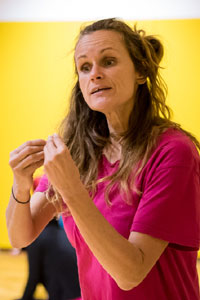 photo: Saša Huzjak
MENTORS' WORKSHOP, which follows the children's one, is based on discussion and practical activities. It offers a chance to upgrade what was seen and further develop the creative process. Questions and comfortable gear to roll on the floor are required.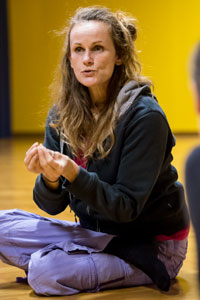 photo: Saša Huzjak

SAŠA LONČAR  is a renowned dance educator and choreographer, founder and artistic director of KD Qulenium in Kranj and Ljubljana. She annually organises the Festival of Stage Arts Kalejdoskop and a research and creative summer camp for the young at Mašun. Through her creative processes, imbued with vivid imagination, openness, daring and excellent leadership sense, she stimulates children's dance creativity and enriches their personal expression of movement. Saša and her dancers take part in numerous important events and festivals at home and abroad (France, Indonesia, India, Croatia, Denmark, Serbia). She has received the Meta Vidmar Award for her artistic and educational achievements.

AWAKENING BODY – Tina Valentan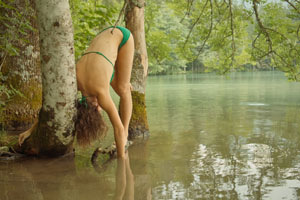 AWAKENING BODY is a warm up class that prepares the body for the exertions of the day in a subtle way, employing a calm tempo. It draws on different somatic practices (Hatha, Kundalini, Partner Yoga, BMC), through which the mind connects with the body and focuses on specific anatomical relations between body parts. It is based on movement exploration, combined with set exercises for flexibility, fluidity, and improved breathing. The class is intended to dancers who want to gain insight into the origin of movement and to all who have a desire feel rejuvenated, regenerated, and refreshed.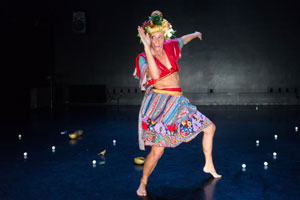 photo: Nada Žgank

TINA VALENTAN graduated from SNDO Amsterdam. As a dancer, she regularly collaborates with Snježana Premuš and Milan Tomášik. Her latest solo performance Calypso was included on the Dnevnik Daily list of top 10 performances in 2016. She is the 2017 recipient of Ksenija Hribar Award for best performer/dancer.
Her practice is based on expanding the awareness of the body in space and on embodying internal impulses.
More at: ski.emanat.si/tina-valentan/
ADDITIONAL OFFER
TRADITIONAL CHINESE MASSAGE –Darinka Brešar: every day during WDS, upon prior appointmentin the WDS info office, Karantena, 2nd floor. www.darinka-tuina.si
ACCOMPANYING PROGRAM
Saturday, February 24, at 8 pm –Grand Hall, Narodni dom Maribor  
4th Season of Contemporary Performing Arts "Nagib on Stage" hosted  dance performance
Maribor Organizer: Association Nagib in cooperation with Narodni dom Maribor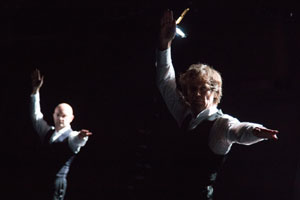 Janez Janša & Iztok Kovač Sokol! (photo: Nada Žgank)
Tickets: Only 2 € with the WDS 2017 identification card. Others 6 / 5 €.