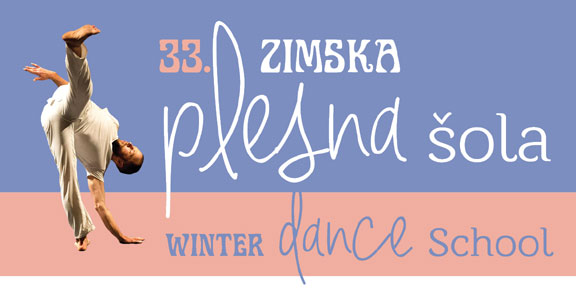 33. Zimska Plesna Šola 2018 v Mariboru
Organizacija: JSKD OI Maribor in ZKD Maribor
VRHUNSKE PLESNE DELAVNICE IN PREDSTAVE!
ZPŠ je med slovenskimi plesalci priljubljena in pomembna intenzivna oblika izobraževanja  v različnih plesnih zvrsteh in raziskovalnih delavnicah, ki jih vodijo izkušeni domači in tuji plesni ustvarjalci.  
33. ZPŠ bo potekala od 23. do 26. februarja 2018 v Mariboru.
Tokrat vam bodo svoje znanje in izkušnje zaupali pedagogi: Simon Wehrli: sodobni ples Flying Low, Urša Rupnik: Follow the flow, Tamás Tuza: sodobni ples Ground Eagle, Jurij Konjar: Delavnici Kontaktne improvizacije I – Uvod in II,  Saša Lončar: otroška plesna delavnica in delavnica za mentorje, Katjuša Kovačič & Nikola Orešković: Capoeira in Fluid Balance ter  Tina Valentan: prebujajoče telo.
ZPŠ je namenjena plesalcem, pedagogom, koreografom in vsem, ki se aktivno ukvarjajo s plesom in z gibom.  Program je primeren tako za začetnike, za nadaljevalce in izkušene plesalce.
Vse dni v času ZPŠ se boste lahko sproščali na Kitajski tradicionalni masaži maserke Darinke Brešar. Predhodno naročilo v info pisarni ZPŠ. Več na: www.darinka-tuina.si, fb:darinka tuina.
V spremljevalnem programu ZPŠ bo v soboto  v organizaciji  Društva  Nagib in  sodelovanju z Narodnim domom Maribor  plesna predstava Janeza Janše in Iztoka Kovača, Sokol!
Organizator ZPŠ bo vsem, ki so obiskovali vsaj eno 4 dnevno delavnico v celoti, podelil ZPŠ CERTIFIKAT.
Osveži in pridobi ostrino gibanja tudi v zimskem času!
33rd Winter Dance School 2018 in Maribor
Organised by: Public Fund for Cultural Activities of the Republic of Slovenia, Maribor Branch Office, and Association of Cultural Societies Maribor (JSKD and ZKD Maribor)
TOP QUALITY DANCE WORKSHOPS AND PERFORMANCES!
The Winter Dance School is extremely popular among Slovenian dancers and has proven to be an important form of education, encompassing different dance techniques and research workshops led by renowned teachers and makers from Slovenia and abroad.
The 33rd WDS will take place from 23 to 26 February 2018 in Maribor.
This year, we are hosting teachers who will share their knowledge, skills, and experience within the following classes and workshops: Simon Wehrli: contemporary technique Flying Low;  Urša Rupnik: contemporary/modern technique Follow the Flow; Tamás Tuza: contemporary technique Ground Eagle; Jurij Konjar: Contact Improvisation workshops I and II;  Saša Lončar: dance workshop for children and mentors' workshop; Katjuša Kovačič & Nikola Orešković: Capoeira and Fluid Balance; and Tina Valentan: Awakening Body.
WDS is recommended for dancers, teachers, choreographers, and everyone actively involved in dance and movement. Our programme covers all levels, from beginners to experienced/professional dancers.
During WDS, you can relax with Chinese traditional massage given by Darinka Brešar. Please, make a prior appointment in the Info Office WDS. More information at www.darinka-tuina.si, fb:darinka tuina.
Our side programme also features a dance performance Falcon!, created and performed by Janez Janša and Iztok Kovač, which we are hosting in cooperation with Institute Nagib and Narodni dom Maribor on Saturday, 24 February 2018.  
The organizer JSKD OI Maribor will issue a WDS CERTIFICATE to the participants who will have attended at least one workshop on all four days.
Refresh and gain sharpness of your movement even in winter!
DODATNE INFORMACIJE IN KONTAKT