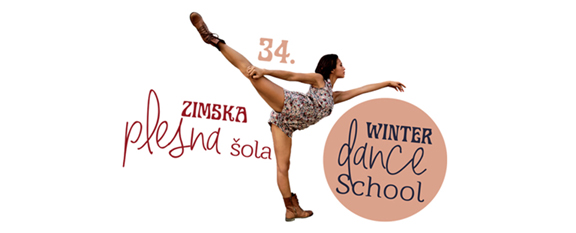 The 34rd Winter Dance School in Maribor
Maribor, 22 - 25 February 2019
WORKSHOPS AND TEACHERS
TURNING CONTEMPORARY DANCE AROUND I & FALLING OVER CONTEMPORARY DANCE II – Neus Barcon Roca & Matevž Dobaj

TURNING CONTEMPORARY DANCE AROUND I (9+/12)
The class is suitable for a new promising generation of dance students who want to get to know or/and deepen their knowledge in dance. In this class, we will closely look at our energy efficiency. How can we use less to do more? How can we take a different perspective on the form and different dance styles we already know? We will revisit our knowledge of turning, falling, weight transfer, floor support, flow, and movement intentions. Testing all the new things we have been observing, we will start dancing fast dances through space - flying in our jumps, sliding like ice skaters, and turning forever.
FALLING OVER CONTEMPORARY DANCE II (14+)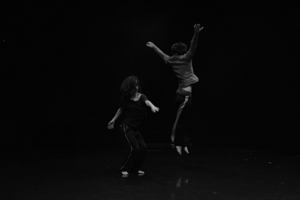 Our dance will begin with stillness. After a while, when we become silent and don't feel the pressing urge to move anymore, we will project ourselves in space using our weight to fall and catch. Tasks are proposed to explore different worlds of the now, with the aim to connect with our dance in full form. Drawing on anatomical knowledge, we will revisit our sense of placement and continue with folding, turning, accelerating, balancing, and extending. Later, we will translate this work into short light dance phrases rising from the floor to standing and back, swiftly spiraling through the room, with the possible joy of a kinetic body experience. Focusing on exploring our "three dimensional - multiplanar" bodies, we will share the time observing our limits and testing our existing knowledge.

NEUS BARCONS ROCA is a dancer, choreographer, and dance teacher from Spain. After graduating from the Institut del Teatre (Barcelona), she traveled to New York in pursuit of additional knowledge of different dance styles. Later on, Neus graduated from the Salzburg Experimental Academy of Dance (SEAD) and was a guest in the Bodhi Project company. At the moment, she is collaborating with Britta Lieberneknecht Company and Karen Bößer (DE). She was working for Isabella Soupart, Nigel Charnok, Nazanin Fakoor, and Olga Álvarez among others. She is active in improvisational research and performance in Brussels, is part of Artist Commons, and was a member of the research program of Ultima Vez. She is creating choreographic works with Matevž Dobaj and teaches in Belgium, Spain, and Slovenia.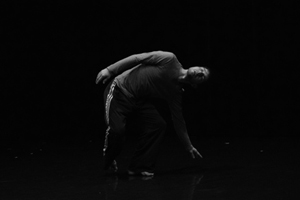 MATEVŽ DOBAJ is a Slovenian dancer and choreographer. After finishing his studies at the Faculty of Medicine in Maribor, he continued his formal dance education at the Salzburg Experimental Academy of Dance (SEAD). Matevž is continuously educating himself in different places around Europe. At the moment, he is focusing especially on somatic practices, body-work, and finding his own choreographic/dance language. He has collaborated with many different artists and companies, including Les gens d'Uterpan, Francesco Scavetta, Bud Blumenthal / Hybrid, Dieter Difurne, and Iñaki Azpillaga. He is continuously working/creating different choreographic works with Neus Barcons Roca and teaching in Belgium, Spain, and Slovenia.
More: www.matevz-neus.com;
https://vimeo.com/170652322
CONTEMPORARY DANCE TECHNIQUE and CONTACT IMPROVISATION – Milan Kozánek
CONTEMPORARY DANCE TECHNIQUE "Embodying Now"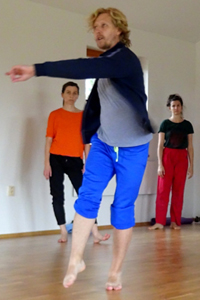 What is the aim of technique? Where does the source of the dancer's art spring from? What is behind the dance form?
This class focuses on using the nature of movement through understanding the bone structure and 19 movement centers, concentrating on the perception of mutual motion relations and physio-dynamics of the body, rather than using the judgmental mind. It combines somatic work with technique and improvisation to direct the dancers towards the performability of the body. In the class, you learn to listen to the innate instincts and then use them in movement, discovering and developing chain reactions which our body allows within a search for new movement possibilities.
CONTACT IMPROVISATION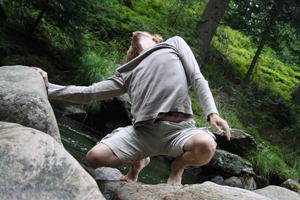 The contact improvisation workshop is focused on discovering organic and holistic work with the body and on understanding the nature of physio-dynamics of the body and utilizing the forces of the skeletal structure during contact work . This is achieved by studying the equilibrium of the upper and lower centers of the gravity of the body and by working and connecting with 19 movement centers. Movement and dance in contact will not only focus on physical principles and matter; we will instead connect physical work with the knowledge of energy and energy centers. Last but not least, we will focus on consciously working with the mind.
Contact improvisation will help us gain a better perception of ourselves, better perception of the surrounding world, situations, atmosphere. It will teach us skills such as a sense of space and time.
MILAN KOZÁNEK (SK)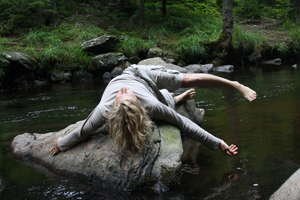 Milan holds a master's degree from the University of Performing Arts in Bratislava. Since graduating, he has worked as an independent choreographer and teacher. Milan has developed his own system of teaching during more than twenty years of researching and teaching at institutions such as the Salzburg Experimental Academy of Dance (SEAD), Tanz Quartier Wien, Konservatorium Wien University, Northern School of Contemporary Dance Leeds, TIP - School for Dance, and many other dance institutions. In 1996, he founded the Dance Company Artyci together with Zuna Vesan Kozánková. They have created 14 dance pieces, which were presented in Slovakia and abroad. (Germany, Austria, Poland, Czech Republic, Hungary, Canada, Thailand, China...).
From 2010, he has been developing intensive artistic collaborations and exchange with makers and theater performers, focusing on the connection between physical theater, movement, dance, text, and voice. He has been part of many theater research projects with theater artists from companies and institutions like Studio Matejka (PL), Teatr Piesn Kozla (PL), Res Ratio Network (GR), Honey and Dust (SK).
Alongside his work in dance, Milan continues to develop his skills and artistic qualities through the study of Chinese and Japanese calligraphy, intuitive archery, and through taking part in workshops with Sam Chin, the master and co-founder of a new martial art form I Liq Chuan.
More: https://www.youtube.com/watch?v=NrLqHsWE-qc;
https://www.youtube.com/watch?v=3CqJHMlSOXg;
https://www.youtube.com/watch?v=7e9lwzEAioo
CONTEMPORARY DANCE – Alicia Paulina Ocadiz Arriaga
Dance has always been a reflection on the identity and culture of those who do it. Through the dance art, feelings and thoughts make a communion with the body, resulting in impulses that release the soul.
With this workshop, I intend to search for and show the dance identity of every student regardless of their technical level.
CONTEMPORARY DANCE I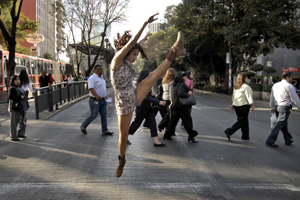 This workshop has no specific level. It is suited to address a wide range of individual possibilities and different qualities of movement, thereby avoiding the limitations of high dance requirements and focusing on and emphasizing the strengths of each dancer.
The class time will be distributed as follows: the first hour will be a technical class, where we will explore the elements of the release technique, Flying Low, Passing Through, Countertechnique, Limon and contact dance. This will be very useful to develop coordination, strength, flexibility, laterality, spatial and body awareness of the students.
CONTEMPORARY DANCE II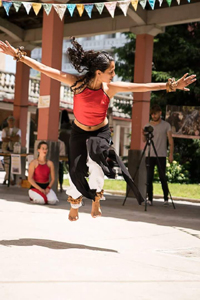 In this workshop, the students will learn several technical-creative-interpretive elements, derivatives of contemporary dance. This will provide the students the necessary tools for developing a creative process that leads to knowing one's body and establishing an intimate dialogue within themselves. We will focus on movement qualities and the use of the space and time in order to discover the narrative of the dance: movement as a nonverbal communication. The relationship with music will also be one of the main focuses of this advanced class: the use of polyrhythm in the body and understanding music as a tool to improve dance technique.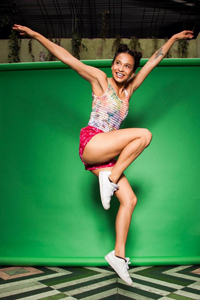 ALICIA PAULINA OCADIZ ARRIAGA received her master's degree in Dance and Motion Arts in 2015. Her topic was researching the meeting points between Indonesia and Mexico at the San Antonio Catholic University of Murcia, Spain. She graduated in contemporary dance from the National School of Classical and Contemporary Dance of Mexico and is a certified dancer at the prestigious dance academy CODARTS in Rotterdam, Holland, and the Beijing International Arts School in Beijing, China. She has performed as a choreographer, dancer, and circus artist on various stages, theatres, and festivals in countries such as Mexico, Holland, France, Costa Rica, Panama, Spain, Slovenia, and China. She has been a member of the 2Move Dance Company (Holland), NANA + NA (Panama), Foco al Aire Producciones (Mexico), Ashley Meeder Movement Project (USA), Circus Kansky (SLO), and other independent collectives. In 2009, she won the Mexico City Youth Award, which put her on the list of young talents of the city government, and in 2010 she won the Niewe Maan Award for creating the best show for a gallery within the framework of the Museum Nacht in Rotterdam, Holland.
FOLLOW THE FLOW – Urša Rupnik
FOLLOW THE FLOW I & II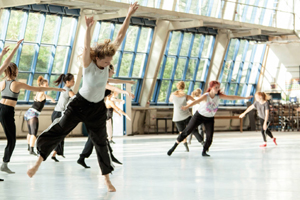 Urša is teaching a synthesis of contemporary and modern dance techniques, enriched with her own dance experiences and movement principles. Her work is mostly based on nearly ten years of experience as an assistant of a prominent dancer, choreographer, and dance pedagogue Joe Alegado (USA). His method – Alegado Movement Language – is characterized by the use of hands as inspiration and initiation of a movement language, which searches to connect with energy sources within the body as it projects outward into space.
Urša starts her classes with a simple, but dynamic warm-up of an entire body through somatic work in couples, groups, or individually. The warm-up is followed by structured floor work, locomotor phrases within the vertical line, and spatial combinations, which are upgraded into a final dance composition or choreography.
The focus of Urša's classes is on positioning and movement of the spine and on the complexity of hands, arms, legs, and torso coordination. She pays close attention to the softness and fluidity of the movement, fluid transitions between the vertical and horizontal levels, and expressive interpretation of dance material. In this workshop, Urša invites you to catch a wave of fluidity and set out on a dynamic journey through space and time.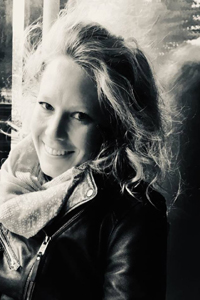 URŠA RUPNIK has a B.Sc. degree in Cultural Studies and a B.A. degree in Dance and Choreography. As a freelance dancer, she collaborates with prominent Slovenian choreographers and other artists. As a member of the dance collective Benko-Jamnikar-Križič-Rupnik, she works on her own projects. Recently, she has collaborated with Liza Šimenc in their latest project Medusa. Almost for a decade, she has been working as assistant to the American dancer, choreographer, and pedagogue Joe Alegado (also at ImPulsTanz Festival) and has been a member of Jalegado Dance Company. Based on the method Alegado Movement Language, she gives classes and workshops in Slovenia and abroad. Urša is an artistic director of Studio of Free Dance Style's Company, based in Ljubljana. As a choreographer and dance pedagogue, she collaborates with the University of Ljubljana – Faculty of Education, Conservatory of Music and Ballet Ljubljana – Ballet College and Alma Mater Europaea – Academy of Dance Ljubljana.
ENTER THE SPIRAL: acrobatic flow & PERPENDICULARITY: the art of hand balancing – Katjuša Kovačič & Nikola Orešković
ENTER THE SPIRAL: acrobatic flow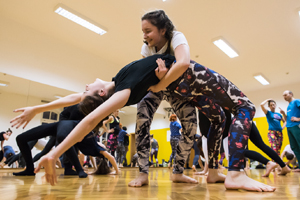 In the Fluid balance - creative acrobatics workshop, we connect dynamic acrobatic elements with dance techniques to set out on an endless journey of the spiral within our motion system. Inspired by the knowledge of modern dance, capoeira, acrobatics, and circus, the workshop enables participants to learn how to create a character and the flow based on the already incorporated principles of motion and dance vocabulary. Katjuša and Nikola provide the participants with complex motion sequences through simple but progressive elements, thus bringing acrobatics closer to everyone, regardless of their previous knowledge.
Workshop segments:
-Positions on all four (variations)
-Tranches: plants, jumps, falls
-Floor technique: prevail, cries, crawling, dance rolls
-Dynamic acrobatics: bike (variations), monkey flip, butterfly jump, bridge (variations/transitions), PDM / 1990- spiral turning on hands
-Suggesting the elements into their own flow
Benefits of the program:
- Confidence in the balance and posture of the body
- Dynamic flexibility
- Amortization and suspension of movement
- Dilateral fluidity and agility
- Control and softness of movement
- Space body perception
- Focus of mind and body
- Promoting the functioning of bodily systems
- Creative thinking and self-expression
Injuries, age, or other physical impairments will not limit your participation in this workshop, as its goal is to discover the participants' individual movement potential. Beginners, as well as experienced movers, actors, and dancers, acrobats are welcome.  
PERPENDICULARITY: the art of hand balancing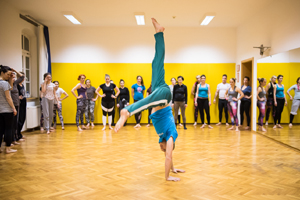 We will explore various approaches to hand balancing through the aspects of different movement skills (circus, gymnastics, capoeira, contortion, yoga, and contemporary dance). In ancient cultures, hand balancing has been developing in different ways. A few examples: military training in ancient Greece; old paintings from ancient Egypt show dancers doing handstands; Chinese acrobatics dates back 2,500 years (Han dynasty) and is considered a national art form; in Hindu culture, the handstand has been incorporated into the practice of yoga. It is seen as an essential practice in many martial arts (Shaolin kung fu, Karate, Judo, Jiu-jitsu...).

Workshop segments:
1. PREPARATION:
- specific hand balancing warm-up
- programming your body for hand balancing
- emphasis on forearms, shoulders, core, and legs
2. POSITIONING:
- palms/shoulders/core techniques
- pointing to common mistakes and removing them
3. ENTRANCE:
- with spotter
- using the wall
- dynamic entrance (wall and freestanding)
- press to handstand
- using different support points (crocodile/qdr/forearms/head)
4. HANDBALANCING IN PARTNER ACROBATICS:
- static positions in pairs/threes
- hand balancing transitions through space in pairs

Benefits:
Handbalancing practice helps us to understand our bodies and overcome the fear of the new and unknown, rooted deep inside of our minds. It increases the shoulder joint range of motion and strengthens the whole body (in gymnastics, press to handstand is considered the king of skills).
Injuries, age, or other physical impairments will not limit your participation in this workshop, as its goal is to discover the participants' individual movement potential. Beginners, as well as experienced movers, actors, and dancers, acrobats are welcome.
KATJUŠA KOVAČIČ (SI), teacher, professor of capoeira, dancer, acrobat, street theatre artist, and performer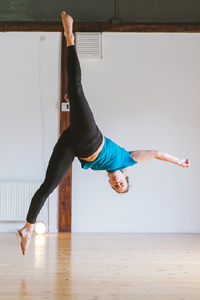 Katjuša is a freelance artist working with artists from different disciplines, merging her knowledge and experiences in a unique movement expression, which she shares with her students through fluid balance. She has been engaged in movement disciplines since she was five; in the beginning, in modern dance and improvisation theatre, later in contemporary dance and physical theatre. Since 2004, she has been engaged in circus practices and street theatre; she was part of a one-year intensive acrobatics program in Beijing International Arts School and graduated at Šugla Ljubljana (street theatre school). Since 2006, she has been active in Capoeira Tradicao Baiana, receiving her instructor belt in 2013. She regularly teaches fluid balance classes, street theatre (movement in urban space), and capoeira (adults, children, persons with disabilities). She has worked with the following individuals and associations: Branko Potočan, Alicia Ocadiz, Nikola Orešković, Manca Uršič, Ana Monro Theatre, Capoeira Association Tradiçao Baiana, Sezam, City of Women, Amazonas.  Katjuša is also a performer and choreographer for individual and group productions. She has cooperated with many international festivals and attended numerous other events.
NIKOLA OREŠKOVIĆ (CRO), teacher, professor of capoeira, dancer, acrobat, stuntman, and performer
Nikola has years of experience as a teacher and performer in different mind/body/movement practices and works with individuals from different artistic disciplines. Having a master degree 3rd dan in taekwondo, he is the co-founder and member of the first Croatian Martial Arts Tricks demo team "X-OUT". Nikola is skilled in handbalancing, circus/acrobatics, capoeira, gymnastics, yoga, and contemporary dance (having worked with Snježana Abramović Milković, Iva Nerina Sibila, Žak Valenta...). He merges all these disciplines in his own training system, passing his knowledge to students through fluid balance classes and workshops.
Since 2002, he is active in capoeira as the first Croatian Capoeira instructor, teaching students (children and adults) in the Croatian Association Amazonas. Since 2009, he is professionally active as a stuntman. He also works as associate professor at the department of acrobatics at the Faculty of Kinesiology. He is an active member of IMRC (Integrated Movement Research Collective), UPUH (Croatian Dancers Association) and HDFD (Croatian Film Artists Association). He creates authorial performances with various artists (Katjuša Kovačič, Iva Nerina Sibila, Urša Rupnik, Liza Šimenc, Tena Kostanjšek...).
AFRO-CONTEMPORARY DANCE – Maša Kagao Knez
AFRO-CONTEMPORARY DANCE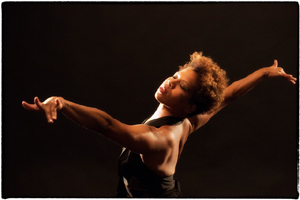 Maša's choreographic and pedagogical work is based on connecting contemporary dance techniques with West African dances. She focuses on exploring different qualities. She is interested in how to stimulate dancers to achieve various possibilities of dance expression, with the help of mastering dance technique, the elements of African tradition (rhythmicity, movement motifs…), and improvisation.
The class is intended to all dancers, regardless of their prior training. Focusing on different qualities (awareness and reactivity of the body, clear impetus, precision and intention of movement, focus in a given moment...), the class develops fluidity, a greater amplitude of movement, and a freer, richer, and more authentic performance.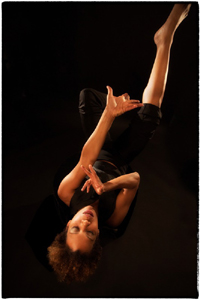 MAŠA KAGAO KNEZ works as a dancer, choreographer, and theatre practitioner. She first came into contact with performing arts as a child through the work of her mother, Jasna Knez, a dancer and choreographer herself. Maša took classes and workshops with various international teachers both in Slovenia and abroad. She graduated in 2006 from Georges Momboye School for African Traditional and Contemporary Dance in Paris. In 2013, she graduated from the Academy of Dance in Ljubljana. She has worked with the leading Slovenian and international dance and theatre practitioners. As a dancer, actress, and choreographer, she has worked in both big production theatres as well as independent companies. In 2009, Maša co-founded with dancer Dalanda Diallo and musician Damir Mazrek the Baobab Cultural and Arts Society, which operates in the field of dance, music, and theatre. Since 2015, she has been the artistic director of Institute 25 and manages the Dance Studio XXV, as well as creates dance performances. Her last in a series of many successful shows was created in 2017 and is called Concert for Mam. In 2016, she created a duet LakeLess with the musician Murat, which won the 3rd prize at the XX. Festival of Choreographic Miniatures in Belgrade.
Maša's pedagogical and choreographic work is based on exploring movement materials that combine and intertwine different dance techniques and movement motifs of the African tradition, upgrading them into a distinct dance expression. In 2013, she received the Ksenija Hribar Award for best dancer.
http://masakagaoknez.com/en/
DANCE'N'MOVE +/- 40 – Igor Sviderski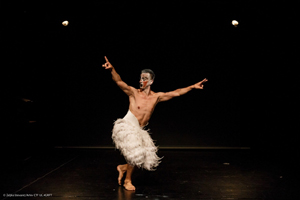 DANCE'N'MOVE is a dance class based on the principles of research and creativity. It includes elements adopted and adapted from different concepts of creative and "expressive" dance and contemporary dance techniques, which are fused together with the method of dance improvisation, the exploration of individual movement vocabulary in space and time, in the vertical and the horizontal, or somewhere in between.
This mosaic of dance and movement is intertwined also with the basics of aerobic exercises, stretching, and relaxation. To focus our attention and to become aware of the solar plexus function, we will touch upon some basic floor work techniques, with a touch of Butoh dance, Tibetan Fountain of Youth exercises, and yoga for flexibility, vitality, strength, and stamina. Add to this a splash of sparkle and good humor and combine it with the thrill of the colors red, violet, and yellow as starting points for improvisation (energy, breath, strength) and what you get is a creative, free, and exciting dance experience. DANCE'N'MOVE will finish off with relaxation to calm the body and the mind.
The class is intended to everyone around 40 years of age who would wish to explore the yet undiscovered or possibly forgotten or neglected landscapes of dance creativity. We encourage you to find them again and explore what your body can do. Dance knowledge and skills are welcome for dance improvisations but are in no way a condition for attending the class.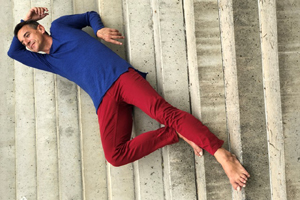 IGOR SVIDERSKI is a contemporary dancer, dance teacher, choreographer, and performer, exploring and researching areas of contemporary dance, dance improvisation, theatre and performing arts since 1989. He has cooperated with many domestic and international artists, directors and theoreticians as well as taken part in different renowned national and international dance and performance arts festivals. After his first diploma in dance and choreography in 1994, he has been involved and performed in numerous awarded and acclaimed productions at home and abroad.  Since 1995, he gives and organizes contemporary dance classes and creative dance improvisation workshops for beginners, advanced and professional dancers, both nationally and internationally. He works as a teacher of the art of movement at the Art Grammar School specialized in drama/theatre, is a member of the Dance Studio Intakt Ljubljana, a guest teacher at the Academy of Dance Ljubljana and the Academy of Theatre, Radio, Film, and Television Ljubljana. In 2012, he obtained a BA in dance and choreography and in 2016 finished his MA studies in the art of movement at the University of Ljubljana with a dance-lecture performance "Gospod Nahtingal včeraj zdaj". He is a multiple award winner in the field of dance; in 2012 he received the highest award in the field of contemporary dance the Meta Vidmar Award for his contribution to Slovenian dance and dance education, presented by the Public Fund for Cultural Activities of the Republic of Slovenia.
DANCE WORKSHOP FOR CHILDREN (aged 5 to 7) and MENTORS' WORKSHOP – Saša Lončar
A DANCE WORKSHOP FOR CHILDREN aged 5 to 7: Two Flying Ones and a Barefoot One – "The Labyrinth"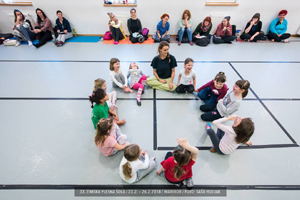 In this workshop, you are invited to travel the labyrinth. To journey through the already existing spaces, which we all know, and through those ones which we will explore by using our imagination. Entering and understanding a space is an experience in itself, an experience that stirs and stretches our imagination, thus creating new spaces in our minds which allow endless possibilities.
Space awareness
Personal space
Spaces between thoughts
Objects in spaces
Discovering our imaginary friends as well as many other undefinable and indescribable worlds can happen if we allow ourselves … the space to do so.
THE MENTORS' WORKSHOP, which follows the children's one, is based on discussion and practical activities. It offers a chance to upgrade what was seen and further develop the creative process. Questions and comfortable gear to roll on the floor are required.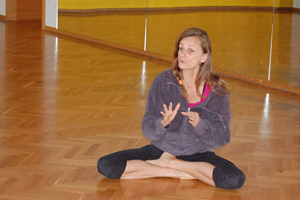 SAŠA LONČAR is a renowned dance educator and choreographer, founder and artistic director of KD Qulenium in Kranj and Ljubljana. She annually organizes the Festival of Stage Arts Kalejdoskop and a research and creative summer camp for children at Mašun. Through her creative processes, imbued with vivid imagination, openness, daring and excellent leadership sense, she stimulates children's dance creativity and enriches their personal expression of movement. Saša and her dancers take part in numerous important events and festivals at home and abroad (France, Indonesia, India, Croatia, Denmark, Serbia). She has received the Meta Vidmar Award for her artistic and educational achievements.
EMBODIED ANATOMY AND YOGA – Snježana Premuš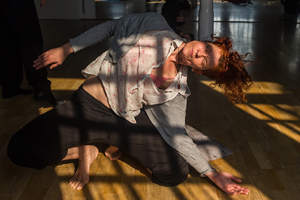 EMBODIED ANATOMY AND YOGA is a workout aimed at sensitizing the body. Approaching the body through somatic principles, it teaches us how to listen to our body, recognize its needs and respond to them. By way of such a body-friendly approach, it is much easier to enter different formats of working, be it a dance class, yoga, or research. Our practice will combine the knowledge of embodied anatomy and asana work, based on the central principle – support enables movement. This way of working enables dancers more stability in dynamic moving as well as a dynamic understanding of stability. In this way, we warm up deeply, stimulate flexibility, as well as build up strength, which are the elements needed for moving without strain.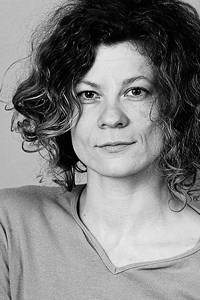 SNJEŽANA PREMUŠ (1973) started her dance path at Plesna izba Maribor. In 1998, she completed her MA in contemporary dance and choreography at the London Contemporary Dance School and in 2012, finished the study of Embodied Anatomy and Yoga with BMC principles in Berlin. Since 1997, she has collaborated with many renowned artists in choreographic researches, improvisation festivals, and different projects (M. Tompkins, D. Zambrano, J. Hamilton, L. Nelson, I. Kovač, E. Claid, V. Globokar, Ivana Jozić, Elena Alonso, Mateja Bučar). Her most noticeable works are Amplified Body with a Berlin-based musician Ignaz Schick and a series of performances Stories about the Body. Since 2009, she collaborates with the collective Federacija, which she co-founded together with A. Podrzavnik and G. Kamnikar and has been its director since 2012. From 2009 to 2014, she was dedicated to collective projects and pedagogical work, while also creating her project Physical Manifestations, for which she received the 2017 Ksenija Hribar Award for choreography.
TRADITIONAL CHINESE MASSAGE – Darinka Brešar:
TRADITIONAL CHINESE MASSAGE every day during WDS, upon prior appointment in the WDS info office, Karantena, 2nd floor. www.darinka-tuina.si
ADDITIONAL INFORMATION AND CONTACT