International Summer Dance School

CLASSICAL BALLET / Hugo Mbeng
In his class Hugo wishes not only to solely teach technique, but foremost to help participants in finding pleasure in classical dance through raising the awareness of the movement and working on musicality. You will be encouraged to work through the centre of the body, using floor exercises, breathing and elongation of the spine. Through work on the morphological body placement, the bar section of the class is preparing the entire body for more complex dancing sequences in the middle. The anatomical awareness allows to avoid injuries and enables to build ballet technique on grounds of knowing the one`s instrument – the body. The class consists of exercises that vary in quality, speed and dynamics and develop musicality. The class develops from simple exercises and bar towards more complex middle section sequences that incorporate big jumps and turns, which are Hugo's trademarks. Hugo's ballet is inspired by his professional ballet experience as well as knowledge of various dance techniques. He emphasizes the importance of encountering and training different dance styles in order to become a complete dancer.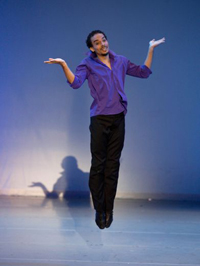 Hugo Mbeng is a French ballet dancer and a certified dance pedagogue, who is also well educated in contemporary ballet, modern, jazz, tap and African dance techniques. He graduated at the Paris Opera Ballet School and at the Parisian Superior National Conservatory of Dance. He was a part of Ballet Company of Conservatory of Paris and later was dancing for Avignon Ballet, Toulouse Ballet Capitol and for the American Tulsa Ballet. Since 2014 he is a member of The Slovenian National Ballet. During his career he performed in classical ballets (Gisele, Coppelia, Nutcracker, Don Quixote, ect.) as well as contemporary ballet roles (in choreographies of Jiří Kylián, Georges Balanchine, Wayne McGregor, Ben Stevenson and many more).
Videos:
https://www.youtube.com/watch?v=6ATTCCv_GFM; https://www.youtube.com/watch?v=ZZr2CThbsN4; https://www.youtube.com/watch?v=oY4jXEquAIQ; https://www.youtube.com/watch?v=JpUU7aanLQM;
_______________________________________________________________________________
yOGA – Curious body
and
MOVEMENT WORKSHOP FOR BOYS AND GIRLS / Maja Kalafatić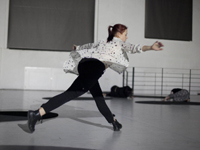 Movement workshop (with contemporary technique) je for boys and girls from 8-13 years of age with basic knowledge.
Keywords: companionship, movement, dancing, discussion, creation, joy, performance,
We come into the hall, take off socks and start.
Ninety minutes long format will combine movement, viewing, imaging and playing.
Five days venture will be structured into various exercises and warming up and day by day choosing the main theme. We will work in groups and in pairs. Through improvisation and certain sequences we will assemble material, which will be presented at the end :)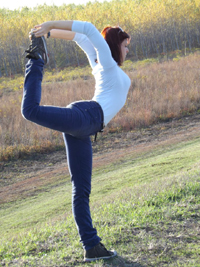 yOGA – Curios body
Address: Who: Everybody from 8 to 108 years old with basic knowledge
Keywords: psychosomatic exercise, laughing, asana, breath, joy, upside down, composing ...
Each day will be differently constructed. Through awareness-raising exercises, work in pairs, we will assist each other in order to stabilize the body, as well as to open and strengthen the muscle tissue. We gonna go for sequences and lots of fun upside down positions.
Maja Kalafatić (1984, Yugoslavia) is a dancer, choreographer, teacher and yoga teacher. In 2006 she graduated from SEAD -u (Salzburg Experimental Academy of Dance), and in 2015 she gained Master Of Arts at ZZT, HfMT Cologne and is currently involved in PhD studies of Transdisciplinary arts and media in Belgrade. She is actively cooperating with Mateja Bučar, Jovana Tomić, Esta Matkovic, Heath Bunting, Stephanie Felber ... She has also collaborated with Vania Gala, Martina Ruhsam, Vlado G. Repnik, Saša Jovanović, Yulia Roschina, Samo Gosarič and others. Recently she participated in many projects.
https://vimeo.com/87887588
https://vimeo.com/61337076
_________________________________________________________________________________
MOVEMENT OLDIES GOLDIES / Daliborka Podboj
In the class we will focus on breath and movement. Our movement will be enriched and entertainment with convenient props to relax and create. The first hour will be devoted to get to know each other and stretching the spine. Our bodies will be filled with good energy and stretched in the standing, sitting and lying position, followed by the spatial shape of circular and elliptic lines, light jumps and faster steps, turns, dance forms in the round and in small groups. Improvisation will also be part of the physical release, so we will end each class with dancing.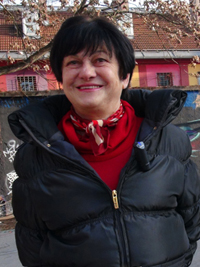 Daliborka Podboj became enamoured with classical ballet as a child and secondary school student. She met contemporary dance in an expressive dance troupe, led by Živa Kraigher, and immediately joined her group. Encouraged by Živa, Daliborka was among the cofounders 1973 of the first Slovenian dance society – Studio za svobodni ples Ljubljana (Studio for Free Dance Ljubljana). Two years later Živa handed the Studio over to her students under the management of Daliborka, who continued to foster creativity in her colleagues, headed dance groups of new members, organised various performances and worked as a choreographer. Her longer choreographic piece for the younger generation of the Studio's dancers Satan's Litanies (Satanove Litanije/ZKOS-CD), performed alongside the music of Diamanda Galas, received a commendation in 1984 for her innovative choreography and original approach. She has been visiting international dance seminars in Slovenia and abroad since 1971, including various contemporary and modern techniques, ballet and character dance. She has served as the national dance selector in the Public Fund for Cultural Activities for many years. She spent 13 years teaching dance and headed the dance department at the Trbovlje Musical School. She also writes about dance, does critiques of dance performances and theatre shows. In 2011 she was awarded the silver plaquette of the Public Fund for Cultural Activities for her creative and pedagogic opus.
_________________________________________________________________________________
HELLO BODY / Tina Valentan
Hello Body is a warm-up and creative workshop for children. It derives its subject matter from different practices (Hatha, Contemporary dance, Kundalini, Partner Yoga, BMC) through which the mind connects with the body and focuses on specific anatomical relations between body parts.
Hello body from head to toe, hear the inner whisper.
I listen to myself, I motioned for you. I lean against neighbour and grow out like a tree,
as yoga masters do.
Breathe in, as the balloon inflates and exhale out the tiger. Then fly to your dance!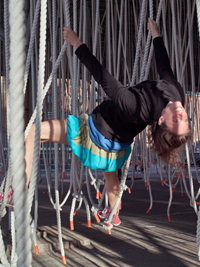 During her 30-year presence in the field of dance art, Tina Valentan has also gained the knowledge and experience of body alignment, its regeneration and rehabilitation. She is a graduate of the Amsterdam school SNDO and currently active in the following performances: Physical Manifestations, Something's in the Air, Hunting Season and Image Snatchers. More at: ski.emanat.si/tina-valentan
_________________________________________________________________________________
VIDEO DANCE WORKSHOP / Darko Dragičević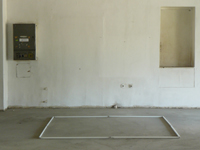 The workshop focuses on how to capture dance through mediums film/video, photography and sound. Its aim is to distil and capture the body in motion and to explore the possibilities of producing different kinds of documentation formats that are capable of transporting the properties of a documented dance while the live body is absent.
Tools such as editing, special effects, insertion of text, image manipulation etc. will define how the participants reflect differently upon body, space, object, image and sound using different media.
During this process different tasks will be given. For example: how to create a choreographic sequence using still photography, how to synchronize movement and timing in film, photography and choreography. How to make visible specific relations between object, space, time and body.
The workshop is crafted for participants coming from different artistic fields such as dance, performance, film and visual arts. Workshop will end with a public presentation.
Darko Dragičević is a Visual Artist, Director and Filmmaker based in Berlin and Cologne. He holds a MFA (Hons) in Visual Arts and a BA in Visual Communication from The International College of Arts & Sciences in Milan and a Filmmaking diploma from New York Film Academy, New York City. As a Director he received awards from the 57th International Short Film Festival in Oberhausen and Casa del Cinema in Rome.
His works have been featured in various solo and group exhibitions such as David Zwirner Gallery New York, The Armory Show New York and Gallery D.O.R. Brussels. His short films have been presented in numerous International film festivals including Danish Film Institute and Ann Arbor Festival.
His focus is in various interdisciplinary projects including performances Approximations, TASK 14 and series of workshops frames: [everyday] at Tanzquartier Wien and Hoschscule  für Musik und Tanz / Zentrum für Zeitgenössischen Tanz Köln all done in collaboration with choreographer and dancer Martin Sonderkamp, on the short film Count from Zero to One Hundred and script Westhafen both done with writer Alan Cunningham and on a various projects with musician/sound artist Markus Popp aka Oval. Dragičević's research lies in cross methods within the field of film, visual arts, performance and text.
He is currently working on the documentary film The Body as Archive and teaching at the Hochschule für Musik und Tanz Köln.
For more info: darkodragicevic.net
_________________________________________________________________________________
CAPOEIRA KIDZ / PROFESSORA KATJUŠA KOVAČIČ - »PINOQUIO«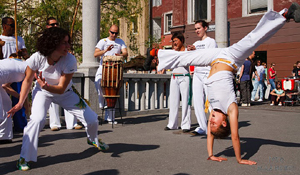 Capoeira is a cultural practise from Brazil, which contains elements of dance, drama, acrobatics, music and group dynamics.
Through the exercise of capoeira children learn about their abilities and are confronted with their own limitations, which can learn to overcome. They learn to cooperate and respect their peers and to cope with unforeseen and unfamiliar situations. On the physical level, they develop body control, flexibility, motor skills and dexterity. Children learn different strokes, acrobatics and movement in rhythm. The important part of the class is music, because at the same time they also learn singing, rhythmic clapping and playing traditional musical instruments.
Katjuša Kovačič, teacher (Slovenia)
Freelance artist; active in the field of performing arts and pedagogics. Co-working with artists from different disciplines, merging her knowledge and experiences in her unique movement expression, which she shares to students through fluid balance classes and workshops. She is engaged in movement disciplines since she was five, in the beginning through expression dance and improvisation theatre, later through contemporary dance and physical theatre. Since 2004 she is playing with circus and street theatre; she was engaged in one year intensive acrobatics & circus programme in BIAS (Beijing International Arts School ); graduated on Šugla (street theatre school). Since 2006 she is active in capoeira.
She teaches regular fluid balance classes, street theatre (movement in urban space) and capoeira (adults, children, persons with disabilities). She works with individuals and associations: Branko Potočan, Alicia Ocadiz, Nikola Orešković, Manca Uršič, Ana Monro theatre, Capoeira association Tradiçao Baiana, Sezam, City of Women. She is a performer and choreographer in solo and group shows, cooperating with international festivals, cultural events and events for children.
More: www.katjusakovacic.wordpress.com; http://www.capoeiratb.si/;
FB: https://www.facebook.com/capoeiratradicaobaiana.si/?fref=ts; https://www.facebook.com/capoeira.otroci/?fref=ts
_______________________________________________________________________________
FLUID BALANCE / Katjuša Kovačič & Nikola Orešković
Fluid balance is an awareness program that provides equilibrium in any condition and situation.
The program is inspired by our knowledge of dance, capoeira, circus, acrobatics and theatre; by fusing these physical/creative disciplines we have developed a specific method and movement vocabulary which we share through our artistic production and educational programs.
The programme started in 2009 with regular classes in Zagreb and Ljubljana.
PROGRAMME
Fluid Balance is meant for anyone who wants to explore different spectres of expressing through its unique movement and creation systems.
The goal is to encourage an individual improvement of the movement vocabulary and the use of this knowledge to create their own playground. All the elements are passed to participants in a safe environment, with professional help.
The benefits of the educational program:
mind and body focus
longevity of movement
ambidextrous fluidity
space/body perception
balance and body posture awareness
motion suspension and amortization
static and dynamic flexibility
creative thinking and individuality expression
presence in performance
We offer specialized workshops for children, adults and professional movers such as dancers, capoeira players and other martial artists, acrobats, actors, circus performers, yogis, pole dancers, fitness practioners and others.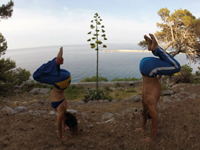 Nikola Orešković, teacher (Croatia)
Years of experience as a teacher in different mind/body/movement practices; he worked with individuals from different walks of life. Active in taekwondo for 14 years ( master degree 3.dan). Co-founder and member of first Croatian Martial Arts Tricks demo team "X-OUT". Alongside martial arts he was (and still is) practicing yoga, contemporary dance (worked with Snježana Abramović Milković, Iva Nerina Sibila, Žak Valenta...), hand balancing, circus and gymnastics. He merges all these disciplines in his own training system, passing his knowledge to students through fluid balance classes and workshops.
Since 2002 he is active in capoeira, teaching students (children, adults, persons with disabilities) in Croatian association Amazonas. Since 2009 professionally works as a stuntman. Also works as an associate in Faculty of Kinesiology in the department of acrobatics. He is active member of IMRC (Integrated movement research collective), UPUH (Croatian dancers association) and HDFD. He is a passionate traveller and explorer of world heritage.
Katjuša Kovačič, teacher (Slovenia)
Freelance artist; active in the field of performing arts and pedagogics. Co-working with artists from different disciplines, merging her knowledge and experiences in her unique movement expression, which she shares to students through fluid balance classes and workshops. She is engaged in movement disciplines since she was five, in the beginning through expression dance and improvisation theatre, later through contemporary dance and physical theatre. Since 2004 she is playing with circus and street theatre; she was engaged in one year intensive acrobatics & circus programme in BIAS (Beijing International Arts School ); graduated on Šugla (street theatre school). Since 2006 she is active in capoeira.
She teaches regular fluid balance classes, street theatre (movement in urban space) and capoeira (adults, children, persons with disabilities). She works with individuals and associations: Branko Potočan, Alicia Ocadiz, Nikola Orešković, Manca Uršič, Ana Monro theatre, Capoeira association Tradiçao Baiana, Sezam, City of Women. She is a performer and choreographer in solo and group shows, cooperating with international festivals, cultural events and events for children.
________________________________________________________________________________
MODERN CLASS
and
MODERN WORKSHOP / Jernej Bizjak
The class will start with the warm up that includes a set of exercises based on different modern techniques. After understanding the base, the technical level and variations on it will develop and build up throughout the week. The exercises will upgrade in the sense of rhythm, dynamic, flow, technicality and moving through space. In the second part of the class the dance phrases made by me or other choreographers will take place. Besides the technical part of the class I will focus on the dancing itself in the sense of better understanding and precise execution of the dance material in combination with interpretation. As I worked with many choreographers and teachers of different styles and techniques my choreographies will be influenced by all of them. When teaching a repertoire of other choreographers I will refer to Swedish Martin Forsberg and Italian Fabio Liberti. The first one bets on the pedestrian and raw mood in his movement material overlapped with diverse intellectual concepts and is known for high quality productions when poetic like Liberti is more focusing on the executing the movements based on a true/real tasks coloured by strong and minimalistic details of a very personal style and is known for the humour and use of text in his pieces.
The workshop will start with a warm up based on improvisation in combination with short and basic dance exercises followed up by different body tension relaxation exercises, exercises connected to muscle tonus and exercises in the connection of the body to the space and time. In this way the people who already took the class before and the new comers will find a common ground to establish a comfortable atmosphere that is required for the following creative process. In the second part we will take time for exploring, creating and experimenting. Through different improvisation tools we will discover new ways of moving on our own, in couples or within the group and challenge our awareness and alertness. We will create our own dance material using different methods and principles that will at the same time limit and increase our creativity and later focus on execution of the movement material and play with possible variations on it. The workshop will finish up with a quick look into body weather treatment where we will through various exercises and simple massage softy manipulate different body parts to find more space in the joints, relax our body and prevent it from possible injuries. The program of the workshop might change in order to adapt to the level and needs of the participants.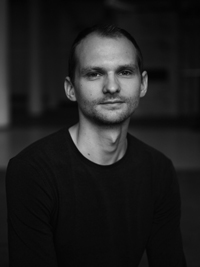 Jernej Bizjak (1987), after years of intense dancing and competitions in modern dance in a dance school Kazina, went abroad for professional training in CODARTS - Rotterdam Dance Academy. As a member of the project Kylian / van Manen for young dancers he performed famous works of the great masters (Jiri Kylian, Hans van Manen) throughout the Netherlands as part of Dutch Dance Festival, 2009.
Later, in 2010 he joined Cross Connection Ballet Company. The project "Outside" with dancers of the Royal Danish Ballet danced in the three short dance works of different choreographers (Tim Matiakis Martin Forsberg Louise Midjord). In September of the same year, in Barcelona he joined the dance ensemble of young IT Danse, who is also a post-graduate program of Institut del Teatre. In this ensemble he has upgraded his skills with dance performances of the most famous and important choreographers of this time (Jiri Kylian, Ohad Naharin, Sidi Larbi Cherkaoui, Alexander Ekman, Rafael Bonachela, Stijn Celis, Catherine Allard).
In November 2012, he returned to Denmark and started to work in the Danish Dance Theatre (Director: Tim Rushton), which is renowned for its excellent international dancers. During the period of working for this dance theatre he has travelled much of the world in the form of dance tours in countries such as China, North Korea, Thailand, Germany, Norway, Poland, Lithuania, Latvia, Sweden, Finland and England.
Currently, Jernej is self-employed artists and has participated in various productions, freelance projects and dance festivals such as the NAO Performing Festival in Milan, Context Festival in Moscow (Diana Vishneva), produced by SNG Opera and Ballet Ljubljana, produced by Dark Circles Contemporary Dance (Dallas), the project Promenade & NDT theatre in the Hague, the project Fors Works in Denmark and Sweden, etc. In addition to dancing and co-creating, he regularly teaches classes in Slovenia and abroad.
More: https://www.youtube.com/watch?v=6MC40w2waIQ;  https://www.youtube.com/watch?v=ywd5bed0QoA)
__________________________________________________________________________________
AFRO-CONTEMPORARY DANCE / Maša Kagao Knez
Afro - contemporary dance is based on connecting contemporary dance techniques with West African dances. She focuses on exploring different qualities. She is interested in how to stimulate dancers in order to achieve various possibilities of dance expression, with the help of mastering dance technique, the elements of African tradition (rhythmicity, movement motives…) and improvisation. Prior dance knowledge is a plus but not obligatory.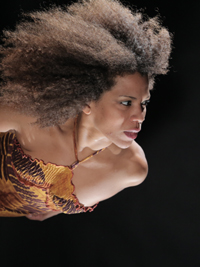 Maša Kagao Knez is a dancer, choreographer and theatre artist. She has studied with numerous mentors at home and abroad. In 2006 she graduated from The School of Georges Momboye in African traditional and contemporary dance in Paris and in 2013 from the Academy of Dance in Ljubljana. As a dancer, actress and choreographer she is involved with both institutional theatres and independent producers. In 2009 Maša, together with dancer Dalanda Diallo and musician Damir Mazrek, co-founded the Baobab Cultural and Arts Society, which operates in the field of dance, music and theatre. Since 2015 she has been the artistic director of Institute 25 and manages the Dance Studio XXV, as well as creates dance performances. Her last in a series of many successful shows was created in 2015 and called MOMENTUM, Avenue captured moments. In 2013 she received the Ksenija Hribar dance award. More: http://ski.emanat.si/masa-kagao-knez/
__________________________________________________________________________________
CONTACT IMPROVISATION and MATERIAL FOR THE SPINE / Nora Hajos
The spiral rolls and the "Material for the spine"
This workshop will facilitate Steve Paxton's "Material for the Spine" by "allowing a technical approach to the process of improvisation." Paxton's system for exploring the interior and exterior muscles of the back ... "aims to bring consciousness to the dark side of the body, that is, the 'other' side or the inside, those sides not much self-seen, and to submit sensations from them to the mind for consideration."
In this workshop, we would spend time learning and practicing the spiral rolls and other kinds of rolls on the floor, mostly. It usually starts with long ,sensations based warm up times for the body and continues with various exercises aiming to bring consciousness to the spine and how it functions as we move.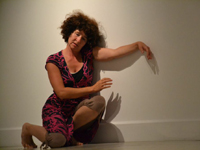 Nóra Hajós, dancer, choreographer, visual artist. Her choices are made by her deep interest in search of authenticity in dance. As an improvisational performer she is interested in sensation-rooted-movement-explorations, action painting, juxtaposition in art making and in-the-moment improvisation with words, voices, movement and paint.
She started her dance studies at age 4 in her native Hungary. As a young adult, she searched in the direction of authentic movement and New Dance in the USA. For the past 26 years, she has been exploring, teaching and performing dance improvisation. Nóra studied in-depth with Steve Paxton (the originator of contact improvisation), Lisa Nelson (Tuning score), Simone Forti (Logomotion), Amy and Arny Mindell (process oriented movement).
Nóra has created and performed her solo improvisations in the USA and Europe. She toured with Simone Forti, dancing Logomotion. She has also performed with, Kossuth prize-awarded composer/pianist, Gyorgy Szabados a Duet Improvisation Performance Series in Hungary. She has collaborated with Steve Paxton, Lisa Nelson, K. J. Holmes, Karen Nelson, Ray Chung, Keith Hennessey, Daniel Lepkof and many others.
Nóra produced & directed Las Meninas~Dances under the St. John`s Bridge ( Portland OR ) and Come Now Go and Soon Go See a process work inspired, dance duet with Craig Baker.
She has been teaching dance & performance improvisation at various festivals and private workshops, in the USA ,Europe ,South America over 25 years.
http://theshipgallery.net
__________________________________________________________________________
CONTEMOORARY TECHNIQUE / Tamas Tuza & Peter De Vuyst
In the class we will deal with acrobatics and floor technique. At the beginning we will warm up our joints and muscles with several exercises that will gradually lead us to the physical work.  We will introduce you to the knowledge of how to be well grounded, exact and dynamic, and at the same time fluent and energy efficient. Throughout strengthening and balancing exercises we will discover the upside down world, so we open to the endless possibilities of the moving body. We will go through basic tasks that will allow us to know how to fall on the ground from unexpected situations, so you will be able to get out of every risky situation with ease.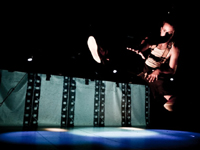 Tamás Tuza is a professional dancer since 2007. After more than 20 performances in Hungary he joined EnKnapGroup in 2010 and remained there until 2016. He worked with Slovene authors, like Sebastijan Horvat, Matjaž Zupančič, Rosana Hribar, Gregor Luštek, and foreign choreographers, like Simone Sandroni, Club Guy in Roni, David Zambrano, Jordi Casanovas ... Among other he danced in successful performance by Iztok Kovač that was awarded with Župančič's Prize. Last six years Tamás traveled with EnKnapGroup around Slovenia and Europe.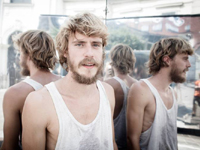 Peter De Vuyst was born in Oudenaarde, Belgium in 1989. He started his studies in Amsterdam (Amsterdamse hogeschool voor de kunst AHK). He continued in P.A.R.T.S.,(Brussels) and graduated in SEAD in 2013 (Salzburg). He was working with teachers such as Libby Far, Martin Kylvadi, Matej Kejžar, Martin Nachbar, Jannet Panetta, Lali Ayguade..Since 2013 he is working in projects with Matej Kejžar, Benjamin Vandewalle, Bénedicte Mottard. In 2016 spring, He came to work on project 'Silent Room' by Nikoletta Gönczöl and Tamás Tuza to Ljubljana.
_________________________________________________________________________________
BALLET BASICS
in
CONTEMPORARY BALLET - Rock the ballet wibes  / Vita Osojnik
In this class, ballet is adapted to the requirements of contemporary dance to escape the usual rigour of classicism and to search for parallels with the mechanisms of contemporary dance techniques.
The class consists of 30 minutes of exercises at the barre, with a focus on feet work, extension, coordination, and organisation of the body, followed by 60 minutes of exercises in the centre that focus on directions in the space, elevation, and turns.
Beginning of the class includes warm-up (Pilates and floor barre) exercises; the class is rounded up by exercises for strength and stabilisation of the body on the floor.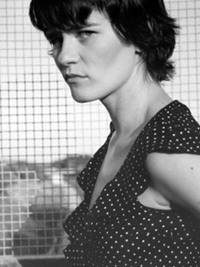 Vita Osojnik is a pedagogue, dancer, choreographer, and street artist. She finished secondary level dance education at the Music and Ballet School Ljubljana (programme ballet). She graduated from SEAD Academy in Salzburg, Austria. She gives regular classes at PSEGSL, art grammar school, module contemporary dance, in Qulenium Cultural Association, and in the course in street theatre ŠUGLA. She is also a guest teacher at SEAD and occasionally gives workshops in Slovenia and abroad. Currently, she performs, choreographs, and directs mainly in the field of street art.
_______________________________________________________________________________
PARTNERING / Nikoletta Gönczöl & Nathan Jardin
In the class we will focus on touch, trust and taking risks. Every day we will play with, and practice different technical principals; such as weight, power, structure and decision making. Throughout these principals we will discover each other's bodies, and step by step we will get to the point when you will know where the limits of accepting and giving weight are, and how much actually you can use your partner's body in order to create a very natural understanding of togetherness. These practices will apply on phrased partner work with the aim of finding pleasure and enjoyment in the collaboration between each other.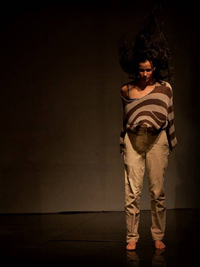 Nikoletta Gönczöl (Hungary) 1986 started her studies in Budapest Dance School. In 2008 she continued in Salzburg Experimental Academy of Dance (SEAD) and graduated in 2013.
There she worked with people such as so: Libby Far, Josef Frucek, Roberto Olivan, Matej Kejzar, Bui Ngoc Quan and many others. She contributed in many projects (from choreographers like Jozef Fruzek, Linda Kapetanea, Sagi Amir, John Sinclair..) from 2009 to 2013.
Nicoletta started to work in England, Switzerland and since 2015 she is giving classes and workshops in Hungary as well as working on her new project 'Silent Room' in Ljubljana.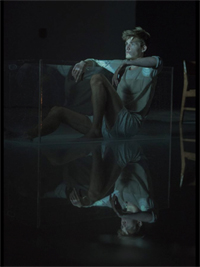 Nathan Jardin, born in Belgium, freelance performer and dance teacher. Nathan has been busy with movement his whole life and decided to follow a higher education in dance. He studied in the training cycle at P.A.R.T.S., Brussels and concluded his education in S.E.A.D., Salzburg. In the Past years he has been working as teacher and performer in Europe. Currently working in Ljubljana on new creation Silent room.
__________________________________________________________________________________
BREAKDANCE (6+beginners)
and
BREAKDANCE (12+advanced) / Blaž Kranjc  (društvo GOR)

At Breakdance workshop for beginners the children will learn the basic elements of breakdancing. They will also learn about the different levels of dance, such as' top rock ',' go down 'and' footwork - leg steps "and "freeze". At the workshop for intermediate level participants will be in addition to various levels of dance, learn "Power moves" by realizing the fluidity of movement 'Flow'. The local DJs will join sometimes.
Association Gor is a sport-cultural society and his team break Flow from below, together with other members of the society represents one of the most active hip hop organizations in Slovenia. In 2015 they organized more than 15 free and voluntary events (workshops, gatherings, trainings, competitions, performances, exhibitions, cooperation with public institutions, cooperation and networking with other European organizations, hip hop, etc.).
Flow from Below moreover, in the last 12 months participated in many memorable international hip hop events: Rockafellaz Anniversary (Poland), Under Cyphers (Spain), Flow Mo Anniversary (Finland) Real Deal (Norway), Just Jam (United Kingdom) , Sunday Brunch (Sweden), Battle Autentick (France / Belgium) Bring your colors (Croatia), etc. Bgirl Tamala, Bgirl SupaFLinda, Điga Bboy, Bboy StricMatic, Vision and Bboy Bboy Kranskee represented Flow from Below in Switzerland, France, Germany, Great Britain, Scandinavia, the Balkans, Ukraine and even in Benin.
Snapshots of their most active dancers can be found at:
Bboy Vision > https://www.youtube.com/watch?v=tO7B79xKPZw;
Bgirl Tamala > https://www.youtube.com/watch?v=qDRYt_P-ROM:
Bboy Kranskee > https://www.youtube.com/watch?v=mSh0pgrG-IQ:
https://www.youtube.com/channel/UC6rxjcwYnnn1LmO6V8JwBjg
_________________________________________________________________________________
MODERN MIX (10+ lower level)
and
MODERN MIX (14+ high level) / Nicole Speletic
My modern dance classes are grounded in the style of Humphrey-Limon, and complemented with influences from other modern techniques.
We will thoroughly warm-up and prepare the body through specific sequences taken on the floor and standing. Then we will dive into full-bodied phrases drawn from classic training exercises and repertory. We will break down complex movement sequences to learn how to execute them with clarity and understanding. We will be crafting the movements with care for dynamics, direction, form. Then we will also play – taking the movements we have learned and bringing our own sensibilities, expression and intentions to them, infusing them with meaning and feeling.
Level 1 and Level 2 are similar, but Level 2 expects the dancers to have some experience with modern dance techniques, and will present somewhat more complex material.
Approach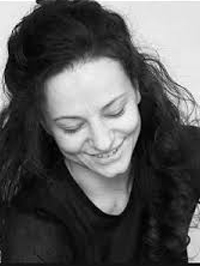 Nicole Speletic, PhD is both a dance artist and a theorist. She continues to maintain an active practice in dance, and train regularly in modern, ballet and contemporary approaches while she performs, teaches and creates. For her dance is not merely stylized movement; rather dance is an experiential embodiment of our deepest ideas and self-understandings.
From this approach dance is something that matters broadly - not only in the studio or on stage as a performer but as a person in the world. Dance is still a virtuosic physical act of expression, to be performed through the body, in the present, but we can engage fully by both doing and analysing – (just not at the same time - as John Cage insightfully advises).

_______________________________________________________________________________
HIP TO THA HOP / Žigan Krajnčan & Gašper Kunšek
Our Class / Happening HIP TO THE HOP is based on the knowledge of the depth of the moment and way of life from moment to moment. Technically we work with the groove movement, articulation and isolation of individual body parts. Exploration continues in the relationship between the will and the motion, emotion and movement ... and ends with contact improvisation, where the emphasis is on movement ecstasy.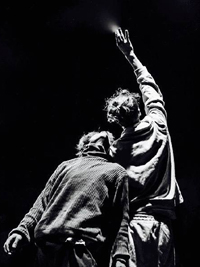 Žigan Krajnčan and Gašper Kunšek are promising names of the upcoming generation of young Slovenian dancers. Their dance technique, which is being constantly developed and upgraded, is a fusion of popping, hip hop, ballet, release and Cunningham techniques, crump, house, contact improvisation. Despite his youth they have already won some important dance awards in various fields. In tandem they created their most prominent work that is an interdisciplinary project Hidden Myth.
_______________________________________________________________________________

IN ACTO – Contemporary technique
and
IN ACTO - Instant composition workshop / Davide Sportelli
I N A C T O - contemporary training and instant-composition with Davide Sportelli
The training I propose will proceed through guided explorations, improvisational scores, release dance combinations. Such materials are meant to be integrative tools to:
- connect to our anatomy and body systems
- engage an open dialogue with and within the space
- find the most immediate transition from sensing into moving and from moving into structuring.
How can we enlarge and deepen the terrain of our action? How to access a state of fertile permeability to a given environment?
Our physical, mental and emotional presence will be urged to participate by including as many sources of information as possible, witnessing the birth of an intention and articulating it into a coherent flow. The workshop will focus on the process of observing the implications and effects of our physical action. We will devise strategies for accessing higher levels of availability and clarity, creating good conditions for playing freely and instant-composing.
Can we see more while dancing? Can our dance be inhabited and empowered by what we sense and feel? Are we ready to be in action?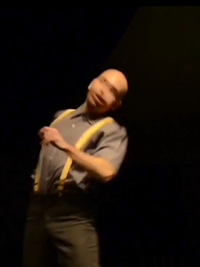 Davide Sportelli is a dance artist active worldwide. Caught in the spell of Terpsichore after studying music and acting, Davide got his dance education at the Accademia Isoladanza of the Venice Biennale. He has collaborated with directors such as Sasha Waltz, Caterina Sagna, Giorgio Barberio Corsetti, Micha Purucker, including William Forsythe for "Human Writes. Beside performing and developing his own choreographic work he carries out an ongoing research on creative writing, video and sound.
As a movement teacher Davide has been sharing his training with schools, universities, programs and
companies like P.A.R.T.S., Ultima Vez, Sasha Waltz & Guests, Chunky Move Melbourne, SMASH Berlin, Korean National University of the Arts, VSMU Conservatory of Bratislava, Iceland Dance Company, Duncan Centre of Prague, Skanes Dansteater, Mimar Sinan Fine Arts University of Istanbul.
His choreographic and pedagogic interests move around the relation between verbal and non-verbal
languages; the notion of body as a space for vision and as vision of the space; the attempt to make dance become tangible music.
_________________________________________________________________________________
DELAVNICA:  Terpsichorean Sonics – Attune, Observe, Report / Alexandra Baybutt  & Ivan Mijačević
Terpsichorean Sonics - Attune, Observe, Report is a practical workshop that uses the fundamentals of movement from the perspectives of Laban/Bartenieff Movement Studies, somatic bodywork and Judson Dance Theatre legacy to illuminate the fundamentals of music (described in the theory of western music culture).
This workshop creates the conditions for both spontaneous and analytical processes. It increases participants' knowledge and skills for future performance and choreography. Participants will experience, analyse and observe movement improvisation tasks and scores underpinned by fundamental principles of music. These offer refined tools for experiencing the phenomenon of Sonics and kinaesthetic resonance.
Building on already existing skills, participants will deepen their physical attunement to self, other and environment, and sensitize their awareness of preferential movement patterns in response to sound. The benefits of working through fundamental principles of music and movement are mainfold, and include refining choices, expanding movement repertoire and accessing imagination.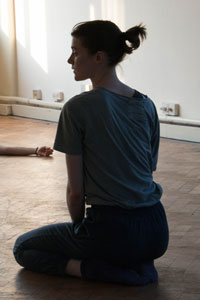 Alexandra Baybutt, MA, is a movement artist, educator and Certified Movement Analyst, teaching privately (London), for CMA programmes in Europe, and as a guest at contemporary dance studios. She is currently a PhD candidate and lecturer at Middlesex University. More: www.alexandrabaybutt.co.uk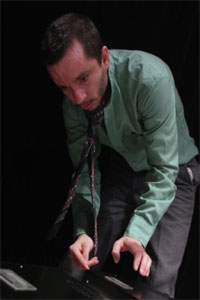 Ivan Mijačević, MA, maker, performer and educator, a member of the artistic collectives Inability crew, SZ3, Two Kings and a French Town, con/temporary choreo-graphics, danceCO and Task-15, holds courses on music-dance relations at Universities across Europe and Middle East.
_________________________________________________________________________________
AFROKIDZ / Emina Baj
Dance with Emina on the wild rhythms of Africa. Emina come from Kenya, she was educated in the West Africa. Emina will develop kid's physical, rhythmic and motor skills through different exercises and games. AfroKidz is dedicated to all the brave little ones, researchers and the curious who are older than six years. Emina will teach a few basic steps of African dance, sing some African song and make a lot of fun.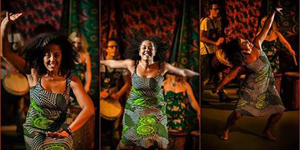 Emina Baj derived from Kenya. Since childhood, she is accompanied by the passion and love for music and dance. One of the most renowned dancers, choreographers and teachers Merlin Nyakam from Cameroon and a dancer, choreographer and her mentor Maša Kagao Knez from Slovenia are a great role models, each in his/her own way.
Emina's knowledge of dance is constantly perfecting. She explores the Malian dances at AWI Kouyate and Bifalo Kouyateju. Energetic dancing Senegalese Sabar she has taught at Yami '' Reine de Sabar '' and Thioune Yellyju. She regularly attends African traditional dance workshops and festivals of West African culture in Italy and France.
She is known for hers energetic and temperament, which is clearly felt in her classes.
_________________________________________________________________________________
FLAMENCO / Mojca Medvešček
Flamenco classes are meant for beginners who have no experience with flamenco or they have just met with it at a short seminar. Dance knowledge is not necessary or required. Participants will learn the basics of flamenco dancing techniques, exercises for proper posture and flexibility of the body, the basic strokes and rhythms of flamenco. We will dance por tangos y rumbas and learn sevillanas.
Participants need comfortable clothes and shoes. For women, it is recommended long wide skirt and closed comfortable shoes with a stable hill - 5 cm (no stilettos); for men dance shoes or other leather shoes. For girls, we recommend flat simple shoes.  Video: https://www.youtube.com/watch?v=M7WFwh2FPT8; https://www.youtube.com/watch?v=XsQ-8hgqlKw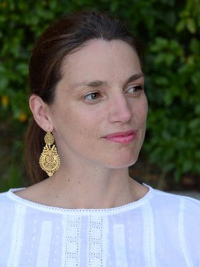 Mojca Medvedšek  danced many forms of dance in her childhood and teenage years. Although she  has always been attracted to everything temperamental, especially South American rhythms, the fate was to surrender to flamenco.
First flamenco dance steps she met on the intensive summer dance flamenco workshops, and later in the festival of flamenco dance seminars, often in Jerez de la Frontera. Intensive seminars of flamenco by dancer and educator Inmo Lobato Díaz, dancer and maestro Angelito Gómez Inmaculado Aguilar in Ljubljana and Andalusia, present her regular training since 2002.
She teaches Flamenco in association Luna Gitana, where she effectively combines a rich dance skills with the educational experience of her professional life. On the stage Mojca is marked by elegance, femininity and expressiveness, finding her own dance style which is led by respect for traditions.
(More: http://www.lunagitana.si/v2/main.php?content=kdo_smo)
__________________________________________________________________________________
IRISH DANCE: Reel around the rock / Petra Perne
Reel around the rock - Irish dance
Besides learning new dance steps the participants of the workshop  will embark on a journey through the history of Irish rock and punk music. We will warm ups with the older Irish rockers music and dance group dances, which will be spiced with punk rhythms. We will learn a few basic steps that will help us in acquiring Irish social dance formations, or the Irish "Ceili". The workshop is suitable for everyone and does not require prior knowledge of dance. Jumping in Irish rhythms is an ideal exercise to lower cholesterol and raise the welfare, therefore warmly welcome in our society. It will be fun!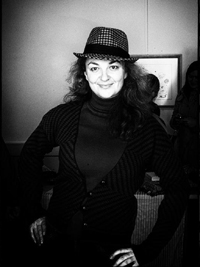 Petra Perne has always loved dance. First dance steps she made in dance school Urska, dancing standard and Latin dances. The Irish dancing was first introduced to her in 2005 and she was immediately impressed upon it. For seven years she learned traditional and modern Irish dance steps, of which four years she shared her skills with other fans of Irish Dance in Ljubljana and Kranj. In the meantime, the group formation occurred with both local and foreign musicians such as The Dubliners, Andrej Šifrer, Francie Conway and Beer Belly and organized a series of Irish dance nights in Kranj and Ljubljana. She has also carried out some dance workshops, including two one-week workshops of Irish dance on the island Pašman, in the framework of Harmony project.
__________________________________________________________________________________

SHAKTI DANCE® - YOGA OF DANCE / Nataša Tovirac

Shakti dance® is the 'yoga of dance' – the conscious practise of dance, infused with the wisdom of yoga to develop awareness and understanding of body, mind and emotions. It has its roots in the science and tradition of Kundalini Yoga as taught by Yogi Bhajan and was created by Sara Avtar Olivier(UK) based on her life-long dance experience and over 20 years of practicing and teaching Kundalini yoga. With a unique and harmonious blend of flowing asanas and various styles of dance, Shakti Dance works energetically to develop the art of intuitive and free movement through a state of mystic, meditative union. Gently opening the pranic current (life force), the body and mind are able to surrender and merge with the intelligent, creative flow of Shakti, giving life to a sacred dance form.
Shakti Dance® is the Yoga of Dance that combines breathing, movement, singing and sinking into  beautiful music. It is one of the most unique forms of practice. It applies yogic philosophy and different dance styles together in most beautiful manner including phases like gentle stretches, free movement, different dance forms, beautiful meditations and deep relaxation. As a practice Shakti Dance is suitable for everyone; you can find beautiful, deep and healthy path to yourself and your life. More: http://shaktidanceacademy.com/; http://www.intakt.si/Shakti.html; https://www.youtube.com/watch?v=oJ3xem9X1Vg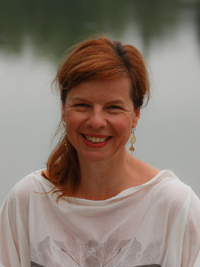 Nataša Tovirac  is a choreographer, dancer, dance teacher, teacher Shakti Dance and Kundalini Yoga. Dance as an art form is her life and career. She studied at the Flemish Academy of Dance in Bruges (Belgium), graduated from the Slovenian Academy of Dance, as a scholarship student for many years she has traveled around Europe and gathering experience with renowned foreign choreographers and teachers. She is the author of 13 feature-length dance performance, choreography and co-author of many other art projects with musicians, actors, photographers, fashion designers, video artists .... With a discovery of Shakti dance she has merged hers two strongest expressive notes of self, dance and yoga in one. A few years ago she became a teacher of Shakti dance. She teaches Shakti Dance regularly at home and abroad.