Public Fund for Cultural Activities and MENTOR magazine
are announcing
the 43rd open call for literary texts NEIGHBOUR OF YOUR SHORE 2021
The open call is open to all authors who - regardless of their citizenship – live in Slovenia (temporarily or permanently, but for a minimum of one year) and write in their native language (not Slovene). The call is open to everybody over the age of 15.
For 42 years creative individuals living in Slovenia had been meeting and interculturally enriching Slovenia with a pallet of languages and creative poetics from around the world. Over the last two years we have deepened and rejuvenated our meetings with additional workshops and initial readings in Ljubljana. In 2021 we will, regardless of the limitations due to coronavirus, travel through Slovenia - in person or online. We will socialise during two introductory creative writing workshops, where you will have the opportunity to improve your entries for the open call. At the reading that will take place on the international mother language day we will strengthen our connections, and at the final national meeting in Maribor, which will take place within the frame of the Week of Amateur Culture and the Year of Jurčič we will share your deeply rooted perception of the world, as you have written it down, with the general public.
Thus, we would like to invite you to participate and spread the word about the open call and try to persuade your neighbours, acquaintances, relatives, friends, literary creatives to participate … invite everyone that you consider a part of the broad multicultural, tolerant and empathic creative group of writers and poets from all over the world!
NATIONWIDE GATHERING
The nationwide gathering Neighbour of your shore 2021 that will take place in Maribor on Saturday, 22nd May 2021, will be organised in partnership with the Maribor branch of JSKD. All authors who have applied will be invited to the morning debate with the two experts and mentors of the prose and poetry workshop, Zoran Knežević (who received the best literary debut award for his collection of short stories Dvoživke umirajo dvakrat (Amphibians Die Twice)) and Željko Perović (poet and translator). After lunch we will take a short stroll through the town centre, socialise, exchange literary experiences and present our new books. In the afternoon we will host the final literary event that will include the readings by all authors who applied, in their native languages, accompanied by music and ending in the award ceremony. At the ceremony we will mention the long-lasting neighbours as well as those who have joined us for the first time. A detailed final programme will be established once all applications have been gathered.
READING AT THE INTERNATIONAL MOTHER LANGUAGE DAY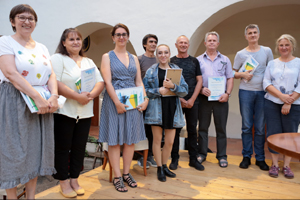 A literary event marking UNESCO's international mother language day will be held in Ljubljana for the sixth year in a row. On 21st February 2021 we will enjoy reading and listening to original texts in various languages, including Slovene. Please send your application (which should include your name and surname as well as the language of the text that you will be reading) by Friday, 5th February2021, to the following email: mentor@jskd.si with the subject heading: Neighbour reading 21. 2. 2021. Each author will be able to read for between 3 to 5 minutes, depending on the number of participants. This event will be organised whatever happens, even in lockdown. In the event of a lockdown all participants will receive a link to participate on ZOOM, and we will record your reading and share the event on FB.
CREATIVE WRITING WORKSHOPS
In 2021 we will organise our first workshops of creative writing with two members of the previous juries: Zoran Knežević and Ana Porenta, MA. The workshops will take place in the Tomaž Šalamun Centre of Poetry in Ljubljana or on the ZOOM platform. The workshops are suitable for all applicants, no matter whether they are applying for the first time or have already attended our workshops, it is open to all who want to improve their writing. Both workshops (prose and poetry) will take place on four different Saturdays: 12th December 2020, 9th and 23rd January 2021 and 13th February 2021.
The state meeting and introductory readings are free of charge, however if you wish to participate at the workshops, we will have to charge a small participation fee. The participation fee for four three-hour workshops is 40 €, however, if you wish to participate at both workshops, you only have to pay 60 €. Applications should be sent to Mentor's email by Friday 4th December 2020 – together with your texts (up to 3 poems, 3 pages of prose), with the subject heading: Neighbour at the workshop.
TEXTS
You can also apply directly for the state meeting by sending up to 7 pages of original prose or theatre texts (you can send fragments of longer texts), or up to 5 poems. We expect to receive proofread texts that have not been previously published in book form. The texts should be written in word, font size 11, left alignment, single spacing, without any additional design or photographs. If possible, please attach a Slovene translation of your texts, even if they are merely a working version.
Every contribution has to be marked by the identification code of the author, while the e-application must include your details (identification code, name and surname, home address, year of birth, education or profession, telephone number, email address, language of the text – including any book news (with the cover page and a short description)). The data will be used exclusively for the purpose of the open call. The authors wave their right to a fee for the published texts.
MAGAZINE PARALELE
The magazine will not be published in 2021, but you can still purchase the printed edition of Paralele 2019-2020, No. 23, for 8 €. The next issue, Paralele 2021-2022, No. 24, will be published in 2022, before the state meeting Neighbour of your shore 2022, which will take place in Brežice.
APPLICATION
The authors should send their texts with an identification code by Wednesday, 31th March 2021, in the original (not in Slovene) language, to the following email address: mentor@jskd.si, with the subject heading: Neighbour of your shore 2021. If possible, add your working translation into Slovene. The application forms will be online in January 2021.
E-application form:

We would like to hear your comments, initiatives and wishes!
Let's stay connected!
Best wishes,
Barbara RIGLER
Additional Information
mag. Barbara RIGLER
Editor in-chief of review Mentor and
producer for literary activities
T: (01) 2410 516
E: barbara.rigler@jskd.si