INTERNATIONAL SUMMER DANCE SCHOOL – SDS 2022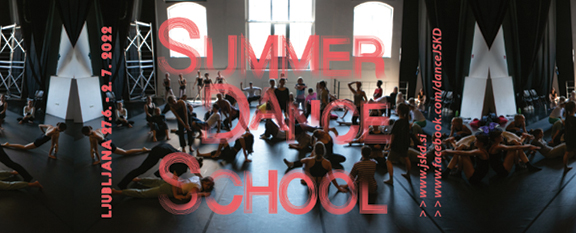 Ljubljana, June 27 – July 2, 2022
LOCATIONS AND INFO SDS 2022
INFO:
Javni sklad Republike Slovenije za kulturne dejavnosti
Štefanova 5, 1000 Ljubljana, Slovenia,
Tel.: +386 (0)51 327575 (Nina Meško), E-mail: nina.mesko@jskd.si,
spletna stran: www.jskd.si, https://www.facebook.com/danceJSKD/
ŠDT – Športna dvorana Tabor:
1. Registration + info spot
2. Living room + chill out room + library of SDS
3. Studio 4, 5, 6


Športno društvo Tabor
Tabor 13
1000 Ljubljana
https://sportnodrustvo-tabor.si/
Conservatory of Music and Ballet Ljubljana:
Studio 1, 2, 3

Konservatorij za glasbo in balet Ljubljana
Ižanska cesta 12
1000 Ljubljana
http://www.kgbl.si/
The Old Power Station
Studio 7


Stara mestna elektrarna – Elektro Ljubljana
Slomškova 18
1000 Ljubljana
http://www.bunker.si/slo/stara-elektrarna
WARRANTY:
- Each participant will receive an identification card to enter the studio.
- We retain the right to change the contents of the programme due to force majeure
- We take no responsibility for injuries and thefts. Please organise your personal insurance and take care of your belongings.
- Tuition fee shall be refunded only on the basis of a letter received before the start of the SDS June 24, 2022).
- Taking photographs and video recording during workshops and classes is prohibited, unless agreed otherwise with the organizer and teacher in advance.