INTERNATIONAL SUMMER DANCE SCHOOL – SDS 2022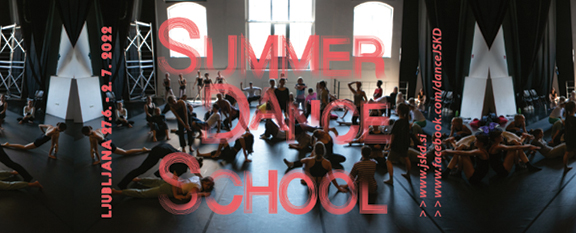 Ljubljana, June 27 – July 2, 2022
SEZNAM DELAVNIC / LIST OF WORKSHOPS SDS 2022
BALET  III (16+)
Szilárd Macher
Klasični baletni klas pedagoga in baletnega plesalca z Madžarske plesne akademije Szilárda Macherja vsebuje baletne vaje pri drogu in na sredini na naprednem nivoju. Klas bazira na metodi Vaganove, hkrati pa vsebuje tudi pristope drugih znanih baletnih šol. Poudarek bo na natančni izvedbi korakov, koordinaciji ter muzikalnosti in plesnosti. 
Klas je primeren je za dekleta in fante od 16 let dalje, ki želijo svoje znanje nadgraditi in izpopolniti na napredni ravni (3. in 4. letnik srednje baletne šole ter profesionalni baletni plesalci).
Delavnica bo potekala v angleščini. / The workshop is going to be in English.
REPERTOAR, VARIACIJE, ŠPICE  III (16+)
Szilárd Macher
V nadaljevanju zastavljenega baletnega klasa se bo pedagog posvetil elementom, ki so potrebni za izvajanje variacij (vaje na špicah za dekleta, skoki, tehnika in interpretacija variacij…).
Pouk bo prilagojen številu prijavljenih kandidatov in njihovim tehničnim zmožnostim, vsi kandidati pa bodo imeli možnost prisostvovati tudi individualnemu delu pedagoga z ostalimi plesalci. Pouk je primeren za plesalce od 16 let naprej, ki že obvladajo tehniko špic, pa vse do profesionalnih baletnih plesalcev. Pedagog in baletni plesalec Szilárd Macher na HDA vodi baletne klase za fante od zgodnjih let, zato so njegovi klasi v Sloveniji še toliko bolj dobrodošli.
Delavnica bo potekala v angleščini. / The workshop is going to be in English.
SZILÁRD MACHER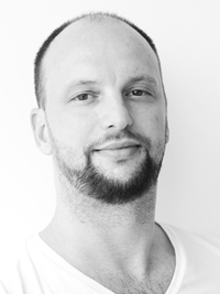 ballet dancer, teacher, choreographer, director at HDA


Szilárd Macher studied at the Győr Ballet School of the Arts between 1985 and 1991 and then at the Hungarian Dance Academy until 1994. After graduation he was offered a contract to the Hungarian National Ballet where he danced until 2015, in 2000 was promoted to Soloist.
Most important roles at HNB: Prince (The Nutcracker), Rotbart, Pas de trois (Swan Lake), Peasant pas de deux (Giselle), Waclaw (The Fountain of Bakhchisaray), Karenin (Anna Karenina), Gremin (Onegin), Paris (Romeo and Juliet), Charles Hamilton, Mr. Kennedy (Gone with the Wind), The Lord (The Tragedy of Man), Adam (Tricky Students), The Witch (Snow White), The High Brahmin (La Bayadére), Four Huangarian Officiers (Mayerling) and solos in ballets by Balanchine (Serenade, Symphony in C, La Sonnambula), Kylian (Six Dances), van Manen (Five Tangos, Concertante, Adagio Hammerklavier), North (Death and the Maiden), de Valois (Checkmate), MacMillan (Concerto), Harangozó (Polovetsian Dances), Pártay (Bolero, Othello, TheGolden Brush), Dózsa (Adagietto) and Lukács (Connection). He received Junior Interlyra Award in 2002, Harangozó Gyula Prize from the Hungarian Ministry of Culture in 2007 and Golden Cross of Merit of Hungary in 2017. Toured with HNB in USA, Mexico, China, Japan, Spain, the Netherlands, Finland and was invited to international gala performances in Russia, Austria, Italy, Great-Britain, Finland as well as in Budapest in the memory of Rudolf Nureyev.
He graduated as ballet-teacher(BA) in 1998 and as dance theoretician and critic (BA) in 2003 at HDA, and at the University of Theatre and Film Arts (SZFE) he got MA diploma as choreographer in 2007. Earned a DLA in 2015.
Teacher at the Hungarian Dance Academy  from 1998, since 2018 as University Professor. In 2008 was appointed Deputy Director of Institute for Training Dance Artists where he is the Director since 2010.
His students won numerous awards at international ballet competitions and they are members of different companies worldwide (Semperoper Ballett Dresden, The Royal Swedish Ballet, Tulsa Ballet, Hong Kong Ballet, Vienna Staatsballet, Ballet Mainz, Croatian and Hungarian National Ballet companies, Hofesh Shechter Company, Dresden Frankfurt Dance Company etc). He was a guest teacher at Highschool of Arts in Amsterdam, at Nordic Ballet Seminar in Oslo and Helsinki and was teaching at the International Summer Courses and Dance Festivals of HDA. Was also ballet master of the Hungarian National Ballet, Formosa Ballet of Taiwan, Ballet Preljocaj and Nureyev International Ballet Competition.
Also working as a dance critic and theoretician at Hungarian Dance Magazine .
Tanja Skok: HISTORIČNI PLES / HISTORICAL DANCE; level II
TELO IN PLES SKOZI ČAS
TEČAJ ZGODOVINSKIH PLESOV
Delavnica je namenjena spoznavanju plesov iz obdobij med 15. in 18. stoletjem, do prelomnice, ko se je začel razvijati klasični balet.
Ples je ena tistih človeških aktivnosti, ki sega v same začetke našega obstoja, pa vendar, o plesnih oblikah iz naše preteklosti vemo zelo malo. Ohranilo se je veliko število  vizualnih podob in iz njih lahko razberemo, da je imel ples izjemno pomembno mesto v življenju ljudi, a le majhno število virov nam razodene kako konkretno je ta ples izgledal.
Najstarejši taki zapisi segajo v 15.stoletje. Konkretni zapisi o plesu nam omogočajo rekonstrukcijo plesnih korakov, njegove vmestitve v glasbo in nam natančno opisujejo celotno kodo po kateri se je moral plesalec ravnati.
Danes na grobo delimo ta obdobja na zgodnjo in pozno renesanso, ter barok.
Zgodovina nas nagovarja na vsakem koraku, v obliki arhitekture, literature, glasbe in vizualne umetnosti. Ko se srečamo z zgodovinskimi plesi, začutimo nek drug odnos do telesa, ki nima enake gibalne svobode, kot smo je navajeni v današnjem času.
Vse te kode, ki za plesalca danes v veliki meri predstavljajo omejitve, pa lahko ponujajo tudi nove izzive v razvijanju novega odrskega izraza.
V tem tedenskem praktičnem plesnem seminarju bomo naredili prerez čez ta obdobja in se naučili odplesati različne koreografije, ki bodo ob čudoviti glasbi, z nami po dolgih stoletjih ponovno zaživele v vsej svoji razigranosti in finesah.
Dobrodošli plesalci, igralci, glasbeniki in vsi, ki jih to področje zanima, ne glede na plesno predznanje.
THE BODY AND DANCE THROUGH TIME
A SEMINAR OF HISTORICAL DANCES
The workshop will introduce various dance forms from the period between 15th and 18th century, until the turning point when classical ballet began to emerge.
Dance is one of those human activities that dates back to the very beginning of our existence, and yet, we know very little about it. Today we can find a large number of visual images and some event descriptions. From them, we can see that dance had an extremely important place in people's lives, both as a social activity and creative form of expression. However, only a small number of sources reveal its exact codes of aesthetics and instruct us how to approach the specific movement techniques.
The oldest such records date back to 15th century. These historical dance treatises guide us to reconstruct the dance steps, their relation with the music, and describe in detail the entire code that a dancer had to follow.
In the Early Dance circles today, we roughly divide these periods into early or high renaissance, and baroque.
Daily we are surrounded by historical references in the form of architecture, literature, music and visual arts. When we engage in historical dance, we can experience a different attitude towards the body, which does not have the same freedom of movement as we are used to today.
However, all these prescriptive codes, which for a dancer today largely represent limitations, can also offer oportunity and challenges in developing a new stage expression.
In five days of dance practises, we will make a cross-section of dances from 15th to 18th  century. We will learn to reconstruct and dance several choreographies that together with inspiring music, will come to life again after many centuries, in all their playfulness and finesse.
Dancers, actors, musicians and anyone interested, regardless of dance backgroundm, all welcome.
Tanja Skok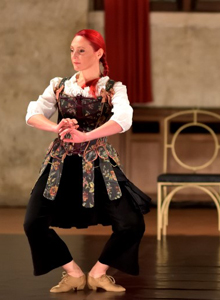 Tanja Skok: plesalka, koreografinja, plesna pedagoginja in raziskovalka historičnih oblik plesa, je formalno plesano izobrazbo pridobila na London Contemporary Dance School, v Veliki Britaniji, kjer je tudi magistrirala.
Dolga leta je vodila Plesni studio Intakt, plesala v številnih produkcijah zavodov PTL, Flota, Vitkar, Celinka in drugih, zatem pa 8 let sodelovala s skupino En-Knap, v vlogi vodje vaj. Trenutno deluje, kot samostojna ustvarjalka in pedagoginja, ter  poučuje na Akademiji za ples Alma Mater v Ljubljani.
Z zgodovinskimi plesi se je srečala že v času študija, vendar se  je kasneje v  to področje intenzivno poglobila in se izobraževala pri specialistih po državah, kot so Italija, Francija, Švica, Belgija, Nemčija in Španija.
Plesala je v številnih produkcijah, med katerimi je najbolj zveneča baročna opera Amadis de Gaulle skladatelja Johanna Christiana Bacha v produkciji Òpera Còmique iz  Paríza in Kraljeve Opere iz Versallesa.
Kot koreografinja in specialistka za gib je sodelovala pri postavitvi oper "King Arthur", skladatelja Henryja Purcella  in "St.Alessio", skladatelja Stefana Landija. Obe deli sta bili ustvarjeni v studiu za baročno opero Opera Omnia v Moskvi, ki ga je vodil sloviti harfist Andrew Lawrence King.
Koreografirala  je tudi za gledališke predstave v SNG Drama, Ljubljana, SNG Nova Gorica, Gledališče Glej, in Fundacion "Siglo de Oro" v Madridu.
Redno sodeluje z ansamblom za staro glasbo Laberintos Ingeniosos iz Španije, v Sloveniji pa je sodelovala s skupino Musica Cubicularis in dolga leta soustvarjala s skupino Capella Carniola.
Kot specialistka za zgodovinske plese poučuje v številnih programih in festivalih, med katerimi lahko med drugimi naštejemo tudi: Master Guitarra Alicante (Španija), Amherst Early Music Festival (ZDA), Las Portes de Temps (Francija), evropski program EEEmerging, Festival a v Ambronayju (Francija), Akademija za glasbo in gledališče v Litvi.
Njeno avtorsko in koreografsko delo že vseskozi spaja svetove zgodovinskih plesov in sodobnega plesno gledališkega izraza. To je razvidno tudi iz predstav "Bassa Continua" in "Barok", ki so nastale v produkciji PTL Ljubljana, ter "BACH eMotion", kjer ob njej nastopa lutnist Xavier Diaz-Latorre (Španija).
Tanja Skok: dancer, choreographer, dance pedagogue and researcher of historical forms of dance. She received her formal dance education at the London Contemporary Dance School in Great Britain, where she graduated in B.A. Hons Degree and MA in Contemporary Dance and Performance.
For many years she was a Director the Intakt Dance Studio, danced in numerous productions of PTL, Flota, Vitkar, Celinka and collaborated in numerous projects.  Furthermore she was Rehearsal Director of En-Knap dance group for 8 years. At present she is active as a freelance artist, and teacher at the Alma Mater Dance Academy in Ljubljana.
She first encountered the world of historical dance during her studies and fell in love with it instantly. She continued her education in this field with specialists in countries such as Italy, France, Switzerland, Belgium, Germany and Spain.
She has danced in many historical dance related productions, the most outstanding being the baroque opera Amadis de Gaulle by composer Johann Christian Bach, produced by Òpera Còmique in Paris and the Royal Opera in Versailles.
As a choreographer and movement specialist, she co-directed the operas "King Arthur" by composer Henry Purcell and "St.Alessio" by composer Stefano Landi. Both pieces were created at the Opera Omnia Baroque Opera Studio in Moscow, led by renowned harpist  and music director Andrew Lawrence King.
She has also choreographed for theater performances at SNG Drama, Ljubljana, SNG Nova Gorica, Glej Theatre, and the "Siglo de Oro" Foundation in Madrid.
She regularly collaborates with the early music ensemble Laberintos Ingeniosos from Spain. In Slovenia she has collaborated with the Ensemble Musica Cubicularis and co-created for many years with the Ensemble Capella Carniola.
As a specialist in historical dance, she teaches in many programmes and festivals, including: Master Guitarra Alicante (Spain), Amherst Early Music Festival (USA), Las Portes de Temps (France), European program EEEmerging, Festival a in Ambronay (France), the Academy of Music and Theater in Lithuania.
Her work as author and choreographer has often connected the worlds of historical dance, contemporary dance and theater expression. Her major works reflecting this connection are "Bassa Continua" and "Baroque", produced by PTL Ljubljana, and "BACH eMotion", where she dances at the side of a solo lute player, Xavier Diaz-Latorre (Spain).
BALET  I / BALLET  I (10 – 14 let)
Zala Pezdir
Baletni klas na I.stopnji je namenjen učencem baleta, ki imajo baletno osnovo in poznajo osnovne baletne pojme. Klas je sestavljen iz baletnih vaj ob drogu in na sredini s poudarkom na baletni tehniki na osnovnem nivoju v povezavi s plesnostjo. 
Primeren je za učence od 10 do 14 let. Potek klasa in težavnost bo prilagojena prijavljenim kandidatom. 
Delavnica bo potekala v slovenščini. / The workshop is going to be in Slovenian.
PROGRESSING BALLET TECHNIQUE  I, II, III
Zala Pezdir
Progressing Ballet Technique je inovativen pristop h klasični baletni tehniki, ki ga je razvila avstralska pedagoginja Marie Walton-Mahon skupaj s fizioterapevti. Tehnika se osredotoča na oblikovanje funkcionalnih gibalnih vzorcev, mišičnega spomina, kot tudi na stabilnost, moč in gibljivost, ki so potrebne v klasičnem baletu. Na urah uporabljamo različne pripomočke, npr. velike in male napihljive žoge in vadbene trakove. PBT ure so lahko poučne, fizično zahtevne in zabavne!
Zala je certificirana učiteljica tehnike PBT od leta 2019. Ko poučuje PBT Zala tudi rada vključuje druge aspekte varnega baleta in preventive pred plesnimi poškodbami.
Kaj prinesti s sabo:
Vaje izvajamo v tesnih/baletnih oblačilih z bosimi stopali. S sabo prinesete svojo joga ležalko in teniško žogico.
PROGRESSING BALLET TECHNIQUE  I, II, III
Progressing Ballet Technique is an innovative approach to classical ballet developed by Australian Marie Walton-Mahon. The technique focuses on correct movement patterning as well as stability, strength, and flexibility needed in classical ballet. We use different equipment, for example, fit balls, soft balls, and resistance bands. PBT classes can be very informative for your individual ballet development, physically challenging, and fun!
Zala is a certified PBT teacher since 2019. When teaching PBT Zala also likes to include different aspects of safe ballet training and dance injury prevention.
What to bring to the class:
Ballet/tight clothes with possibility of bare feet for better friction. Bring your own yoga matt and a tennis ball.
REGENERACIJA  I, II, III
Zala Pezdir
Naučili se bomo identificirati različne vrste napetosti v telesu, nato pa bomo ta mesta aktivno sproščali. S sproščanjem napetosti razširimo svoj gibalni obseg, kar pomeni, da postane telo bolj raztezno. Širjenje gibalnega obsega preko specifično usmerjenega sproščanja je v primerjavi z bolj tradicionalnimi in pasivnimi vrstami raztegovanja učinkovitejše in varno. Z mobilizacijskimi vajami in rabo kompresije damo telesu tudi možnost hitrejše regeneracije in torej boljše pripravljenosti na nov plesni dan.
Kaj prinesti s sabo:
Teniško žogico, majhno brisačo in »foam roller« (če ga imate).
RECOVERY  I, II, III
We will learn how to identify different places and qualities of tension and learn how to release it. By releasing tension our range of motion expands, which means we become more flexible in a safe way. This is in contrast to more traditional passive stretches, which can sometimes end up as inneffective and injurious. When working on tension release, we also give our bodies possibility to recover and prepare for the challenges of the next day.
What to bring to the class:
A tennis ball, a small towell, and, if you have one, a foam roller.
ZALA PEZDIR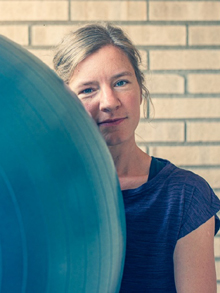 Zala Pezdir je plesalka, pedagoginja, koreografinja in kulturna antropologinja. Po končani Srednji glasbeni in baletni šoli v Mariboru in študiju na Filozofski fakulteti v Ljubljani je diplomirala tudi iz plesne pedagogike na Dans och Cirkushögskolan v Stockholmu in sicer iz dveh predmetov: klasičnega baleta in sodobnega plesa. Od leta 2007 živi v Uppsali na Švedskem, kjer ustvarja in poučuje klasični balet, sodobni ples, improvizacijo in kompozicijo. Kot plesalka in koreografinja redno sodeluje v neodvisnih plesnih in plesno-glasbenih projektih in je aktualna prejemnica regijske kulturne štipendije Uppsale za delo na področju raziskovanja intersekcionalnosti giba in zvoka.
KOREOGRAFSKA DELAVNICA / CHOREOGRAPHIC WORKSHOP, level I
Tanja Pavlič
V sklopu delavnice bomo preko krajših ustvarjalnih nalog ozavestili ali poglobili razumevanje osnovnih elementov plesa. Njihovo uporabnost bomo preizkušali v različnih gibalnih jezikih in zasedbah. Delavnica je namenjena plesalcem z malo ali brez izkušenj v lastnem ustvarjanju, ki želijo svoje ukvarjanje s katero od plesnih tehnik ali stilov nadgraditi z lastnim ustvarjalnim glasom.
In the course of the workshop we will try to deepen our awareness of the basic elements of dance. We will explore their creative and expressive potencial through various movement languages, through individual and group work. The workshop will be pitched to dancers with little or no experience with creative work, but with a wish to upgrade their knowledge of a dance technique with finding their own creative voice.
KOREOGRAFSKA DELAVNICA / CHOREOGRAPHIC WORKSHOP, level II - III
Tanja Pavlič
V sklopu delavnice bomo tudi na tej ravni najprej osvežili poznavanje osnovnih elementov plesa preko različnih krajših ustvarjalnih nalog. Njihov izrazni domet bomo preverjali preko samostojnega dela in dela v skupini, zato je za čim večji učinek in užitek ob delu zaželeno obilo plesne in splošne življenjske radovednosti in raziskovalnega duha. Delavnica je namenjena plesalcem z dobrim tehničnim plesnim predznanjem (baleta, katere od sodobnih plesnih tehnik), ki nimajo veliko ustvarjalnih izkušenj in se želijo naučiti nekaterih osnovnih veščin ustvarjanja lastnih kompozicij in si s tem razširiti vpogled v lasten ustvarjalni potencial.
In the course of this workshop we will also try to refresh our understanding of basic elements of dance through different short creative tasks. The creative and expressive potencial of these elements will be tested through individual work and in a group, so a sense of general curiosity and life bewilderment will enhance the learning experience! The workshop will be pitched at dancers with a good level of technical proficiency of a dance technique (ballet, contemporary,…) but with not much creative experience and a desire to learn some skills in creating their own composition and thus widen their view of personal creative potencial.
Tanja Pavlič
Tanja Pavlič je po končani Srednji baletni šoli v Ljubljani kot štipendistka Ministrstva za kulturo RS odšla na študij baletne pedagogike na Kraljevo plesno akademijo (Royal  Academy of Dance) v London, po diplomi pa se je zaposlila na Konservatoriju za glasbo in balet Ljubljana. Na baletni in srednji baletni šoli poučuje balet, sodobne plesne tehnike, karakterne plese in klasični repertoar. Svoje pedagoško delo ves čas prepleta s koreografskim udejstvovanjem, tako znotraj šolskega okvira kot širše. Sodelovala je na prvih treh slavnostnih večerih mladih slovenskih koreografov Društva baletnih umetnikov Slovenije, ustvarila koreografije za več dramskih, lutkovnih in opernih predstav (SNG Drama Ljubljana, Lutkovno gledališče Ljubljana, Slovensko stalno gledališče v Trstu, SNG Opera in balet Ljubljana) ter režirala in koreografirala baletno predstavo za otroke Kdo je najmočnejši (SNG Opera in balet Ljubljana). Za svoje kratke baletne in sodobne koreografije je na državnem baletnem tekmovanju BALTEK prejela več nagrad žirije.
Tanja Pavlič had studied ballet pedagogics at The Royal Academy of Dance in London, supported by the scholarship of The Ministry of Culture or Slovenia. After graduation she began her teaching career at the Ljubljana Conservatory for Music and Ballet, where she still teaches ballet, contemporary dance, character dance and classical repertoire. Her teaching is continually intertwined with choreography, both within the school frame and outside. She created works for the first three evenings of young Slovenian choreographers (held by the Slovene Society of Ballet Artist), has signed many choreographies for drama theatre, puppet theatre and opera stagings (National Theatre of Slovenia – Drama, Ljubljana; The Puppet Theatre Ljubljana; The Slovene Theatre in Trst, Italy; The National Opera and Ballet Theatre, Ljubljana) and has directed and choreographed a ballet for young audiences Who is the most powerful (National Opera and Ballet of Ljubljana). She recieved several special awards for her classical and contemporary miniatures, created for her students at the Slovene national ballet competition (Baltek).
BALET  II (14 – 16 let)
Melinda Szitt
Klasični baletni klas vsebuje baletne vaje pri drogu in na sredini. Na tej stopnji bo poudarek na utrjevanju baletne tehnike in pripravi telesa na napore baletnega plesalca.
Primeren je za dekleta in fante od 14 let naprej, ki plešejo balet že nekaj let (stopnja 6.r baletne šole, 1. in 2. letnik srednje baletne šole). Izjemoma se v baletni klas lahko vključijo tudi starejši kandidati, ki imajo že predznanje baleta. Potek klasa in težavnost bo prilagojena prijavljenim kandidatom.
REPERTOAR level II (14 – 16 let)
Melinda Szitt
Na pouku repertoarja bodo dekleta spoznala variacije iz klasičnih baletov in vse detajle iz prve roke solistke, ki so pomembni za plesanje ženskih vlog. Pedagoginja in baletna plesalka Melinda Szitt se bo posvetila učenju ženskih variacij iz klasičnih baletov ter vsem elementom, ki so potrebni za izvajanje variacij (vaje na špicah, skoki…).
Pouk je primeren za dekleta od 14 let naprej, ki že obvladajo tehniko špic, pa vse do profesionalnih baletnih plesalk.
MELINDA SZITT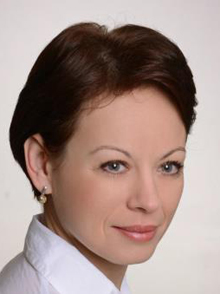 Melinda Szitt prihaja z Madžarske plesne akademije (Hungarian Dance University), kjer poučuje klasični balet, repertoar in metodiko ter fizično pripravo baletnih plesalcev, od leta 2019 pa je direktorica osnovne baletne šole na tej akademiji.
Na Madžarski plesni akademiji v Budimpešti je z diplomo pridobila naziv plesalke in pedagoginje s specializacijo na področju sodobnega plesa, kasneje pa je opravila še magisterij učiteljice klasičnega baleta.
Bogate izkušnje ima na področju metodike baleta, posebno na področju Vaganova tehnike, o kateri predava na plesnoizobraževalnih institucijah na Madžarskem, Hrvaškem in v Sloveniji, sodeluje pa tudi na poletnih šolah na Madžarskem in v Sloveniji.
Kot plesalka in koreografinja je sodelovala z različnimi orkestri in pri postavitvi različnih klasičnih koreografij, dolga leta je poučevala balet pri madžarskem ritmičnogimnastičnem timu in je umetniška vodja zasebne plesne šole.
Je avtorica raznih raziskav in publikacij s področja klasičnega baleta ter fizične priprave plesalcev in metodike baleta.
Melinda Szitt comes from the Hungarian Dance Academy, where she teaches classical ballet, point and repertoire methodology and the Director of Preparatory School of Hungarian Dance Academy. She is an expert in the field of the physical preparation of dancers.
After graduating from the Hungarian Dance Academy (Ballet Academy in Budapest), she obtained a Bachelor's degree as dancer and coach, specializing in modern dance. She also obtained a Master's degree in classical ballet teaching.
She passes on her experience from the field of classical ballet and repertoire, modern dance, ballet methodology and stretching and strengthening methods at summer schools in Hungary and Slovenia.
She has extensive experience in ballet methodology, which she teaches at dance educational institutions in Hungary, Croatia and Slovenia, where she uses the Vaganova technique.
As a dancer and choreographer, she cooperated with various orchestras and participated in the setting of various classical choreographies. For many years, she taught ballet at the Hungarian Rhythmic Gymnastics Team. She is the artistic director of a private Movement Dance School.
She is the author of various research and publications in the field of classical ballet and physical preparation of dancers, as well as ballet methodology.
Igor Sviderski: SODOBNI PLES / CONTEMPORARY DANCE; level I
Plesni klas je sestavljen iz dveh delov. Prvi del je namenjen ogrevanju telesa in urejanju misli, drugi del pa se osredotoča na osvajanje in izvajanje plesnih fraz po prostoru. Plesno ogrevanje in prostorsko gibanje je zasnovano kot postopno prehajanje iz horizontalne v vertikalo. Premikali se bomo po večdimenzionalnem svetu, strmeli k nebu, padali na zemljo in kričali v veter. Napletali bomo različne gibalne slike, jih povezovali med seboj ter jih postavili v prostor. Predznanje je dobrodošlo ni pa nujno. Plesni klas je tudi priprava na kasnejšo delavnico solo kreacija.
Igor Sviderski: SOLO KREACIJA / SOLO CREATION; level I
Od ideje do izvedbe/ from the idea to the solo creation
Kdaj? Zakaj? Kako? Ta tri vprašanja nas bodo vodila na delavnici. Odgovore bomo iskali s pomočjo različnih načinov in metod za vzpostavitev idejne in gibalne zasnove solo kreacije. Pri postavitvi gibalne kompozicije bomo uporabili metodo vodene plesne improvizacije. Analizirali in postavljali  bomo različne gibalne fraze, jih krajšali, ponavljali, spreminjali, povezovali, postavljali v različne prostore in z načinom kombinatorike ustvarili nove. Osnovno idejo bomo na ta način lahko nadgradili še z dodajanjem in raziskovanjem povezave giba z elementi kot so beseda, zvok, vdih-izdih, glasba, tišina, ki naj bi solo kreacijo vsebinsko in izvedbeno povezali v celoto. Izbor načinov in elementov bo odvisen od vsakega udeleženca-ke delavnice glede na idejno zasnovo sola. Delavnica je namenjena vsem, ki bi si želeli ustvariti svoj solo.
Igor Sviderski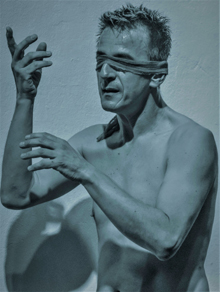 Igor Sviderski se je začel s plesom ukvarjati že pri trinajstih v Kazini, kasneje pa se je udeleževal številnih plesnih tečajev doma in v tujini.  S svojim ustvarjalnim in pedagoškim delom na področju sodobnega plesa in uprizoritvenih umetnosti je prisoten na domači sceni vse od leta 1989, ko je prvič nastopil v predstavi Odisejev povratnik koreografinje Ksenije Hribar v produkciji Plesnega teatra Ljubljana. Leta 1994 pa je diplomiral na Baletni akademiji v Stockholmu in leta 2012 na Akademiji za ples v Ljubljani. Zaključil je tudi magistrski študij umetnosti giba na Akademiji za gledališče, radio, film in televizijo v Ljubljani in si kot prvi plesni pedagog v Sloveniji pridobil strokovni naziv magister umetnosti giba. Poleg lastnega koreografskega dela, sodeluje kot plesalec, performer in koreograf s številnimi domačimi in tujimi plesnimi in gledališkimi ustvarjalci na področju plesa, gledališča in performansa. Izredno je aktiven tudi na izobraževalnem področju, kjer soustvarja izobraževalni in umetniški program sodobnega plesa z različnimi plesnimi centri doma in v tujini ter poučuje predmet gibalna delavnica na Gimnaziji Nova Gorica, v okviru Umetniške gimnazije gledališke in filmske smeri. Že vrsto let vodi in poučuje plesne ure sodobnih plesnih tehnik za odrasle in plesno improvizacijo za starejše v Plesnem studiu INTAKT. Od leta 2009 je strokovni sodelavec in predavatelj za sodobni plesni gib na Akademiji za ples in Akademiji za gledališče, radio, film in televizijo. Z vodenjem plesnih delavnic in seminarjev je prisoten na mnogih domačih in tujih plesnih festivalih. Je prejemnik plesne štipendije »Dance Web«, nagrad »Zlata ptica« in »Plaketa Mete Vidmar« za dosežke in prispevek k razvoju in uveljavljanju slovenske plesne kulture. Poleg plesnega, koreografskega in pedagoškega dela opravlja tudi delo območnega in državnega selektorja za področje plesa na ljubiteljski ravni. Svoje mentorsko in pedagoško delo že vrsto let dopolnjuje z vlogo svetovalca za gib na področju uprizoritvenih umetnosti, s fokusom na sodobno-plesnih, plesno-gledaliških in performativnih uprizoritvah. V letu 2019 je praznoval 30. obletnico umetniškega delovanja, ki ga je obeležil s plesnimi performansi meseca aprila, oktobra in decembra 2019. Trenutno deluje in ustvarja v Sloveniji.
METODOLOGIJA POUČEVANJA PLESNE TEHNIKE / METHODOLOGY FOR TEACHING DANCE TECHNIQUE, level III
Joan van der Mast
Delavnica bo potekala v angleščini in zato opisa ne prevajamo. / The workshop is going to be in English.
Joan van der Mast developed a special methodology for teaching contemporary dance technique based on Laban Movement Analysis and New Learning Principles.  In this methodology she integrates the principles of dance technical skills, neuromuscular science, body mind centering, somatic movement, and core training into a functional syllabus of (contemporary) dance technique.  This syllabus is providing progressions for beginner, intermediate and advanced level is suitable for all age groups from the age of 6 to adults and is applicable for different dance styles. In this workshop Joan is also providing tools how to apply the New Learning Principles of the 4 phases of learning (doing - feeling – observing - analyzing) and how to use a creative & concentric approach while teaching dance technique.
Joan van der Mast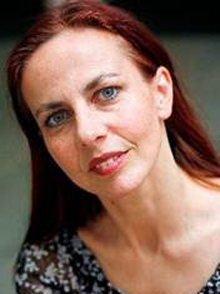 Joan van der Mast is an internationally respected teacher, choreographer, coach and consultant in contemporary dance and Laban Movement Analysis. She is a graduate of Codarts (BA Rotterdam), is a certified Laban Movement Analyst (CMA New York) and studied Choreology (Trinity London), Yoga and Stott Pilates. She has a rich and diverse career as a teacher and choreographer. She is a faculty member at the Royal Conservatory of The Hague and at Zagreb Dance Academy (ADU). She is also Artistic Director of the New Dance Center and the New Dance Young Talent program in The Hague (Netherlands). She is a free-lance choreographer and she is a specialist in developing dance curricula for teachers' and choreographers' programs in contemporary dance.  She is also a regular guest teacher and choreographer at the University of Goce Delchev (North Macedonia), Alma Mater University (Ljubljana), Borderline Company in Salerno (Italy) and many others.
GLASNA DELAVNICA / VOICE WORKSHOP, level III
Irena Tomažin
Delavnica bo potekala v angleščini in slovenščini. / The workshop is going to be in English and Slovenian.
In the workshop we will meet ourselves differently from how we know ourselves in everyday life, through discovering many diverse voices that are kept in our body.
We will go through the process of shifting the awareness towards inner listening and tuning in with our own emotional streams and body impulses. By listening closely we can get to know more deeply not only ourselves, but also our own voice material, expressions and songs already within us.
The first part of each day includes warming up the body and voice individually, followed by work in couples and groups. The work will unfold our voices through intense physical and breathing exercises, through different types of massaging the body and positioning it in order to listen and hear the stream of emotions while opening the body resonators. The 'motion of emotions' will become physical, tangible and also musical.
In the next part we explorethe connection between movement and voice by tracing the physical impulses through improvisational tasks, observing how sound, breath and movement follow and complement each other. Through hands-on work in partners we can unravel our personal voice identities, that offer us mirrors reflecting our strengths and fragilities. Working with breathing and deep relaxation, we resonate with and listen to our voice, arriving to our own rhythms and melodies which we organically carry within us. This experimentation with sound will make space for different facets and stories to emerge and be amplified within the shared space. By moving the space with our own voices, we will gain the sensation of how we can touch our surroundings and the others through sound.
Irena Tomažin Zagoričnik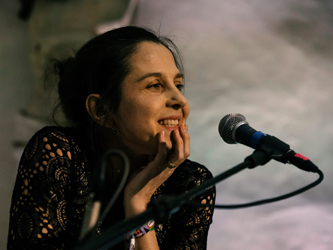 Irena Tomažin Zagoričnik je plesalka, koreografinja, performerka, vokalistka, pevka in improvizatorka, dejavna na domači in mednarodni sceni. Z gledališčem se je srečala na Bežigrajski gimnaziji v skupini IHT, pod mentorstvom Tomaža Štrucla. Plesno se je izpopolnjevala pri Studiu Intakt in v Plesnem teatru Ljubljana ter v izobraževalnih programih Plesni laboratorij in Agon, bila je štipendistka DanceWEB programa za sodobni ples na Dunaju, leta 2007 pa je bila izbrana v program izobraževanja Atelier Grotowski Inštituta.
Plesni prvenec Hitchockove metamorfoze je ustvarila s skladateljem Mitjem Reichenbergom leta 2001. Z drugim solom Kaprica se je začelo tudi njeno raziskovanje razsežnosti glasu. Na Gibanici – slovenskem bienalu sodobne plesne umetnosti je leta 2009 prejela nagrado za predstavo Kot kaplja dežja v usta molka, leta 2015 pa nagrado za najboljšo predstavo po izboru strokovne komisije in nagrado za najboljšo predstavo po izboru občinstva za Okus tišine vedno odmeva. Samostojno in v sodelovanju je do danes ustvarila več kot deset plesnih in vokalno-gibalnih odrskih predstav.
Sodelovala je tudi z vizualnim umetnikom in kuratorjem Mathieuom Copelandom pri projektu "Une exposition à être lue" v Ženevi (HEAD) in pri projektu "Chorégraphier l'exposition" (Ferme du Buisson, Paris), kjer je prispevala svojo kompozicijo Prazna mesta glasu (Voice's Empty Spaces).
Kot vokalistka in pevka od leta 2006 dalje ustvarja v solo projektu za glas in diktafone imenovan iT, ki mu je sledil prvi solistični album iT: Crying games (2011). Leta 2014 je izdala Okus tišine / Taste of Silence, leta 2019 pa Cmok v grlu. Sodelovala je z Aldom Ivančičem, s katerim je ustvarjala pri Bast Kolektivu in na zgoščenki Retinal Circus in s številnimi glasbeniki in zasedbami: Tomaž Grom, Lee Patterson, Xavier Charles, Christof Kurzmann, Jonas Kocher, Gaudenz Badrutt, Šalter Ensemble, Tim Blechmann, Michael Zerang, Liz Allbee, Alessandra Eramo, Ilia Belorukov, Okkyung Lee, Maja Osojnik, Christian Kesten, Ina Puntar, Dré Hočevar, Matej Bonin idr. Redno vodi delavnice za glas v Ljubljani in v tujini.
Irena Z. Tomažin is a Slovenian performer, choreographer and a voice teacher. The (heart)core of her work is the voice in its various existence. Starting out her dance education from the urge to move and release inner tensions and inspirations, her performance practice has since then shifted towards the investigation around the embodied voice. Her voice work is always physical, connected with body, gesture/dance and space, but at the same time is very oriented towards the sound textures of the voice. Her practice manifests in the form of thoughts, songs, spoken word events and experimental concerts, as well as through directing dance and theatre work. Sometimes it rises from the encounter and collaboration with other artists, other times from being alone, making space for listening to what is outside and inside.
In the last 20 years, next to collaborating with other artists and performing in different dance and theatre productions, Irena has created a series of voice and movement solos, duets and group pieces. As an experimental voice artist Irena is involved in the European scene of improvised music and has ongoing collaborations with some of the world's most renowned sound improvisers. She has released two solo albums Crying Games and Taste of Silence and a duo album Ljubljana-Wien with Christof Kurzmann. Irena is as well a member of the cult electronic-industrial band Borghesia and has released two albums with them: And Man Created God and Proti Kapitulaciji.
As a teacher, Irena shares her work regularly teaching workshops in Europe, having taught in many international festivals and venues in France, Germany, England, Switzerland, Sweden, Belgium, Serbia, Croatia, Macedonia, Italy, Hungary, Poland, Austria, Japan, Lebanon, Iran, Greece, Bosnia, Slovakia, and US.
Manuel Rodrigez: SODOBNI PLES / CONTEMPORARY DANCE, level llI
Delavnica bo potekala v angleščini in zato opisa ne prevajamo. / The workshop is going to be in English.
During the work session in the workshop, an attempt is made to generate a deeper and more personalized perspective of what the body means to each one of us. This process is carried out through guided improvisation sessions where you work with guidelines and tools that work as engines of physical activation. Dissociation takes center stage, as an exercise to achieve greater awareness and perception of the body in space, the physical practices of dissociation allow concentration on the functioning of the body in a more conscious, subtle, and architectural way. One of the objectives of the workshop is to reach a level of unlearning, which will allow us to free ourselves from established patterns and to be able to know ourselves more from our deep spectrum.
Manuel Rodríguez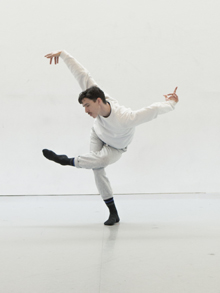 Manuel Rodríguez is a choreographer, performer and visual artist currently based in Barcelona. Born in Úbeda (Andalusia), he studied classical ballet and contemporary dance at the Royal Conservatory of Dance in Madrid and visual arts at "Escuela de Arte número 10" in Madrid.
Currently, he is developing his own work in a multidisciplinary way, his practice proposes a "contemplative catharsis" as an essential tool to reach a profound and honest understanding. He is interested in exploring the limits of the corporeal and on how to create experiences and atmospheres that give an expanded meaning to our perception, both of our body and of the space it inhabits. Throughout his career he has collaborated with companies such as La Veronal, James Thierrée, Carmen Werner, Emmanuel Eggermond and Sharon Fridman, among others.
Manuel has received awards in several choreographic contests such as Burgos-New York, Certamen Coreográfico de Madrid, Copenhagen International Choreography Competition, Gdansk International solo Dance Contest or MasDanza (Canary Islands, Spain). He has been supported by institutions and platforms such as the Instituto Cervantes and Ramon Llull, Fundació Catalunya-La Pedrera, Government of Cataluña, Graner Creation Center, Aerowaves, Acción Cultural Española, Centro Danza Canal, MACBA, Lavanderia a vapore from Torino and Kyoto Art Center in Japan. More: www.manuelrodriguezr.com
April Veselko: FUSION; level I
Delavnica bo potekala v angleščini in slovenščini. / The workshop is going to be in English and Slovenian.
FUSION je preplet večih plesnih tehnik (hip hop/modern/sodobna). Povezali bomo prepoznavne elemente različnih stilov, poiskali njihova stičišča in razlike, ki jih naredijo posebne, ter ustvarjali unikatne koreografije. Klas je namenjen plesalcem, ki bi želeli razširiti svoje znanje ter obzorja in se dodatno izuriti v lastnem slogu.

FUSION is a mixture of dance styles (hip hop/contemporary/modern). We will try to connect distinguishing elements of different techniques, their unique and meeting points and combine them in a choreo.The class is aimed for dancers, who want to broaden their horizons and knowledge and get deeper into creating their own personal dance style.
SODOBNA AKROBATIKA / CONTEMPORARY ACROBATICS; level II – III
April Veselko
Delavnica bo potekala v angleščini in slovenščini. / The workshop is going to be in English and Slovenian.
V klasu SODOBNA AKROBATIKA bomo na organski način postopno po korakih spoznavali talne trike, trike na rokah ter trike v skokih. Klas bomo začeli s primernim ogrevanjem, ki bo temeljilo na kombiniranju fleksibilnosti in moči, potrebnih za varno in pravilno izvajanje akrobacij. Nadaljevali bomo z daljšim setom vaj čez prostor, skozi katere bomo telo postopno postavili iz horizontale v vertikalo, od tal do skokov. Cilj klasa je povezana uporaba naučenih elementov v energični plesni sekvenci po načelih kombiniranja pretočnosti, učinkovitosti in principa "soft and strong". Klas je namenjen naprednim gibalcem s predznanjem.
In CONTEMPORARY ACROBATICS we will organically and step by step get familiar with floor tricks, handstand tricks and jump tricks. We will start the class with appropriate warm up, based on combining flexibility and strength needed for correct and safe execution of acrobatics. We will continue with a longer set of exercises through space, gradually waking up our body from horizontal to vertical, from floorwork to jumps. The aim of class is to connect the learnt tricks into an energetic dance sequence led by the principles of combining fluidity, efficiency and "soft and strong" approach. Class is aimed for advanced movers with previous experiences in dance or/and acrobatics.
April Veselko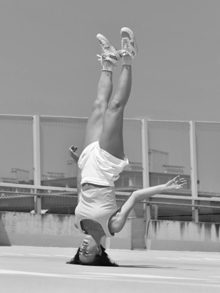 April Veselko je plesalka, koreografinja in plesna pedagoginja. Pričela je s sodobnim plesom na Plesni Izbi Maribor, kasneje pa se spoznala še z drugimi plesnimi zvrstmi (modern, balet, jazz, hip hop/street styles in cabaret). V letu 2016 je zaključila mednarodno izobraževanje Dance's Start Up - Leggere Strutture Art Factory, v Bologni v Italiji, v letu 2018 pa MoDem PRO program pod okriljem kompanije Zappalà Danza v Catanii, Sicilija. Ustvarila je več avtorskih projektov pod produkcijo Zavoda Federacije, KD Center Plesa Maribor in Scenario Pubblico. Kot plesalka je sodelovala z različnimi uveljavljenimi koreografi (Matjaž Farič, Seiffedine Manai, Daniel Conant, Magdalena Reiter, Mattia Gandini, Gioa Maria Morisco, Jure Masten & Katarina Barbara Kavčič, Gregor Luštek, Eduardo Torroja, Barbara Kanc, Tina Valentan, Blenard Azizaj ). April je več let sodelovala tudi na tekmovanju plesnih miniatur OPUS1 in bila kar šestkrat nagrajena z nagrado za najboljšo koreografsko idejo, leta 2017 pa je njena miniatura What does the body dream (Bodi Telo) prejela tudi drugo nagrado na 3...2...1… DANCE! koreografskem tekmovanju v Krakowu na Poljskem in bila izbrana med finaliste koreografskega tekmovanja FKM v Beogradu. Kot plesna pedagoginja April redno deluje od leta 2016. Je članica Tovarishia Dance Company in ŠIK Dance Collective.
April Veselko is a dancer, choreographer and dance teacher. She started with contemporary dance but later got familiar also with other dance styles (modern, ballet, jazz, hip hop/street styles, cabaret). In 2016 she finished Dance's Start Up - Leggere Strutture Art Factory in Bologna, Italy. In 2018 she continued her dance education with MoDem PRO, Zappalà Danza Company in Catania, Sicily. She created several of her own projects under production of Zavod Federacija, KD Center Plesa Maribor, Scenario Pubblico and Plesna iZba Maribor. She worked with established choreographers such as Matjaž Farič, Marko Urbanek, Snježana Premuš, Marttaleena Nikkari, Seiffedine Manai, Daniel Conant, Magdalena Reiter, Mattia Gandini, Gioa Maria Morisco, Gregor Luštek, Eduardo Torroja, Barbara Kanc, Tina Valentan, Blenard Azizaj... As performer/choreographer April was 6 times awarded with the Price for the best choreographic idea in OPUS1, contest for young dance performers in Slovenia. ln 2017 her miniature What does the body dream (Bodi Telo) also received Second Prize on 3...2...1… DANCE! choreographic competition in Krakow, Poland and was in 2019 chosen to be performed in the final round of Choreographic contest FKM in Belgrade. April is a member of Tovarishia Dance Company and one of the organizers, teachers and choreographers for ŠIK Dance Collective.
Žigan Krajnčan: FREESTYLE FUSION DANCE; level II
Maja Kalafatić: JOGA – RADOVEDNO TELO / YOGA – CURIOUS BODY
Delavnica bo potekala v angleščini in slovenščini. / The workshop is going to be in English and Slovenian.
Vsaka ura bo imela svojo tematiko, tako se bomo v petih dneh posvetili kolkom, stoječim asanam, zaklonom, predklonom in inverzijam (obrnjeni položaji). Skozi vaje ozaveščanja, delu v parih in asistenci bomo delali na stabilizaciji telesa, prav tako na odpiranju in krepitvi mišičnega tkiva. Privoščili si bomo tako dinamične sekvence kot poglobljen vpogled v posamezne položaje. Namen vadbe je čimvečja funkcionalnost telesa, urjenje prisotnosti in vzpostavitev pravilnega dihanja.
Each class will have its own theme, so in four days we will focus on the hips, standing asana, backbends, forward bends and inversions (inverted positions). Through awareness-raising exercises, working in pairs and assisting each other we will aim to stabilize the body, as well to open and strengthen muscle tissue. We will enjoy dynamic sequences as well insights into individual positions. The purpose of the classes is to maximize the functionality of the body, train the presence and establish proper breathing.
Maja Kalafatić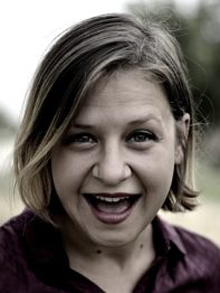 Maja Kalafatić je plesalka, koreografinja, pedagoginja in učiteljica joge, ki živi in ustvarja med Ljubljano in Beogradom. Leta 2006 je diplomirala na SEAD (Salzburški eksperimentalni akademiji za ples) in leta 2015 magistrirala na Hochschule fiir Musik und Tanz, KöIn: HfMT na področju plesne diseminacije. Trenutno je doktorandka na FMK (Fakulteta za medije in komunikacije v Beogradu), na področju transdisciplinarne umetnosti in medijev. Njena doktorska disertacija postavija pod vprašaj koncept veščine v sodobni performativni umetnosti. Njena praksa zdruzuje teoretične in praktične osnove ter vključuje raziskovanje giba, koreografiranje, vodenje delavnic (sodobni ples, somatska praksa, družbena koreografija, aktivizem, joga), ter pisanje o plesu.
Deluje kot samozaposlena v kulturi. Več: http://ski.emanat.si/maja-kalafatic/
Maja Kalafatić is a dancer, choreographer, teacher and yoga teacher who lives and works between Ljubljana and Belgrade. She graduated from SEAD (Salzburg Experimental Academy of Dance) in 2006 and received her master's degree in Hochschule für Musik und Tanz, K6In: HfMT in Dance Dissemination in 2015. She is currently a PhD student at FMK (Faculty of Media and Communication in Belgrade), in the field of transdisciplinary art and media. Her dissertation is problematizing the concept of skill in contemporary performing arts. Her practice combines theoretical and practical grounds and includes movement exploration, choreography, facilitating workshops (contemporary dance, somatic practice, social choreography, activism, yoga), and writing about dance.
She works as a self-employed in the culture. More: http://ski.emanat.si/maja-kalafatic/
Katjuša & Nikola: NINJABILITY: level II
Delavnica bo potekala v angleščini in slovenščini. / The workshop is going to be in English and Slovenian.
Ta delavnica je namenjena popolnemu zavedanju svojega telesa, situacij z drugimi telesi/predmeti in okolice. S tem, ko v tišini izvajate gibe in se zavedate pristajanja in amortizacije, resnično skrbite za svoje sklepe, kosti, vezivno tkivo, mišice in kožo.
SEGMENTI DELAVNICE
Razumevanje telesne motorike
Biti tiho kot mačka (razporeditev teže)
Biti prisoten (med gibanjem)
Suspenzije, pristanki
Igre/raziskovanja s palico
Video: >> link
This workshop is all about being conscious of your body, situation and surroundings completely. Through being silent and aware of the impact/landing and amortization you are really taking care of your joints, bones, connective tissue, muscles and skin.
WORKSHOP SEGMENTS
Understanding body motorics
Being silent as a cat (weight distribution)
Being present while you move
Suspensions, transfers
Games/explorations with stick
Video: >> link
Katjuša Kovačič in Nikola Orešković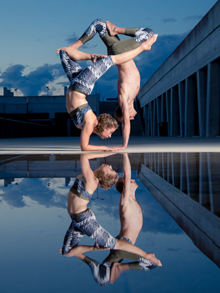 Katjuša Kovačič (SI) je svobodna umetnica, aktivna na področju uprizoritvenih umetnosti in pedagogike. Že od otroštva se ukvarja s sodobnim plesom, kasneje tudi z improviziranim in fizičnim gledališčem. Od leta 2004 je aktivna v uličnem gledališču in cirkusu; diplomirala je na enoletnem intenzivnem programu na Pekinški mednarodni umetniški šoli – oddelek za akrobatiko; in dvoletna šola uličnega gledališča Šugla. Od leta 2006 trenira, poučuje in ustvarja predstave z brazilsko veščino Capoeira. Svoje znanje in izkušnje je združila v edinstven telesni izraz, ki ga skupaj z Oreškovićem deli preko programa Fluid Balance.
Katjuša Kovačič (SI) is a freelance artist, active in the field of performing arts and pedagogy. She started with contemporary dance and later joined improvisation & physical theatre. She has been active in street theatre and circus since 2004; she graduated from the one-year intensive program at Beijing International Art School – department of acrobatics; and the two-year Šugla street theatre school. She has been training, teaching and creating performances with Capoeira since 2006. She fused her knowledge and experience into a unique body expression which she shares through the Fluid Balance program.
Nikola Orešković (HR) je izkušen trener in vsestranski performer. Aktiven je na področju hand-balancing-a, cirkusa, gimnastike in sodobnega plesa. So-ustanovitelj prve hrvaške demo ekipe tricking-a "X-OUT", v 14 letih ukvarjanja s taekwondojem je pridobil črni pas 3. Dan. V brazilski veščini Capoeira je aktiven od leta 2002 – organizira dogodke in poučuje odrasle in otroke. Od leta 2005 dela kot filmski kaskader (Game of Thrones, Hitman's wife's bodyguard) . Pri oblikovanju programa Fluid Balance uporablja ključne elemente različnih veščin, da svojim učencem na širok in razumljiv način prenaša gibalne tehnike.
Nikola Orešković (HR) is an experienced coach and versatile performer. He is active in the fields of hand balancing, circus, gymnastics and contemporary dance. Co-founding member of the first Croatian Martial Arts Tricks demo team "X-OUT". In the 14 years of doing taekwondo, he acquired the third-dan black belt. He has been active in Capoeira since 2002 – teaching adults, children and people with disabilities. Since 2005 he works as a stuntman (Game of Thrones, Hitman's wife's bodyguard). . When designing the Fluid Balance program, he used key elements of these various skills to pass movements to his students in a wide and understandable way.
Vita Osojnik: SODOBNI BALET / CONTEMPORARY BALLET, level ll
Delavnica bo potekala v angleščini in slovenščini. / The workshop is going to be lectured in English and Slovene.
Cel klas Sodobnega baleta se izvaja na sredini prostora. Poudarek je na premiku skozi prostor,elevaciji in dinamiki. Osnovni koraki klasičnega baleta in postavitve telesa se bodo nadgrajeni  anatomsko kompozicijsko in muzikalično. Izdaten fokus bo namenjen tudi koordinaciji dela rok in nog. Poudarek bo na ozaveščanju, ki naj ne bodo zgolj nek estetski dodatek,ampak pomemben del kvalitetne izvedbe posamičnega plesnega premika.
Klas je primeren za širok spekter plesalcev iz različnih plesnih zvrsti.
Vita Osojnik: SODOBNI PLES / CONTEMPORARY DANCE, level III
Klasi sodobne plesne tehnike zajemajo intenzivno fizično pripravo telesa, raziskovanje svojega gibalnega aparata in širjenje lastnega gibalnega materiala z rabo različnih gibalnih poligonov kot recimo »one minute show«, kjer vsaka naloga traja eno minuto. Uči te relativnosti časa, napora, doziranje energije, izrabe moči, razporejanja kapacitet. V nadaljevanju raziskujemo vloge vodje,sledilcev, notranjih in zunanjih koreografov. Kasneje se podamo v vertikalno tehniko v krogu v smislu rituala in vsak klas zaključimo s krajšo kompozicijo s poudarkom na organizaciji in orientaciji telesa.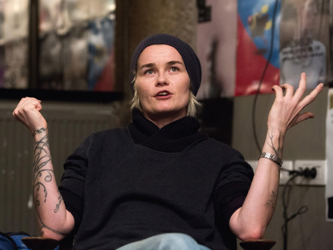 Vita Osojnik je samozaposlena v kulturi, opravlja specializiran poklic plesalke,koreografinje,plesne pedagoginje in ulične umetnice. Maturirala je na Gimnaziji Kranj,svojo drugo maturo pa opravila tudi na Srednji glasbeni in baletni šoli na smeri Balet. Zaključila je študij sodobnega plesa in koreografije na Salzburg Experimental Academy of Dance. V okviru redne zaposlitve na Umetniški gimnaziji v Ljubljani pa je kasneje zaključila še pedagoško andragoško izobraževanje in strokovni izpit za učitelje.
Pedagoško in mentorsko delo opravlja v okviru plesne akademije Alma Mater Europaea-Akademija za ples, plesnega društva Qulenium v Kranju, v okviru Šugle (Šola uličnega gledališča),v okviru Praktikuma (SVŠGUGL), občasno poučuje v okviru programa Bitnamun, pa v Centru plesa v Mariboru, na Poletni plesni šoli v Ljubljani, na Toscana Dance Hub v Firencah itd…Je gostujoča profesorica na Salzbug Experimental Academy of Dance, kjer uči na rednem programu in v okviru delavnic MoveMentors,ki služijo kot plesne delavnice in hkrati priprave na avdicije. Oktobra 2015 je bila kot koreografinja in pedagoginja povabljena s strani dekana Tisch School of Arts (Broadway,New York) na rezidenco in delo z njihovo skupino študentov na podiplomskem študiju. Je avtorica številnih plesnih predstav (Nosila sem tuje otroke, Zlahka nosim svojo lastno težo, Del mene je narejen iz stekla, Cinični morilci lastne matere, Prodiranje vanjo je zanj,…) in soustvarjalka predstav ( Sen plesne noči, Manada, Danes zadnjikrat,…).
Septembra 2019 je na povabilo Dantzaz  v St Sebastianu ustvarila novo koregrafsko delo Hombre masa,katere ponovitve še trajajo. Trenutno je v vlogi koreografinje projekta Začasno zadržana telesa v Plesnem teatru Ljubljana.
GRAHAM TECHNIQUE, level II
William Charles Crowley
Delavnica bo potekala v angleščini in zato opisa ne prevajamo. / The workshop is going to be in English.
The Master Class introduces students to the Graham Technique, its basic principle of "contraction and release", and the beneficial knowledge that comes from the awareness of one's own center and core strength. The structure of the class is composed of floor work, standing center work, and traveling exercises. Students will also be exposed to learning phrases of original choreography.
GRAHAM TECHNIQUE, level III
William Charles Crowley
Delavnica bo potekala v angleščini in zato opisa ne prevajamo. / The workshop is going to be in English.
The Master Class introduces students to the Graham Technique, its basic principle of "contraction and release", and the beneficial knowledge that comes from the awareness of one's own center and core strength. The structure of the class is composed of floor work, standing center work, and traveling exercises. Students will also be exposed to learning phrases of original choreography.
William Charles Crowley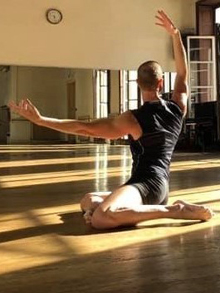 William Charles Crowley received his MFA in Dance from the University of Michigan. He received additional dance training while on scholarship at the Martha Graham School of Contemporary Dance in NYC. Early in his dance career, under the direction of Peter Sparling, William had the distinct honor of performing the title role in Martha Graham's 1940 masterwork, El Penitente. In March 2012, he attended the Graham Technique Refresher Course in NYC, where 25 instructors from the United States, England, France, and Greece came together to analyze, discuss, and debate how to best preserve the Graham Technique for future generations. Currently, William teaches throughout the United States, Caribbean, and Europe, including Belgium, Croatia, England, France, Portugal, and Spain.
VOGUING – SISSY THE WALK, level II
Sebastjan Geč
Delavnica bo potekala v angleščini in slovenščini. / The workshop is going to be in English and Slovenian.
VOGUING 1 Sissy that walk V tej delavnici Voguinga se bomo vrinili v začetke ballrooma. Kako je nastala voguing scena v New york-u od koder je njeno izrazoslovje in kaj pomenijo kategorije na Ball-u. Osredotočili se bomo na runway in njene različice. European runway, american runway in All American runway. Hoja po barveh in modne revije so le inspiracija za tako imenovani ballroom runway. Predznaje ni pomebno, je pa možno prinesti s seboj visoke petke in pa odnos do sebe.
VOGUING – VOGUE FEM EXTRAVAGANZA, level III
Sebastjan Geč
Delavnica bo potekala v angleščini in slovenščini. / The workshop is going to be in English and Slovenian.
VOGUING 2 Vogue Fem extravaganza V tej delovnici se bomo spoznali z vogue fem kategorijo katera je oprta za vse kateri si želijo spoznati svojo nortranjo žensko. Ta vrsta plesa je bila sprva odprta za moške, kateri so si želeli svoje lastne kategorije v katerem si lahko pokazali svoje ženstvene vrline in ji dali barvo. V tej delavnici bomo spoznali vseh pet elementov Vogue Fem-a. Duck walk, hands, cat walk. dips in spinov. Tudi na tej delavnici lahko prinesete tudi petke. p.
Sebastjan Geč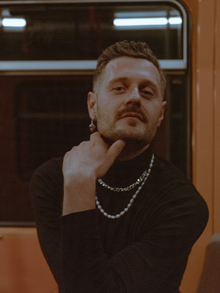 Sebastijan Geč je sodobni plesalec in koreograf in ima dolgo plesno zgodovino za seboj. Živi in dela na Dunaju od koder je spoznal vogue tehniko in njeno subkulturo. Svojo plesno izobrazbo je pričel pri Plesni izbi v Mariboru od koder je kasneje nadaljeval na SEAD-u v Salzburgu. V svojem repertoarju ima veliko znanja od kontakt-improvizacije do yoge, sodobne plesne tehnike, performance, drag in seveda voguing. Tako se je leta 2009 pridružil kompaniji Cie. Willi Dorner s katero je nastopal po vsem svetu. 2012 je sodeloval z Jerome Bél-om na Dunaju v predstavi The show must go on. Zadnja leta pa sodeluje z priznano kongoleško koreografinjo Elisabeth Bakambamba Tambwe. Svoje lastne koreografske dosežke pa je dokazoval na festivalu Gibanica 2015 in na Platformi istega leta. Zadnja leti se je odločil igrati v umetniških filmih in celovečercih. Zadnji film The mask of Schwarz Löwenbergs v katerem igra, je premiero doživel na Dunaju marca tege leta. Njegovo življenje je polno preobratov v iskanju tistih momentov na katere se lahko vedno spominjamo. Tako ni presenečenje, da se je leta 2015 pridružil, takrat prvič nastali voguing družini Kiki house of Vivi´s. Ta ista skupina je bila prva v Avstriji, katera se je poistovetila z ballroomom in tako je leta kasneje postavila na noge, kar danes imenujemo Voguing scena na Dunaju. Voguing je stil življenja v katerem poizkušaš najti sebe, svojo pravo podobo in ne tisto katera ti je bila dana. Izraz je življenje.
CONTACT IMPRO WORKSHOP - Conversations with the floor into the unknown (Dance in the city); level II
Angela-Mara Florant
Delavnica bo potekala v angleščini in zato opisa ne prevajamo. / The workshop is going to be in English.
In Contact Improvisation we spend a lot of time close to the floor. What possibilities open up when we carefully listen to what the floor has to say to us? If we get really gentle and cozy with the floor it will open up to us its warm, soft and supporting self. Can we experience the floor as a partner moving us? When we get in touch with a human partner, how can we retain our awareness of the floor?
In a second phase we will discover the pelvis as a central, intimate, strong, stable and flexible body part. It holds and protects organs, is directly connected to the spine and is the link between the torso and the legs.
We will experiment with the special roll the pelvis plays in Contact Improvisation. As an over-dancer and as an under-dancer we constantly rely on our pelvis. It helps us to create supporting surfaces for lifts, allows us to change levels, helps us to hold our balance, lets us fall... and can be smoothly led. A minimal pivot of the pelvis can send the dance in a completely new direction – over and over again surprising and leading us through space.
From there we will go into the unknown. Leaving your comfort zone, discovering something new. The unknown is often that which we cannot see that which is not in our field of vision. Sometimes it is the space behind us, or the "backspace". In this class we will explore the backspace. Going backwards. Activating and bringing attention to our back side, letting our backs lead us into movement.
Following the back side, losing our sense of orientation, getting lost, letting go of the need to control. Finding comfort in discomfort. Trusting ourselves, trusting our partner/s.
Relaxing into backspace! Opening up for our performance mind!
Angela-Mara Florant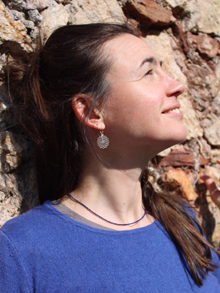 Angela-Mara Florant had her first experience with CI during her performance arts studies in Besançon, France. In 2005 she moved to Hamburg. She teaches several regular contact classes, gives workshops and organizes jams and festivals (NORDTANZ Festival). Since 2015, she is co- director of the dance studio "Triade" in Hamburg. When Angela-Mara is not dancing or teaching contact she is teaching Pilates, directing independent theater productions, choreographing dance pieces (mostly based on CI). Recently, with eight other dancers and one musician, she created the Contact Company, a dance company dedicated to pure Contact dance. More: www.angelamaraflorant.de
Ivan Mijačević: TERPSIHORINA SONICA - RITEM ZVOČNOSTI PLESA / RHYTHM OF SOUNDANCE
Delavnica bo potekala v angleščini in slovenščini. / The workshop is going to be in English and Slovenian.
Delavnica Ritem zvočnosti plesa z zornega kota plesne umetnosti podaja vpogled v glasbeno razumevanje ritma. Razvija muzikaličnost gibalnosti ter je primerna za začetnike in poznavalce vseh plesnih zvrsti. Delavnica razišče dve izhodišči glasbene teorije ritma. Metrum ter mikro- in makrostrukturalnost kompozicije.
Izkustvo nas bo peljalo v razumevanje skupka odnosov periodičnosti, pulza, tempa in poudarkov ter v razumevanje načinov povezovanja pomenov ritma v glasbi pri ustvarjanju, izvajanju in doživljanju plesne kompozicije.
V glasbi bomo opazovali parametre zvoka – trajanje, amplituda, višina, harmonski profil. V plesu, parametre gibanja – telo, prostor, čas, teža, tok. Ugotavljali bomo razmerja med njimi.
Uporabljali bomo strukturirano improvizacijo, somatske, slušne in koreografske naloge, krajše plesne fraze, predavanje in pogovor.
Poglobili bomo razumevanje glasbe. Vzpostavili bomo uplesane dramaturgije ritma. 
Prav nam bo prišla oprema za plesanje in pisanje.
Ivan Mijačević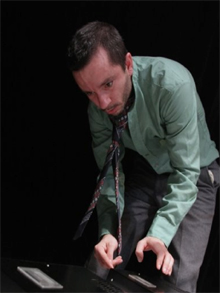 Ivan Mijačević (*Ptuj, 1979) je ustvarjalec in pedagog na področjih plesne in glasbene umetnosti. Študiral je glasbeno pedagogiko na Pedagoški fakulteti v Mariboru ter koreografijo in plesni nastop na SEAD-u v Salzburgu. Na Univerzi za glasbo in ples Köln je magistriral iz diseminacije plesa v sodobnem kontekstu. Njegova dela so bila predstavljena in nagrajevana v Evropi, Amerikah in Aziji.
V minulih dvajsetih letih je poučeval odnos glasbe in plesa, med drugimi doma na Akademiji za ples v Ljubljani in Mariboru, AGRFT Ljubljana, Carmini Slovenici, ZPŠ Maribor, SVŠGUGL – plesni praktikum in III. gimnaziji Maribor ter v tujini na Univerzi za glasbo in uprizoritvene umetnosti Frankfurt na Majni, Univerzi za glasbo in ples Köln, Akademiji za glasbo in ples Jeruzalem, SNDO Amsterdam, SEAD, Nacionalni akademiji za ples v Rimu, Performact Torres Vedras, Tanzfabrik Berlin, Drama Teatro Modena, Yasmeen Godder Studio Tel Aviv-Yafo ter WDSF – svetovni plesni športni zvezi.
V svojem umetniškem in pedagoškem delu se poslužuje holističnih in integrativnih pristopov za razumevanje tehnologij raziskovanja in ustvarjanja. Facilitira polnomočenje in emancipacijo v procesih odločanja ter dekolonizacijo domišljije. Pogosto ustvarja skupinska, transdisciplinarna dela, ki se igrajo na ločnicah življenja in umetnosti.
Ivan Mijačević (*1979, Ptuj), is a maker, performer and educator in the fields of dance and music. He holds an MA in dance dissemination from the Academy of Music and Dance Cologne, and has studied dance performance and choreography at SEAD and music pedagogy at the University of Maribor. His work with art-collectives and theatre companies has been presented and awarded throughout Europe, Central and South Americas and in Asia.
Beginning early 2000's, he has developed a system of education for training dance artists in the fundamentals of music theory through somatic movement improvisation and composition, Terpsichorean Sonics. Terpsichorean Sonics has been disseminated at academies, schools and studios, including SEAD Salzburg, SNDO Amsterdam, National Dance Academy Rome, Alma Mater Europaea – ECM Maribor, Performact Torres Vedras, Tanzfabrik Berlin, Academy of Music and Dance Cologne, Jerusalem Academy of Music and Dance, Frankfurt University of Music and Performing Arts, Zagreb Academy of Dramatic Art, AGRFT Ljubljana, Drama Teatro Modena, Carmina Slovenica Maribor and World DanceSport Federation.
His artistic and pedagogic work takes a wholistic, integrative approach to technology/ies, as research permeates production, facilitating increased autonomy in decision-making processes with an emphasis on decolonising the imagination.
CONTACT IMPRO WORKSHOP - All that Space (Dance in the city), level I
Vladimira Šančić & Nina Radovanović
Delavnica bo potekala v angleščini in zato opisa ne prevajamo. / The workshop is going to be in English.
During this workshop, we will try to find the focus traveling from the spaces inside of our skin through the space surrounding our physical body all the way to the space that we are creating while we are dancing. With this awareness, we will taste the basic principles of contact improvisation, sharing the weight, listening, softness, responsibility, and acting with a mind free from intention.
With the idea that everything is constantly moving, inside of us and around us, we will play with contact improvisation principles mostly moving through the space, allowing the movement to emerge naturally. How can we move through the space and can we move the space itself? We will explore the idea of the space being spherical. Can we forget what is up and what is down? Can we imagine that gravity works in every direction?
We will offer some technical tools for dancing in couples and open the space and time for researching the idea of constant movement believing that our body will find the most efficient way to continue. We will explore the movement that will emerge out of it. We will put the intention on the uniqueness of each dance and the connections that different bodies create together in space.
Vladimira Šančić in Nina Radovanović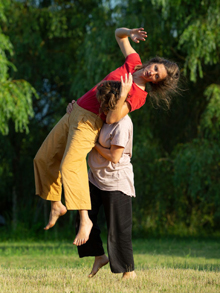 Vladimira Šančić continuously participates in various educational platforms and performances related to contemporary dance since 2008. After an introduction to contact improvisation in 2015, discovers more about herself and her surroundings.
Considers contact improvisation as the core of her work and continuously educates herself through various workshops, festivals, and events. In 2018 starts working as a teacher and organizer of CI-related events with an intention to spread interest and further expand the CI community in Croatia.
Nina Radovanović has been practicing various forms of movement throughout her life, but contact improvisation has allowed her to observe her mind-body connection in a totally new way. Her path goes and also flows back from the internal practices of yoga and meditation to diverse bodywork techniques from Asia to Europe to finally rediscover her essence in water. She is also an Aguahara practitioner and water dancer. She is also very much involved in organizations of various events, such as jams, workshops, CI camps in Serbia and Croatia.
Vladi and Nina met three years ago and since then haven't stopped dancing together and collaborating on different projects. They organize together a summer CI Camp in Istria, Croatia and they work on strengthening connections between Serbian and Croatian CI Communities.
LYUDMYLA RUBLYOVA – baletna korepetitorka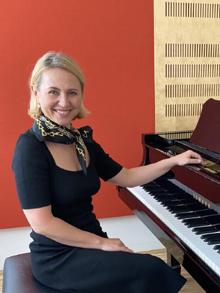 Lyudmyla Rublyova se je rodila v malem obmorskem mestu Berdynsk v Ukraini. Svoje glasbeno izobraževanje je pričela vzporedno s poukom klasičnega baleta, kasneje pa se je odločila za glasbeno pot kot pianistka, vendar ji je baletna dvorana za vedno pustila svoj čarobni pečat.
Srednjo glasbeno šolo je končala v Zaporožju, diplomirala je na Harkovski državni akademiji za umetnost I.P.Kotlarevski pri svetovno znani profesorici Nini Kazimirovi.
V Sloveniji živi od leta 2001 in je svojo strokovno pot nadaljevala na podiplomskem študiju na Akademiji za glasbo v Ljubljani, ki jo je končala v razredu pri prof.Tatjani Ognjanovič leta 2006.
Od leta 2008 je zaposlena na Konservatoriju za glasbo in balet v Ljubljani kot profesorica klavirja in baletna korepetitorka. Tako po dolgih letih v baletni dvorani ponovno združuje pianistične možnosti in izraznost plesnega giba.
Poleg rednega dela svoje znanje nadgrajuje v sodelovanju z različnimi domačimi in tujimi baletnimi pedagogi KGBL-ja, SNG Opere in balet Ljubljana ter na seminarjih združenja EPTA, katere članica je. 
SONJA BAJC – baletna korepetitorka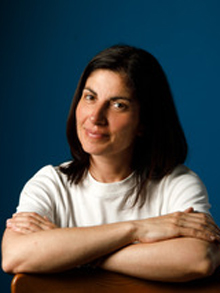 Sonja Bajc je svojo glasbeno pot začela na glasbeni šoli v Ajdovščini. Z učenjem klavirja je nadaljevala na Srednji glasbeni in baletni šoli v Ljubljani pri prof. Alenki Dekleva in diplomirala na Akademiji za glasbo v Ljubljani v razredu prof. Dubravke Tomšič - Srebotnjak.
V času študija je veliko nastopala tako solistično kot v komornih skupinah. S Klavirskim triom so v organizaciji Glasbene mladine oder (2000) izvedli turnejo po Sloveniji, kot nagrajenci tekmovanja Vladimir Lovec - Ivan Šček (2001) pa so izvedli in arhivsko posneli koncert v okviru Festivala Ljubljana.
Kot solistka se je vsako leto predstavila na recitalih po vsej Sloveniji, med katerimi sta izstopala koncerta na Dvorcu Zemono (1998 in 2002).
Po enoletnem potovanju po Južni in Srednji Ameriki se je zaposlila na Srednji glasbeni in baletni šoli v Ljubljani (zdajšnji Konservatorij za glasbo in balet Ljubljana). Tu je zaposlena od leta 2003 kot baletna korepetitorka in učiteljica klavirja za  dopolnilni predmet klavir. Pred kratkim je s svojimi klavirskimi spremljavami na maturo pospremila generacijo mladih plesalk iz razreda prof. Nine Ogrinc.
Kot baletna korepetitorka sodeluje tudi z Akademijo za ples, Alma Mater Europaea na predavanjih predmeta Metodika baletnega pouka pri prof. Melindi Szitt z Madžarske plesne univerze iz Budimpešte.
Zadnja leta redno sodeluje kot baletna korepetitorka V SNG Opera in balet Ljubljana z mnogimi stalnimi mentorji (Renato Zanella, Leonid Kouznetsov, Petar Đorčevski, Claudia Sovre) in številnimi gostujočimi mentorji (Leo Mujić, Denis Matvienko, Yannick Boquin, Francesco Vantaggio, Juhani Teräsvuori in drugi).
Občasno sodeluje tudi kot baletna korepetitorka na Višji baletni šoli v Ljubljani.
I - BASIC: plesno predznanje ni potrebno / dance knowledge is not necessary
II - INTERMEDIATE: osnovno plesno znanje potrebno / basic dance skills are necessary
III - ADVANCED: visok nivo plesnega znanja / high level of dance knowledge
Nivo I je priporočljiv za začetnike in plesalce do 14 let. Za nivo ll je najnižja starost 15 let, za nivo III pa 18 let. Kjer nivo ni naveden, ni omejitev.