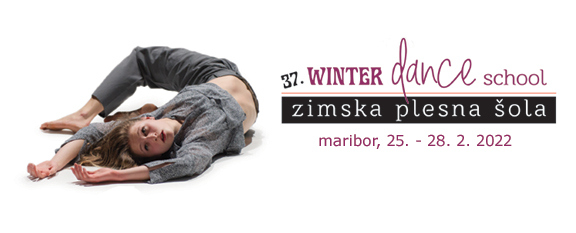 The 37th Winter Dance School in Maribor
Maribor, 25 - 28 February 2022
ACCOMPANYING PROGRAM
Iincludes dance performances, organized by Plesna Izba Maribor.
Monday, February 28, 2022:
at 8 pm – Minorite Church: April Veselko, Falling in love
at 8.40 pm – Maribor Puppet Theatre: Dance collective Š.I.K. PIM, WHERE DID YOU SCATTER THE SECONDS?
More on: www.zimskaplesnasola.si/accompanying_program
---
Minorite Church, at 8 pm
April Veselko, FALLING IN LOVE
Author and dance performer: April Veselko
Music: Joran Teraš – WRONG1DEA, April Veselko
Produced by: Plesna Izba Maribor
Duration: 20 min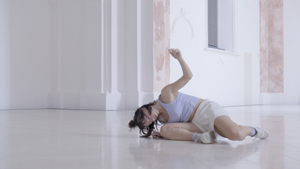 photo: Matic Ačko
The performance deals with different movement approaches to falling. Falling symbolizes trust, commitment, vulnerability, risk. How to connect the theme of love and interpersonal relationships with the concrete phenomenon of falling. The term 'falling in love' beautifully describes infatuation. It's an intertwining of the physical feeling with the abstract concept of human emotion. Through movement research, the author focuses on the contrast between falling as collapsing and falling as surrendering. Falling and falling in love is an act we allow to happen and then gets out of control.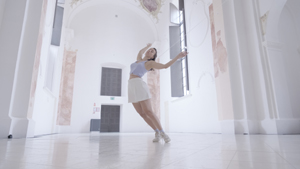 photo: Matic Ačko
April Veselko is a dancer, choreographer, and dance pedagogue. She completed her Dance's Start-Up training at the Leggere Strutture Art Factory in Bologna (Italy) in 2016 and MoDem PRO under the patronage of Zappalà Danza in Catania (Sicily) in 2018. She has created several authorial projects under the production of the Federation Institute (Dvomine in 2010, Ostro in Slano in 2012, Fleš in 2017), Cultural Society Dance Centre Maribor (Breze in 2018), and Scenario Pubblico (Dream Room in 2018). She has collaborated with internationally renowned choreographers (Matjaž Farič, Seiffedine Manai, Daniel Conant, Magdalena Reiter, Mattia Gandini, Gioa Maria Morisco, Gregor Luštek, Eduardo Torroja, Barbara Kanc). April was awarded the best choreographic idea award six times at the OPUS1 competition and received the second prize at 3... 2... 1... DANCE! with her dance miniature What the Body Dreams (Be a Body) in a 2017 choreographic competition in Krakow, Poland. In 2019 she also qualified for the finals of the FKM choreographic competition in Belgrade.
---
Maribor Puppet Theatre, at 8.40 pm
Dance collective Š.I.K., WHERE DID YOU SCATTER THE SECONDS?
Choreography, concept and performance: Vanja Kolanovič, Jasha Robnik, Anja Spasovski, Nadja Spasovski, Vita Trantura and Nika Zidar
Video: Eva Leber
Music production: Vanja Kolanovič and Nadja Spasovski
Props: Peter Horvat
Costume design: Renata Medvešek
Graphic design: Nika Zidar
Help with dramaturgy: Mojca Kasjak
Special thanks to: April Veselko
Produced by: Plesna Izba Maribor
Supported by: Republic of Slovenia Public Fund for Cultural Activities and the Municipality of Maribor
Duration: 50 min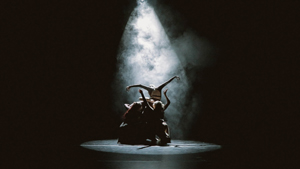 photo: Eva Leber
WHERE DID YOU SCATTER THE SECONDS?
The hands of a clock are always moving at a constant speed, yet I am passing faster than you. Are you able to stop me? I cannot escape from you; I cannot catch you. You are the present, moving along the attenuated boundary line that is being built by the past from one end and demolished by the future from the other. And where are we then? Where are our seconds? We are trapped in a moment. Ruthlessly wedged between the past and the present. Determined to escape despite our heavy feet. Burdened by our worries, but hopeful for there is a promise of someday obtaining the moments, which have been slipping through our fingers continuously. And where will we be until then? We'll be looking for seconds that we have strewn along the way.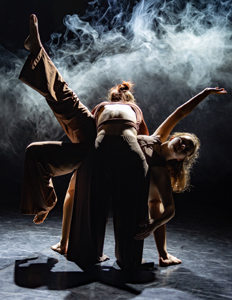 photo: Eva Leber
---

Tickets:
– for the participants of the Winter Dance School (ZPŠ): entry with the ZPŠ card – free of charge
– others: 5 €