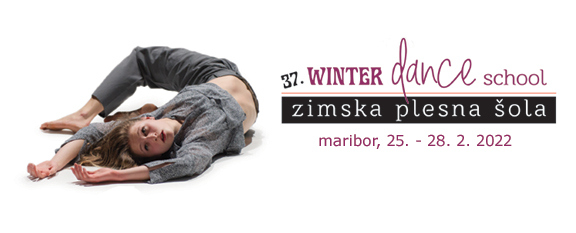 The 37th Winter Dance School in Maribor
Maribor, 25 - 28 February 2022
WORKSHOPS AND TEACHERS
CONTEMPORARY BALLET I & II – TINA (MARTINA) DOBAJ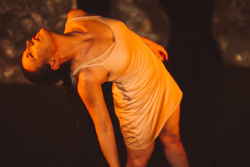 CONTEMPORARY BALLET I & II
Tina's contemporary ballet is a combination of stylized classical ballet with the softness of modern dance, different dynamics, power, sharpness, and volume of movement.
Contemporary ballet is a workshop tailored to the needs of the contemporary dancer and looks for parallels to the mechanisms in contemporary dance directions. The introductory part includes Pilates and floor barre exercises. The bar exercises are set through the understanding and proper use of anatomy (body placement) through ballet exercises, foot use, and extensions. Middle exercises cover coordination, transitions, space integration, and elevation dynamics. The final part is followed by exercises for strength and stabilization of the body on the ground.
Contemporary ballet is suitable for all dancers, with more and less dance experience.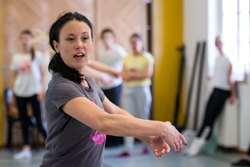 photo: Saša Huzjak
TINA (MARTINA) DOBAJ, dancer, choreographer, dance pedagogue, graduated from the renowned dance academy P.A.R.T.S. in Brussels. After finishing her studies she was accepted into the professional group ROSAS led by the famous Belgian choreographer Anne Teresa De Keersmaeker for the performance Drumming, soon followed by the engagement in the performance The Vile Parody of Address by the choreographer William Forsythe.
After her return to Slovenia, she began teaching professional classes in Ljubljana and at the National Theatre in Maribor, while keeping in touch with Brussels, leading different trainings and workshops there. She also taught at the High School for contemporary dance - SVŠGL in Ljubljana, where she also works today as a contemporary dance and ballet teacher. She was also involved in the preparation of the dance curriculum for the art college in Ljubljana.
Since 2014 she also worked as a pedagogue and choreographer at high school Ptuj, where she helped establish the »Musical« department. She received two national dance awards called "Povodni mož" for her debutant choreography piece »Cesta« (»The Road«) and München festival award for her author piece Geiko (2004), followed by two more shows produced by Flota production - Ring in Kore wa tada no sen desu (2006 in 2007). Tina also collaborated with the renowned Slovene choir leader and conductor Karmina Šilec, producing very successful (and often-copied) choir choreographies for Carmina Slovenica's performances of Adiemus (2003) and CS LIGHT (2007). She collaborated with Slovene dancer Gregor Kamnikar in two very creative dance pieces "Odprto od do" and "Kapital". The latter was invited to the Brisbane festival in Australia (2011), where they led workshops at Queensland University and integrated students into the show.
In April 2013 she taught classes at New Jersey-based dance school MADLOM of choreographer Maja Milenović Workman, with whom she later collaborated as a dancer in her piece "Namišljena resnica - Virtual truth" premiered in September 2013 at »Stara elektrarna« in Ljubljana. In the same year, she also collaborated in improvisation projects in New York, performing with jazz legends Reggie Workman and Ken Vandermark, under the direction of Maja Milenovič Workman.
Since February 2014 she created performances as LaMuG-Zi performance collective, joined by a musician Andrej Hrvatin. Tina now teaches her classes with corepetitor Andrej Hrvatin in Slovenia and abroad.
In 2016, she carried out the project M - Touch in the production of the Federation and Silhouette with the financial assistance of the Municipality of Maribor in the Minority Church. She presented her work also in Choreographic international collaboration in Udine in 2018 and get a prize for the choreography Silhouette. She taught Einstein the Yoseida Shiatsu
Tina is also trained in Shaolin and Wudan Kung fu and she is teaching Qi gong and she works also as a shiatsu therapist.
Tina is holding professional classes at the National Ballet Company in Theatres in Slovenia, Austria, and Croatia and she teaches also contemporary technics at the Conservatory of Ballet in Maribor at the moment.
IYENGAR YOGA – NEŽA POLH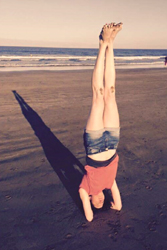 IYENGAR JOGA
Yoga helps us to overcome our physical and emotional changes, develops a healthy mind, self-discipline, and concentration. People who practice it, overcome stress easier, are more focused, have a better balance of hormones, and a stronger immune system.
Yoga, following the example of BKS Iyengar, develops strength, endurance, coordination, body alignment, flexibility, leads to greater perseverance, better concentration, etc. This yoga method is known for its accuracy and the importance of the sequence of poses.
The practice has a positive influence on health, body capability, and stability of our minds. It is good for everyone regardless of physical capability, experience or age.
With regular practice, we give more attention to our body and also our life, because we balance our 5 layers of existence (physical, mental, emotional, spiritual, energetic).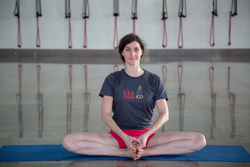 NEŽA POLH is an internationally certified teacher of Iyengar yoga and Tao Face yoga.
I have been researching human nature, soul, and body since I was a child. I love life, the meaning of which, in my opinion, is a return to oneself. Yoga helps on this path of revelation.
I started to research body movement with dance in music and ballet school. I continued with modern dance, yoga, and many travels around the world.
I was strongly influenced by my grandmother, a renowned pediatrician, Eva Lovše, who had a strong compassion for people, especially children. I had the opportunity to gain many experiences with alternative medicine and self-healing while studying architecture in Vienna. I participated in many international courses and workshops of self-healing and spiritual strength around Europe and India (Ramamani Iyengar Memorial Yoga Institute, BKS Iyengar in Pune, BKS Iyengar Yoga Center, and Trust Bellur), led by the descendants of BKS Iyengar and other world-renowned teachers of Iyengar yoga.
In 2018 I joined the school of Savina Atai. In 2020 I gained the international certificate for teaching Tao Face Yoga and Tao Woman Lifting.
With the practice of Iyengar yoga, which I have been doing intensively for the last ten years, I have raised the quality of my life to a higher level.
CONTEMPORARY DANCE I & II »ZERO SPACE« – BENO NOVAK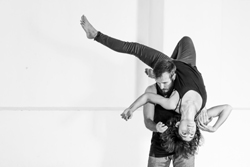 CONTEMPORARY DANCE I & II »ZERO SPACE«
"Zero Space" is a movement/dance practice developed around combining different ideas and techniques to harness the body's energy and use it to its full potential.
My technique is designed to help the dancers learn how to harvest the energy created by consciously directing and counter directing parts of the body through space, as well as in relation towards the floor, helping them to travel bigger through space and to be quicker in and out of the floor. In the workshop, I often alter the same ideas into partnering and contact improvisation.
The basic concept of my teaching is how to transpose the ideas that we as dancers apply while being vertical and use them when we go into the floor. How to maintain your axis and the counter-directed energy as well as how to train other parts of the body to be as useful and as adaptive as the soles of our feet.
The workshop is a combination of movement exploration, learning of principles and moves, improvisation, and learning dance phrases.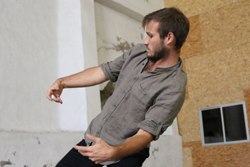 BENO NOVAK is a professional contemporary dancer and co-founder of KUD Qulenium Ljubljana. In 2016, he graduated from the Salzburg Experimental Academy of Dance (SEAD) in contemporary dance and performance. Because of his success, he was later invited to upgrade his knowledge at the Tisch Dance Department (New York University) and The Place Dance Academy (London). From 2017 onwards, he regularly dances within major companies around the world such as Gary Clarke Company, Jason Mabana Dance, James Wilton Dance Company, etc. In addition to dancing, he actively participates in the organization and implementation of the Kaleidoscope Festival Kranj and Ljubljana and the contemporary dance festival Summer Intensive Portugal. In addition to working within international dance companies, he has also been working as a creator for many years, mostly within his company Qulenium.
FOLLOW THE FLOW I & II – URŠA RUPNIK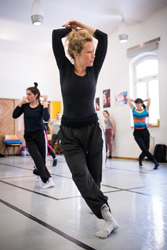 photo: Saša Huzjak
FOLLOW THE FLOW I & II
Urša is teaching a synthesis of contemporary and modern dance techniques, enriched with her own dance experiences and movement principles. Her work is mostly based on nearly ten years of experience as an assistant of a prominent dancer, choreographer, and dance pedagogue Joe Alegado (USA). His method – Alegado Movement Language – is characterized by the use of hands as inspiration and initiation of a movement language, which searches to connect with energy sources within the body as it projects outward into space.
Urša starts her classes with a simple, but dynamic warm-up of an entire body through somatic work in couples, groups, or individually. The warm-up is followed by structured floor work, locomotor phrases within the vertical line, and spatial combinations, which are upgraded into a final dance composition or choreography.
The focus of Urša's classes is on positioning and movement of the spine and the complexity of hands, arms, legs, and torso coordination. She pays close attention to the softness and fluidity of the movement, fluid transitions between the vertical and horizontal levels, and expressive interpretation of dance material. In this workshop, Urša invites you to catch a wave of fluidity and set out on a dynamic journey through space and time.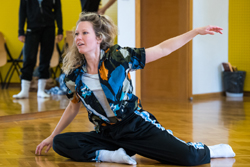 photo: Saša Huzjak
URŠA RUPNIK has a B.Sc. degree in Cultural Studies and a B.A. degree in Dance and Choreography. As a freelance dancer, she collaborates with prominent Slovenian choreographers (eg. Rosana Hribar, Gregor Luštek, Matjaž Farič, Maša Kagao Knez ...) and other artists. As a member of dance collective Frankies (Benko-Jamnikar-Križič-Rupnik), she works on mostly site-specific based dance projects and her own dance performances. Recently, she has collaborated with Liza Šimenc in their latest project Medusa, which has been presented to the audience in Belgrade – Serbia, Berlin – Germany, Ljubljana – Slovenia, and Tübingen – Germany and is an ongoing project.
For the last decade, she has been working as a workshop and choreography assistant to the prominent American dancer, choreographer, and pedagogue Joe Alegado (also at Vienna International Dance Festival ImPulsTanz from 2011 on) and has been a member of Jalegado Dance Company, based in Prague – Czech Republic. Based on the method Shifting Roots – Alegado Movement Language, she teaches classes, lectures, and workshops in Slovenia and abroad (Croatia, Austria, Serbia, North Macedonia ...). Urša is an artistic director of Ursus Dancers collective, based in Ljubljana – Slovenia. As a choreographer and dance pedagogue, she collaborates with the University of Ljubljana – Faculty of Education, Conservatory of Music and Ballet Ljubljana – Ballet College, Alma Mater Europaea – Academy of Dance Ljubljana, recently she has been a guest professor at Belgrade Dance Institute in Serbia and Ss. Cyril and Methodius University in Skopje, North Macedonia.
She is the recipient of the Meta Vidmar Charter (2012), awarded by the Public Fund of the Republic of Slovenia for achievements in the field of contemporary dance art, and the recipient of the Silver Award of the Association of Cultural Societies Ljubljana (2019) for outstanding contribution in the field of contemporary dance.
CONTEMPORARY DANCE CLASS II & WORKSHOP: CONTACT AND PARTNERING (2 hours)
– ANAMARIA KLAJNŠČEK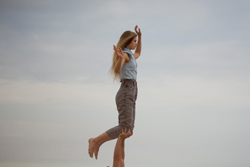 photo: Nora Baylach
CONTEMPORARY DANCE CLASS II
The class will be a combination of floorwork contemporary dance technique and guided improvisation. We will go through different articulations in which we will aim for an effective motion, using the least effort needed. Our focus will be on the notion of suspense and release, action and reaction–chain effect. The emphasis will be on the fluidity of movement, how we transfer from one situation to another throughout shorter and longer phrases. We will build a body, which is wholesome and aware, strong and yet also soft. Through clear tasks of guided improvisation, we will research our articulated body and try to connect different more or less distant parts of ourselves.
WORKSHOP: CONTACT AND PARTNERING (2 hours)
We will research different ideas connected to partnering. The work will be based on the use of weigh-shift and balance between two bodies, sharing the same ground.
The workshop will encourage the so-called sensitive body, which is maximally transparent to information received through the touch. Listening and reading the impulses that are transferred from the others as well as giving the non-verbal information as clear as possible. We will work towards a body, which is strong and resistant, yet agile, articulate, and sensitive to the constant changes or adaptations. Our goal will be to create an environment where any kind of lift can happen without much effort or pain.
Throughout the workshop, we will constantly switch between the roles. It means in each situation one gets to know both positions: being the 'base' and the 'flyer', regardless of his physical predisposition. With such a rule, we encourage the full understanding of each situation and what it means to be in the role of the other, hence achieving maximal physical empathy.
The work is underlined by building mutual trust to fully let go of the weight and on the other hand give in to the complete responsibility of the other. From some basic exercises, we will gradually get to more complex and risky situations, hence the feeling of trust and safety will be very much needed. We will aim to build a playful atmosphere, where unimaginable situations suddenly become possible.
The workshop will consist of learning some set structures as well as exploring new situations with the principle of weight shift between two or more bodies.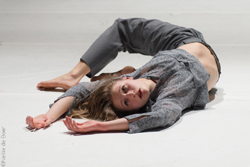 photo: Roser Lopez Espinosa
ANAMARIA KLAJNŠČEK (1996) is a Slovenian performer and choreographer, mostly working between Spain and Slovenia. In 2021 she is was given the Ksenja Hribar award as the most promising dancer of the year.
In 2014 she finished SVSGL (a Slovenian school for contemporary dance) and continued her studies in the Netherlands at Amsterdam Academy for Theater and Dance. After three years of studies, she moved to Germany and in season 2017/18 worked for a dance company called TanzMainz, where she collaborated with choreographers such as Sharon Eyal, Guy Nader & Maria Campos, Guy Weisman & Roni Haver.
For the last couple of years, she has been working as a freelancer with various choreographers, mostly in the Spanish scene. As a dancer, she is currently touring with performances by Roser Lopez Espinosa, Pere Faura, Guy Nader & Maria Campos, and her own creation COSSOC. The latter is a collaborative duet with a Catalan dancer Magi Serra, with which she performs at many international festivals.
BAILEMOS! SALSA FUSION SOLO (OPEN) – KATJA ČUK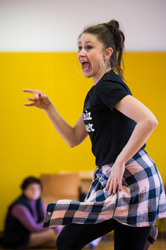 photo: Saša Huzjak
BAILEMOS! SALSA FUSION SOLO (OPEN)
The workshop will be divided into two parts: the first part will include warm-up, footwork, and body movement exercises. In the second part, we will focus on the dance combination/routine. On the last day, so Monday, we will play with our expression and creativity along with all the learned content.
The workshop is suitable for all dancers, men, and women, regardless of your dance background:
dancers of modern, contemporary, and jazz dance as well as hip-hoppers feel welcome - I am preparing an interesting challenge.
KATJA ČUK, educator, dancer, and dance teacher
Katja's motto is El baile une gente y culturas, which means that dance connects people and cultures. Her passion for life and dance took her from Maribor around the world, all the way to Colombia, where she settled down for 5 years in the city of Cali. She studied dance and later on thought salsa and other Latin genres. With the EMD dance school, she was part of the Salsodromo (the largest salsa show in the world), the Feria de Cali, and other performances and events. After working in a dance show on the island of Kos, she returned to Slovenia in 2019, where she creates, dances, and teaches. In her opinion, every good teacher needs to keep on studying and learning. She is working under the mentorship of world champions such as Esteffany Moreno and Guasa y Evelyn. She believes in the expressive and therapeutic power of dance and loves working with everyone, from toddlers to professional dancers. You are welcome to read more on her website: katyadanceeducation.com
MENTORS' WORKSHOP: Two Flying Ones and a Barefoot One – "CHILDREN'S DANCE CREATIVITY" –
SAŠA LONČAR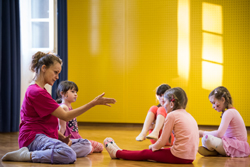 photo: Saša Huzjak
MENTORS' WORKSHOP "CHILDREN'S DANCE CREATIVITY"
At the workshop, Saša Lončar will present her way of working with children and adolescents, which stems from the research of primary movement. Her work is based on awakening and raising awareness of the innate sense of movement through various creative processes, which she then forms into their dance expression in close cooperation with the child.
The workshop will present topics:
- getting to know and trust (in the relationship between children/pedagogue and children/group)
- awareness of visible and invisible space
- learning about motor skills through different levels in space
- getting to know the technical elements with verbal encouragement
- processes of relaxation in a group of children and connecting children in a group using the principles of contact improvisation
- creative process
- the use of movement material created in the teaching process for the design of dance choreography
The gradual upgrading of topics will also be presented, according to the complexity of the group of children, by including the individual needs of the individual. The workshop is suitable for kindergarten teachers, primary school teachers, and mentors of children's dance education.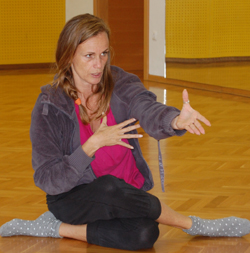 photo: MVK
SAŠA LONČAR is a renowned dance educator and choreographer, founder, and artistic director of KD Qulenium in Kranj and Ljubljana. She annually organizes the Festival of Stage Arts Kalejdoskop and research and creative summer camp for children at Mašun. Through her creative processes, imbued with a vivid imagination, openness, daring, and excellent leadership sense, she stimulates children's dance creativity and enriches their personal expression of movement. Saša and her dancers take part in numerous important events and festivals at home and abroad (France, Indonesia, India, Croatia, Denmark, Serbia).
She was awarded the Meta Vidmar plaque and the Ksenija Hribar Prize at the 9th Gibanica Biennale 2019 for artistic, creative, and educational achievement.
More: www.qulenium.org
ADDITIONAL OFFER
During the weekend of WDS, upon prior appointment in the WDS info office.
TRADITIONAL CHINESE MASSAGE – Darinka Brešar: www.darinka-tuina.si
BIOPTRON Light Therapy (regeneration with a new dimension) – Zvezdana Lamovšek:
http://www.zepter.si/MainMenu/Products/Medical/Bioptron/ColorTherapy.aspx
ADDITIONAL INFORMATION AND CONTACT