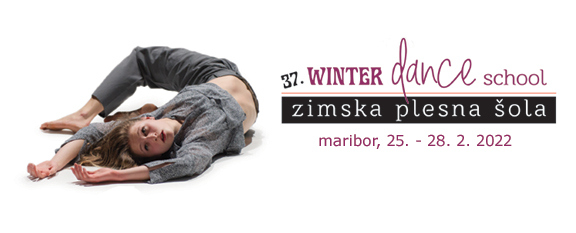 The 37th Winter Dance School in Maribor
Maribor, 25 - 28 February 2022
Organized by: Republic of Slovenia Public Fund for Cultural Activities, Maribor Branch Office, and Association of Cultural Societies Maribor (JSKD and ZKD Maribor)
EXCELLENT TEACHERS AND DANCE WORKSHOPS!
The Winter Dance School is extremely popular among Slovenian dancers and has proven to be an important form of education, encompassing different dance techniques and research workshops led by renowned teachers and makers from Slovenia and abroad.
The 37th Winter dance school  will take place in Maribor, Slovenia, from February 25 – 28, 2022.
We offer a variety of classes and workshops: contemporary ballet, Iyengar yoga, classes of various contemporary and modern dance techniques, contact and partnering workshops, fusion solo salsa and workshops for mentors of children's dance education.
Classes and workshops will be led by renowned dance experts:
Tina (Martina) Dobaj: Contemporary ballet
Neža Polh: Iyengar yoga
Beno Novak: Zero space
Urša Rupnik: Follow the flow
Anamaria Klajnšček: Contemporary dance & contact and partnering workshop
Katja Čuk: Bailemos! Fusion solo salsa
Saša Lončar: Mentors' workshop "Children's dance creativity"
WDS is intended for dancers, educators, choreographers, and anyone actively involved in dance and movement. The program is suitable for different age groups, for beginners, advanced students, experienced dancers, and professionals.
We look forward to spending time with you!
ADDITIONAL OFFER
Traditional Chinese Massage by Darinka Brešar and Bioptron light therapy by Zvezdana Lamovšek (Saturday, Sunday). Please, make a prior appointment in info office WDS.
More: www.darinka-tuina.si, fb:darinka tuina.
http://www.zepter.si/MainMenu/Products/Medical/Bioptron/ColorTherapy.aspx
ACCOMPANYING PROGRAM
includes dance performances, organized by Plesna Izba Maribor.
Monday, February 28, 2022:
at 8 pm – Minorite Church: April Veselko, Falling in love
at 8.40 pm – Maribor Puppet Theatre: Dance collective Š.I.K. PIM, WHERE DID YOU SCATTER THE SECONDS?
More on: www.zimskaplesnasola.si/accompanying_program
CERTIFICATE
The organizer JSKD OI Maribor will issue a  WDS CERTIFICATE to the participants who have attended at least one workshop on all four days.
Let the body move!
The program will be implemented according to NIJZ regulations!
ADDITIONAL INFORMATION AND CONTACT